Patrick Patterson – Beyond the Arc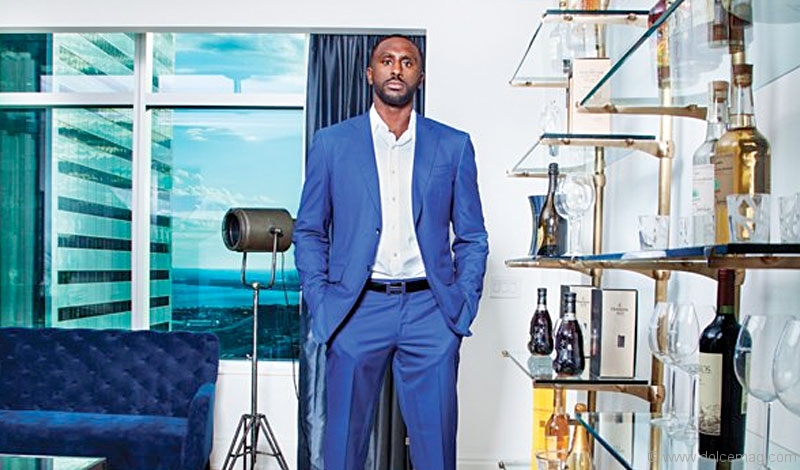 Dolce Magazine spends a day with Patrick Patterson to see how this towering Toronto Raptor lives the high life
When Patrick Patterson was traded to the Toronto Raptors in December 2013 there were only two things he knew about the city. "It's in Canada and it's freezing cold," he says with a chuckle. At the time, he was living in Sacramento, where he was traded from Houston earlier in the year. The coldest days in the California capital tend to dip just below 10 C, so the heaviest coat he owned was a fleece jacket. As his flight descended into Toronto, all he could see from the window was snow. "White covering everything," he recalls. The buildings, the trees — everything. "And I thought, 'Man, what did I get myself into?'"
A smile creeps to the six-foot-nine power forward's lips as he reminisces about first joining the Raptors roster. He wears a clean white polo and black chinos, and his trimmed beard, which seamlessly transitions into his short, wavy fade, looks like it's stencilled on. He's casually leaning against the granite kitchen countertop of his sweeping Trump Residences Toronto suite. Even at this slightly reduced height he's still a towering figure, muscular and lean. His smooth, baritone voice fits his imposing vertical dimension.
"Right off the bat," he continues, "I call my agent, I'm like, 'Get me out of here. Wherever you can get me to is better than this place.' And that was my initial thought."
But as he started to settle he began exploring the city, checking out Yorkville, Parkdale, East Liberty Village, sampling the food along Queen. As the season progressed, and the mercury crept upwards, he began to warm to his new digs. Better yet: the team was on a roll. "We ended up winning the Atlantic Division. We made it to the playoffs. Although we lost in the first round, I felt like we had a successful year. And I'm like, 'You know what? I want to be here,'" says the 26-year-old.
So too did the Raptors. The seven-player trade that brought Patterson north of the border was a watershed moment for Canada's only professional basketball franchise. It was the first time the Raptors made the playoffs in six years and it was their first division title since 2008. During that run Patterson was a pivotal stretch-four coming off the bench. His size and three-point range added needed depth to the offence for a sustained, relentless barrage from beyond the arc. In July 2014, the organization rewarded him with a three-year, $18-million deal. And Patterson couldn't be happier.
"Whenever you're in a situation where you're appreciated and respected, it makes your job a whole lot easier and enjoyable," he says. "So with the amazing fans and the tight-knit family that we have in this organization, it makes playing basketball for the Toronto Raptors fun."
It's only two days before the Raptors head to Vancouver for training camp and Patterson is enjoying a leisurely Saturday before the 2015-16 season gets underway. It's one of those clear September days where the fading summer leaves a jacket-appropriate chill along the shadowed city streets of downtown Toronto. So clear that if you look west from his kitchen window you can see Mississauga's Marilyn Monroe towers spiralling skyward.
When asked why he chose the Trump as his home, he gives a practical answer. "One main reason being the location," he says. "It's in the heart of Toronto, close to my work, the amenities and the friendly staff." He loves being outdoors and will often just walk the city's downtown or head to the lake. Maybe take a drive up through Yorkville. He'll journey along Queen and hit up some of the various restaurants — Khao San Road, Lee, Valdez. "I just love being outside. So I'm constantly doing something that's not just in here watching Netflix," he adds.
He explains that he opted for Jaclyn Genovese of Spaces by Jacflash to add personality to his new home after stumbling upon her work online. As we tour the home, you can tell there's a strategic woman's touch. It embraces that contemporary mélange of styles to give a full-bodied, sophisticated, masculine character to the space — soft and warm hardwood floors covered by shaggy throw rugs; spidery, industrial-like chandeliers; an eccentric royal blue conversation-piece chair; tables with clean, thin lines and mirrored surfaces.
But there's also plenty of Patterson individuality. A selection of his "infinite amount of shoes" are decoratively stacked on the wall of his bedroom, including his favourite pair of black-and-red Fieg x Buscemi 110MM — which I imagine Michael Jordan would strap to his feet if he were a super hero. Memorabilia is scattered throughout his home: an autographed Mike Tyson boxing glove, Ray Lewis's Baltimore Ravens helmet from Super Bowl XXXV and a Spalding basketball covered in faded black ink. The ball, Patterson explains, is from the McDonald's All-American Game he played in in 2007. The signatures are from some of the next-wave talent that played alongside him, such as Blake Griffin, Derrick Rose, Kevin Love and James Harden. "That basketball, it should go in a case," he decides while reminiscing about his freshman year at the University of Kentucky.
The room that resonates most with his style and personality, though, is the living room. There's a street sign that reads "Patterson Way." A large "P" hangs next to two New York subway scrolls behind his leather L-shaped couch. And two neon graffiti-like paintings combine his fictional favourites, the Looney Tunes (Bugs Bunny et al.) and Freddy Krueger. "One of my favourite pieces within my home would be the spotlight," he says of a three-legged light beside his couch. "I'm a big movie fan."
When he's not hitting the hard court or in the gym or doing all the extracurriculars that come with being a professional basketball player — interviews, charity work, promos — he's watching the big screen. "I'm constantly going to Dundas Square, to the Cineplex. I'm always in the movies, always watching movies," he says. He was even CBC Toronto's correspondent at this year's TIFF, where he estimates he saw about 18 or 19 movies.
This film fanaticism began in his childhood. He explains, "It wasn't even a movie. It was a music video. 'Thriller.'" As the zombies crawled from the sewers and emerged from their graves in the Michael Jackson classic, Patterson freaked. "I just ran and hid in my closet. I didn't even finish the whole video," he says. From there he was hooked, especially when it came to horror. A Nightmare on Elm Street is by far his favourite movie and he still has the original black-and-white Night of the Living Dead. In college, he'd even organize a regular movie night: "Order some cheese sticks and pizza at least once a week."
Patterson goes on to explain that when growing up in Huntington, W.Va., his parents would often take him to the theatre to catch the latest releases or they'd spend the night at home with the VCR humming. As he reminisces about his early days, it's obvious that he's exceptionally close with his parents. He explains that they travel to Toronto often to visit and watch him play. "I'm an only child, so they want to be here as much as possible," he says, adding he plans on flying them up for the season opener in October. "Throughout the season, they'll come up and stay with me for two or three weeks just because they love it out here."
And that's the message Patterson has for a lot of his American friends who may scoff at his newfound Canadian home. "Everyone I talk to now, they're like, 'Toronto's cold. Toronto's this. Toronto's that.' I'm like, 'You know what? Just come out for a week. Come out here for a week and stay with me and I'll show you around, and you'll never want to leave.'"
It doesn't seem like Patterson does, either.
@pdpatt
provided by Spaces by Jacflash
Photo By Farzam Hosseindoust