Terry O'Neill: They Dont Make'em Like They Used To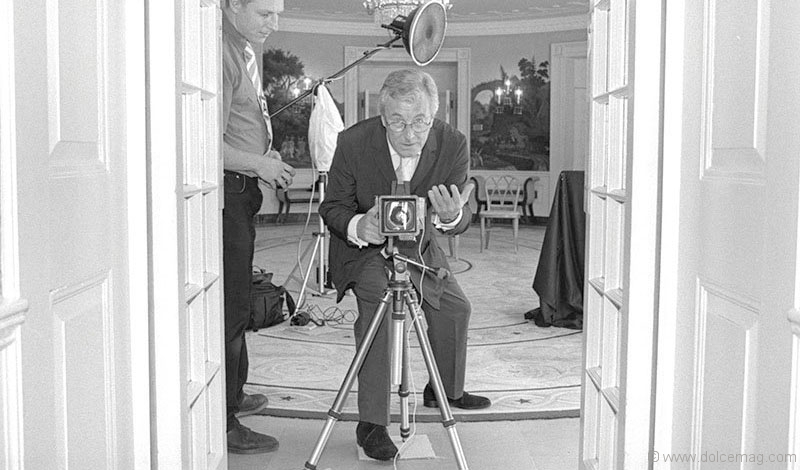 Like most great British success stories, Terry O'Neill's was born from being at the right place at the right time. It was sometime in 1967, in the glitz of Saint-Tropez, and Audrey Hepburn, ever eminent since her Roman Holiday fame, is on the set of the marital dramedy Two for the Road, her penultimate film before a break from the spotlight. When out of the sky and onto her shoulder a fluttering dove perches, cooing submission to the doe-eyed star. This gives O'Neill an idea. Like a hovering bee moving ever so fast to stay still, the photographer puts his 35mm camera to work, the light of the image flooding the film plane before he advances from one frame to the next. Click. Click. Click. A flash of bashfulness, a muted weakness; a corporeal transformation of an actress habitually sheltered in pearls and little black dress couture. The captured moment is rare and candid, revealing a slip of vulnerability before vanishing as quickly as it appeared. Again, with cliché abandon, the right place at the right time. But maybe there's more to it than just that.

It's the start of the week and I'm dialing up O'Neill, kind of like how the Beatles and the Rolling Stones did back when celebrities and photographers were cool with each other and getting your picture in the paper was the most important thing in the world. But there's no answer on the other line, just the busy tone of an international call and the bated breath of a writer on a deadline about a story of a noted photographer to rock stars, royals, politicos and on-screen greats; a prolific documenter of the go-go days and the shadowing years, a man whose photographic career spans five decades. And so I sit tight. Think about leaving a few voicemails. A ring soon jolts me into focus. "So, sorry," apologizes O'Neill from his home in the London area. "I just went out and came back." No one knows better than O'Neill how a missed call might have meant the difference between catching Jimmy Page in a haze strumming a Les Paul and watching your career go up in smoke.
Recognized as one of the greatest British photographers of the 20th century, O'Neill easily slips back to his glory days, when work swung open the doors to Elizabeth Taylor's dressing room and the boudoirs of Sophia Loren and Raquel Welch; when the grind had him chancing upon Clint Eastwood, who he met through Paul Newman, reading a newspaper in his trailer on the set of a John Sturges western; or the time by the pool at the Beverly Hills Hotel with Faye Dunaway on a chaise lounge the morning after winning an Academy Award for Network. "I feel so fortunate to have even been around at the time, I can't believe all the people I've ever met and photographed. I'm staggered today, it's weird but I am," says O'Neill, his iconic Faye and Oscar print now hung in the National Portrait Gallery in London. A lad who once dreamed of becoming a jazz musician before a serendipitous encounter with photography led to him capturing the zeitgeist of the Swing Days, the blue-eyed amateur was soon swept up by a cultural shift that had music and fashion and opportunity transforming how people thought and lived. "I couldn't have been born in a more brilliant time than to grow up in the Sixties," he says.
Today, his confounding photographic collection is reflected in a weighty, self-titled tome, with perhaps his most famous image — Brigitte Bardot on the set of The Legend of Frenchie King — gracing the cover. For three years, O'Neill and his team pored over an extensive library of prints, judiciously plucking buried images from among two million negatives. Mick Jagger and Mia Farrow, Fred Astaire and Steve McQueen, to Winston Churchill, Muhammad Ali and the late Princess of Wales, to Charlton Heston, Marlene Dietrich and his backstage reportage photography of Elton John and David Bowie, Terry O'Neill simultaneously exposes the unguarded moments of legends on the rise or at their peaks and the work of a photojournalist transcending formal portraiture on set and on stage. His voluminous book also includes the aforementioned Audrey Hepburn With Dove, taken a year before the vintage fashion darling with those big magic eyes divorced her first husband. "The secret of photography was knowing how to use light — that's what made you stand out from a nobody," says O'Neill. It's a resounding quality that assuredly played a hand at making him a star in his own right, but when you press him further on the cause of his success or how his intimate, natural portraits that continue to fetch top dollar came to be, a humbled O'Neill sees no other way to explain it than to credit divine intervention. "I think I was born and God pointed a finger down and in his wisdom said, 'Make him the photographer of the '60s, '70s and '80s,'" quips O'Neill. But still, "I have no idea; it must be something in my personality. I was just so pleased to be there that I kept my mouth shut."
While his photography speaks for itself, O'Neill is rather outspoken on the deception wrought by modern-day photo manipulation and the disintegration of relationships between photographers and celebrities. Back then, playboys and starlets weren't searching for doors to hide behind or erecting walls of inaccessibility. There was no power differential, he explains; in fact, they felt privileged when their photos were taken. That gave O'Neill, who treasured his friendships with the rich and famous, a snug first class ticket to the ride of a lifetime. "Every beautiful woman I've photographed, from Ava Gardner to Michelle Pfeiffer — all said, 'Don't be stupid, I'm not beautiful.' They didn't realize what they had, and that was charming. Nowadays, everyone is retouched." Whether in colour or his preferred method of journalistic black and white, an O'Neill photo is untainted by Photoshop and very often strays from scandal, revealing nothing more than a subject steeped in glory. O'Neill's only regret is when he found Rolling Stones founder Brian Jones in a heap on an airport floor, leaving behind an untaken photo that could have helped highlight the effects of drug use. In the Terry O'Neill foreword, author Dylan Jones explains: "He isn't in the business of shattering egos and, unlike a lot of modern portrait photographers, never sets out to demean his subjects. 'What's the point?' he says … 'A lot of photographers have an ulterior motive, but I've never been like that.'"
Nowadays, that all-access pass to concerts and recording studios and hanging out with pop stars like Twiggy at London's Ad-Lib Club are now replaced with controlling publicists and bloodthirsty paparazzi casting a pall over the field, says O'Neill. That's why you would sooner see a tiger make nice with a deer than an Anne Hathaway in a silk robe in a bed in a Swiss hotel room today, unless it's manufactured in a studio somewhere in Hollywood. But not back then, not when being friends with Michael Caine who knew Terence Stamp who knew Tom Jones who knew Elvis Presley meant they were your friends, too. That's just the way things went. "They were really, really nice people, none of them thought they were the world's greatest for a second. They just enjoyed the work and the life they had, and they greatly respected it and they worked at being stars, which people, I think, don't do anymore."
One such friendship culminated in an opportunity for O'Neill to photograph 11-time Grammy Award-winner Frank Sinatra over a span of 30 years, thanks to a sealed letter from his pal Ava Gardner. When O'Neill handed him her message on the set of Lady in Cement, Ol' Blue Eyes promptly opened up his glamorous world to him. "He was very kind, very generous, a total, utter gentleman with the ladies. I can understand why every woman in the world would fall in love with him," remembers O'Neill. While he never read Gardner's note, he believes that it spoke of his trustworthiness and good intentions. "Their marriage was over but he was still clearly in love with her. He just had a thing about her more than any other woman. I guess that's why he was so accommodating to me, because he wanted me to go back to her and say, 'He was good to me.'" For O'Neill, the "My Way" singer remains the defining emblem of a massive star, living a life so grandly and gifted there's few he feels compelled to photograph today. "Nobody can sing like him and they never will be like him because they won't live the life Frank Sinatra lived. He was up and down and over and out three times in his life but he came back every time. He was like a great boxer; a fantastic character — you could hear it in his voice." They don't make 'em like they used to.
Over the past 50 years, O'Neill's enduring presence and the significant cultural influence of his subjects reflect a storied career that began as big as it ended. From photographing every James Bond actor to the first supermodel of the world, O'Neill, with just 36 shots on a roll, was everywhere with everyone who mattered. But the apex of his career didn't materialize until the tail end of it. "My biggest accomplishment has to be when Nelson Mandela turned 90. I was hired by his people to be his birthday present," says O'Neill of the photography assignment in London. "After the week was over and we said goodbye, Mandela gave me a little wave from the car. I cried because I realized that I was in the presence of a great human being."
It's been about five years since O'Neill hung up his 35mm, his days now replaced with signing prints, going through negatives, running a photography competition and finding new pictures to showcase at galleries around the world. "A typical day in the '60s for me was photographing the Rolling Stones and then a movie star like Sophia Loren. Life is a bit boring compared to what I used to do," he laughs. For now, he's excited to touch down in Canada this summer. His exhibition, "Terry O'Neill: The Man Who Shot the Sixties," featuring mostly large-format pieces of his dazzling work and some never-published images like a Frank Sinatra contact sheet, will debut for the first time in Toronto at the photography-focused Izzy Gallery. "When the artist knows the subject, he shoots them differently. And [O'Neill] knew everybody he shot," says Izzy Sulejmani, founder of the contemporary gallery. "He knew Sinatra, he was married to Faye Dunaway — he had relationships with all his subjects, and that shows in his photographs. It's not like today when you have a photo shoot for a couple of hours and the photographer never sees his subjects again."
Awarded in 2011 the Royal Photographic Society's centenary medal for his contributions to photography, O'Neill, now 76, finds it all still surreal. "The first job I had was with the Beatles, so I started at the top and never really looked back. If I would have known the fame and success this all would have brought me, I would have worked doubly hard," says O'Neill, who regrettably missed out on photographing Marilyn Monroe to appease a love interest that was her publicist. "We all thought it was going to end and we'd one day have to go out and find a proper job. I was just so pleased that the phone rang."
www.terryo.co.uk
Terry O'Neill's "The Man Who Shot the Sixties" exhibition will run from June 27 to Aug. 24, 2014, at Izzy Gallery, located at 106 Yorkville Ave., Toronto.
izzygallery.com