At home with Natasha Koifman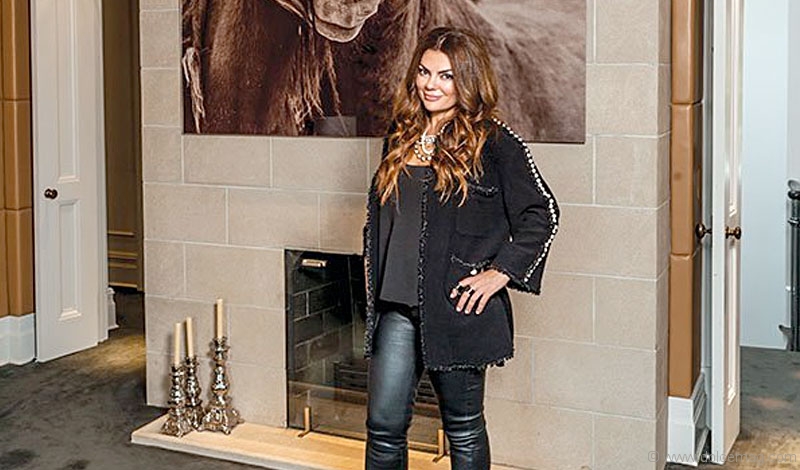 Natasha Koifman's home has always been "the cool house." Tucked down an unobtrusive lane in midtown Toronto, her Connie Braemer-designed residence melds the area's classic sophistication with sharp, contemporary details. The light form of modern furniture combined with the presence of avant-garde photography offsets prominent crown mouldings and deep hardwood floors. Floor-to-ceiling glass windows that lead to the backyard pool contrast with the cobblestone driveway and red-brick facade. The clean lines and smooth, glossy surfaces of her kitchen receive a shot of life from elegant, homey desserts: vivid macaroons, marshmallow concoctions and chocolate tarts. "My little niece always says, 'It's like a hotel here,'" Koifman explains. "I always want people to feel welcome and I feel that sweets and flowers always give that sort of warm sensibility." She's ushered this classic abode into a new age, taken its strengths and refashioned them for the modern world — which, it would seem, is her calling in life.

It's early on a sunny Friday morning as Koifman discusses revitalizing her home. "I like that in life you can take those fixer-uppers and make them beautiful," she says, "and that's kind of what we do for a living, anyway. It was just natural to do that." The president and founder of the public relations firm NKPR tours the walk-in closet of her master bedroom, flipping through various pieces of her wardrobe: Valentino jumpers, an Ann Demeulemeester dress, Rick Owens caftans, Louboutin heels and Golden Goose sneakers. There's a warm glow to her personality, a confident kindness that makes you feel at ease. You'd never guess that she lives at the centre of a tempest of activity.
In a couple hours she's meeting with LCBO to discuss opportunities for a new client — a super-premium tequila that's making its Canadian debut. She has two offices to run, one in Toronto and the other in New York City, and splits her time between both. In a few weeks she's launching her Los Angeles-based talent division, NK Artists, which already represents fashion designer and founder of The Coveteur Erin Kleinberg, celebrity photographer David Drebin and the Canadian interview king, George Stroumboulopoulos. Yesterday's dawn-to-dusk schedule was even more frantic: six meetings, a charity luncheon for Erdem and the opening night of the Love Art Fair. "Every day is almost like that," she says of her often-claustrophobic schedule. Such are the demands on the head of one of Canada's leading PR firms.
In just 12 years, Koifman has rapidly grown NKPR from a one-person basement operation to a multinational firm that represents dozens of high-profile clients — Jones New York, Kiehl's, RW & Co. and Skyy Vodka are just a handful of the brands that she counts among her clientele. She believes they've landed these accounts, helping to launch campaigns and shape their image, because "we do more listening than we do talking," she says. "We understand what it is they want from PR, so that we can deliver on that." But, interestingly enough, it was never the plan to take her company to such heights.
"For me, it was always about wanting to be happy and working on projects that I am excited about," she says, nestled against the chocolate brown couch in her living room. She acknowledges that, yes, it's difficult to know exactly what you'll be doing in, say, five years — because you just don't — but, "you have some sensibility of where you want your life to be, how you want to feel. You can picture it." In a way, it's instinctive, and she's learned to trust her gut. "I think that my entire career, and probably my personal life, too, much of it has all been instinctual. I think I feel my way through much of life. I think that's a good thing. Because you pay attention to that feeling."
Koifman uses an "integrated approach" to life, incorporating passions into her routine and connecting them with complementing initiatives. She designed, for example, a line of ring-to-wrist bracelets with Toronto's !Xam Diamonds that helped raise money for Artists for Peace and Justice, which she is the chair of in Canada. A former journalist, she also loves writing and contributes regularly to the Huffington Post.
An avid lover of art, especially photography, Koifman adorns her home with bold, eye-catching photos, many of iconic female figures. In the morning she eats with Audrey Hepburn from Breakfast at Tiffany's and Marilyn Monroe from Some Like It Hot. In her living room, an Ellen von Unwerth photo of Victoria Beckham faces off against a second Monroe, a Bert Stern piece taken only six weeks before Monroe's death. A hastily applied orange X slices across the actress's face and Koifman finds beauty in that imperfection. "I choose images that I feel I connect with, but also have a bit of flaw in them," she says. "I think that [Monroe] was beautifully flawed."
She's often on the hunt for new pieces to add to her collection, especially when she's in New York. "I love being able to discover new artists and walking through galleries there," she says of the Big Apple. Oddly enough, Koifman, a self-described introvert, also finds peace in the hustle and bustle of the City that Never Sleeps. Her SoHo apartment is right on Hudson Street and she enjoys walking the village and becoming lost in the crowd. "I love the anonymity of it," she says. "In New York, as strange as it sounds, you're surrounded by a lot of people but you're nobody. It's absolutely amazing because you can get lost and I love that feeling." And what does the future hold for this PR maven? "As long as I continue to work on projects and work with people that I'm really excited about and passionate about then I'm happy."
www.nkpr.net