Designer Spotlight: Nadya Toto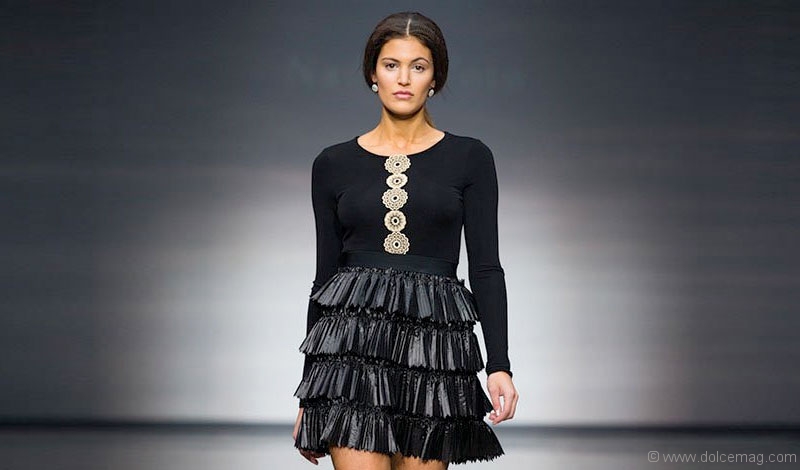 A Montreal-based fashion firecracker has the world falling in love with her dark, darling designs. Donned by some of Hollywood's brightest luminaries — think Angelina Jolie, Drew Barrymore and The Twilight Saga's Rachelle Lefevre — Nadya Toto's creations are charming runways and red carpets alike with Italian-inspired style. Dolce Vita Magazine checks in with the diehard romantic for a fashion report bursting with texture, colour and lace.
Q: Why fashion design?
A: I was born into fashion. From a young age, I watched and learned from my Italian grandmother working with her handmade laces, embroidering with special threads, making designs on lingerie and gowns. The rest of my passion developed through being surrounded by a very artistic family — my mom, dad and brother are all very artistic — and that is a richness you cannot buy.
Q: In the studio, how do you keep your unique style while still staying on top of trends?
A: As a designer, I take what sells and make it better. That's my philosophy.
Q: How would you define your style?
A: It's simplicity with an edge. It's simplicity because what is pure always lasts. Femininity is key, because it's me — that's who I am. My roots follow my everyday life. The way I do things, the way I think, the way I live — all of that comes down to refinement and femininity.
Q: What can Dolce readers expect for winter 2013–14 fashion? Any pieces specific to your label they should look out for this season?
A: Winter 2013–14 is so rich with fabric designs. We make our own jacquard fabric designs that are exclusive to the brand, and we really enjoyed working with the baroque theme this season. One of my favourites is the baroque jacquard day dress. The fun part of this collection is the palette of winter-inspired colours. We used some cream mixed with black, royal blue and flamboyant red in the day dresses. And, of course, no collection of mine would be complete without lace. This season, you'll also find a new lace weaving specially made in a circular mode. Very Florentino.
Q: What is your definition of la dolce vita?
A: Be free. Do what you've always dreamed of doing now. Even the little things count! Be dolce; be you.
Q: Do you have any special projects currently underway?
A: I'm off to Milan to start world distribution.