Greta Constantine Unveils Fall-Winter 2015 Collection in Paris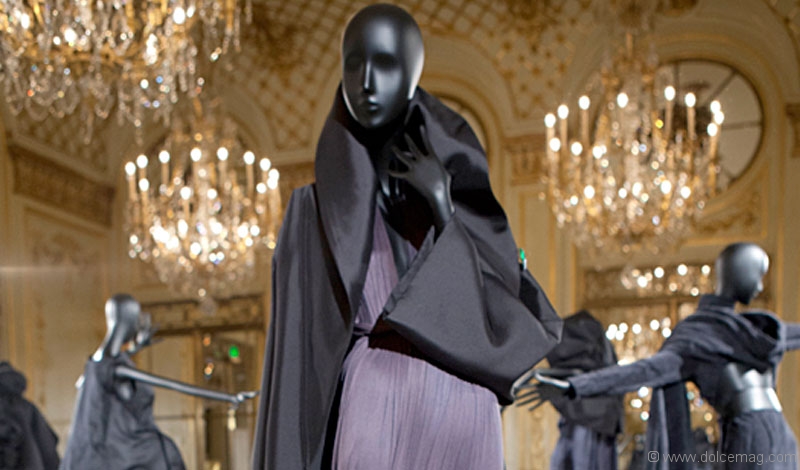 Toronto-based luxury womenswear line Greta Constantine cast its dark magic on the City of Love this week, debuting a daring 2015 fall-winter collection in Paris.
Unveiled at the Salon Pompadour in the esteemed Hotel Le Meurice, this latest collection by Canadian design duo Kirk Pickersgill and Stephen Wong is brimming with bewitching looks that juxtapose sculpted shapes with ethereal materials in self-assured tones of midnight black and ash grey.
Highlights include a sleeveless and seamless column coat, a jodhpur jumpsuit with a cotton-metal draped scarf detail, hand-dyed gathered silk tulle gowns, a bubble cape-dress, cocoon opera coat and an enchanting all-black billowy sleeved gown. It's bold and spellbinding, with a gothic-chic sensibility accented by a hint of mystery and the supernatural.
When asked how they prepared for their first French press presentation, Pickersgill explains that it's no different than preparing for one in Toronto. But, he adds, expectations are higher. "Suddenly we're finding ourselves on the same calendar as the brands that line 5th Avenue in New York and St. Honoré in Paris," he said. "A little black dress won't cut it. The fabric needs to be luxury, the cut sharp, the finish or treatment flawless."
With this latest collection, Pickersgill and Wong have once again made their case for why the Greta Constantine label is one to watch.
www.gretaconstantine.com
Photos By Franck Mura