All Hail King Karl – Karl Lagerfeld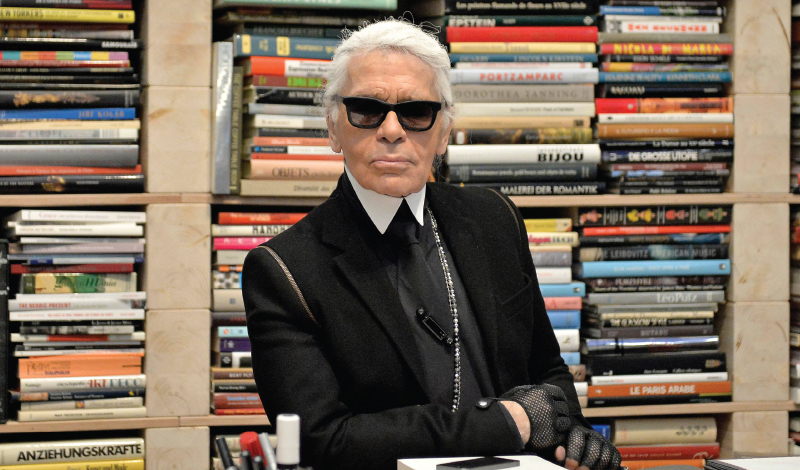 Karl Lagerfeld is the ultimate pop culture puppet master — from haute couture to the high street, his influence is felt far and wide. But just how did a strange, young German rebel become a global fashion tour de force?.
She has more than 102,000 followers on Twitter, two maids, a penchant for antique lace and the luxury brand Goyard, and has been featured in a 10-page spread for V Magazine. She is a fashion icon and an Internet superstar. We are, of course, talking about Choupette Lagerfeld, a three-year-old Birman cat. Besides highlighting the bizarre nature of the times — in which it's entirely plausible for a cat to have her own social media platform — this situation mostly underlines the remarkable power of Choupette's owner, Karl Lagerfeld. It is impossible to discuss the fashion industry without mentioning his name; he is fashion. Having begun his career 60 years ago as an assistant to Pierre Balmain, Lagerfeld remains one of the most forward-thinking, and creative contemporary revolutionaries out there. He is mercurial and chameleon-like, ever pushing and changing the boundaries of fashion. He says jump, and we say How high and in which shoes? He declares aquamarine to be the colour of the season, and every fashion house and magazine follows suit, from the high end to the high street. He is the artist who chooses the palette everyone else will work from — but while they're still daubing with oil and brushes, he is sketching on his iPad and DJing from one of his hundreds of iPods, because "the iPod is genius" — and if Karl says it, it must be so.
Hailing from Hamburg at just 14, Lagerfeld moved to Paris to study drawing and history at the Lycée Montaigne. It was winning the coats category in a design competition that brought him to the attention of Pierre Balmain, "the King of French Fashion." After only three years as Balmain's assistant Lagerfeld left to design his own collection. It was perhaps this training in traditional tailoring that gave him the foundation from which to flourish and expand into more daring design. From the very beginning of his career Lagerfeld was creating ripples through the Paris scene.
As with many misunderstood geniuses, people were quick to criticize the young visionary. His first collection was famously booed by the fashion press; the silhouette (based on the letter K) was considered too defined, the skirts too short. Based on the initial negative response, very few would have predicted he would eventually go on to become the godfather of fashion. In retrospect, we can now only be grateful that Lagerfeld's belief in his vision was so unwavering.
"Fashion is a language that creates itself in clothes to interpret reality," says Lagerfeld, with typical mystique.
In 1964 Lagerfeld began to get the recognition he deserved, fashion finally catching up with his brilliant mind. Freelancing for fashion house Chloé, he eventually went on to design the label's entire collection, which over the seasons would include the famous "surprise skirt" that gave the illusion of a skirt, but was actually a pair of culottes. Then in 1965 came the collaboration that would last more than half a decade: Lagerfeld was brought in to oversee the fur line at Fendi. It was, in fact, the longest relationship ever between a fashion house and a designer. A Roman leather and fur atelier hitherto run by the five Fendi sisters and famously offering design by women for women, it seemed unusual that Fendi would take a risk on this strange, German-born and Paris-trained young rebel, but it was one that certainly paid off.
"He is a cultural octopus with tentacles working on every aspect of his design sphere"
Lagerfeld took the brand to new heights, and by 1968, Fendi bags and furs were stocked in Bloomingdale's New York. He redefined the fur coat, bringing about the famous FF logo (which stands for "fun furs"), and even received an exhibition at the National Gallery of Modern Art in Rome. In 1977 he launched Fendi's first full clothing collection, which was showcased through the medium of a fashion film, the first of its kind. Still breaking new ground 30 years later, in 2007 he staged the first-ever fashion show on the Great Wall of China, with 88 metres of catwalk. "Don't sacrifice yourself too much, because if you sacrifice too much there's nothing else you can give and nobody will care for you," the design master declares, stubbornly unwilling to compromise on even his wildest visions.
In the early '80s, the Parisian fashion house Chanel was struggling; it was in desperate need of a brand overhaul and, naturally, there was only one man for the job. The death of iconic Coco Chanel over a decade earlier had left the house in a state of limbo. Lagerfeld's decisive approach was not to reinvent the label, but rather, to reinvigorate and revive all the things that had made it wonderful in the first place.
"I am first to admit that Coco created something tremendous: the Chanel suit, the feminine version of the two-button," he explains. "And this started a fashion avalanche — there is no other word for it — that everyone copied and people continue to copy in an incredible way. In the '80s we had to pull out all the stops — the chains, the camellias, the CC logo — these are all things that I drew out. Exaggerated. And which I made people believe had always existed … but that's my job."
Ever the illusionist, Lagerfeld has never let the truth get in the way of a good story. Much like Bob Dylan, who is notoriously evasive about his youth, Lagerfeld is also known to have created a fictional past about his parents and never reveals his actual date of birth. He refuses to let reality touch the fantastical world of Lagerfeld. It is this ability to bend the truth and control the gaze of his audience that allows him to pull the rabbit out of the hat time and time again. "I am like a caricature of myself, and I like that. It is like a mask. And for me the carnival of Venice lasts all year long," he has said.
Not only is he as synonymous with Chanel as Coco herself, Lagerfeld's personal image is just as iconic. So emblazoned on modern culture is that image of shocking white hair, sharp cheekbones and dark sunglasses, that it's easy to forget there is an actual man behind it. He has reached the same level of status as his good friend Andy Warhol: embodying pop culture. And like Warhol, King Karl has the ability turn a bright young thing into a global star, seemingly overnight. Vanessa Paradis, Keira Knightley, Kate Moss, Cara Delevingne and Nicole Kidman have all graduated to style-icon status thanks to his casting them in Chanel advertisement campaigns. British musician Lily Allen was transformed from quirky pop star to front-row VIP when she performed at a particularly daring farmyard hoedown-themed Chanel show in 2009. Having taken her under his influential wing, Lagerfeld created Allen's couture wedding dress a few years later. The Chanel maestro shines a spotlight on anyone he considers to be a current muse and is constantly looking for the next "It girl" to conjure into a Chanel darling.
"I've become like a Lacoste alligator. Soon I'll have to be sewn onto clothes"
Inevitably, this dedication to staying ahead of the game requires a certain fickleness and lack of sentimentality about dropping stars once they fall out of fashion. After things turned sour with Inès de la Fressange, famously the first model to sign an exclusive contract with an haute couture fashion house, and once a great friend and muse of the designer, Lagerfeld let his feelings be known when he said, "I wish her all the luck in the world, just so long as I don't have to see her anymore or hear her spoken about." His attempts to be current have also been known to backfire; when rapper Azealia Banks became an overnight sensation, Lagerfeld was quick to jump on the bandwagon. He invited her to perform at several of his parties, which didn't actually help either's credibility. Banks's largely urban fan base felt alienated by her sharp transition into high fashion, and the media was quick to turn its back on Banks when she became more famous for her bad behaviour and bad attitude than for her music.
Despite the occasional misstep, by and large Lagerfeld remains untouchable, in part due to the control he exerts over every aspect of his creative life. He is a cultural octopus with tentacles working on every aspect of his design sphere. Almost equally respected as a photographer, he himself photographs the campaigns for Fendi, Chanel and his namesake brand, maintaining a level of input that ought to be impossible when dealing with such global brands. Not so, however, for the unstoppable German. The brand Karl Lagerfeld is an umbrella label to Karl Lagerfeld Paris, the premium ready-to-wear brand; Lagerfeld, for men only; and Karl, which caters to his younger, "cosmopolitan and digitally savvy" clientele. The latter is available online only, proving once again that despite being the epitome of classic fashion, Lagerfeld is always ahead of his time. In 2004 he was the first big designer to collaborate with the Swedish high-street giant H&M, a move that seemed risky for such an elite artist. Lagerfeld shrugged off any criticism of the move, saying, "Chic is a kind of mayonnaise; either it tastes, or it doesn't."
The Karl Lagerfeld x H&M collection sold out in minutes, setting a precedent for all future collaborations, which would include Marni, Versace, Comme des Garçons, Lanvin and more. This autumn, H&M will debut its collection with Balmain, the house Lagerfeld began his career at. Ironically, the designer now at the helm of Balmain, 31-year-old Olivier Rousteing, is quickly becoming the Lagerfeld of his generation, another bold visionary credited with the brand's rapid growth and exclusive status.
I am first to admit that Coco created something tremendous: the Chanel suit (the feminine version of the two-button)… this started a fashion avalanche
The latest Chanel campaign features Lily-Rose Depp, the teenage daughter of Johnny Depp and longtime Chanel muse Vanessa Paradis. Languid, elusive and undeniably Lolita-like, she is the epitome of modern youth and the exact market Chanel hopes to corner in the coming decade. But of course there is much more to this success than simply latching on to the latest thing; Chanel is one of only 15 officially designated couture ateliers. The historical practice of haute couture is considered to be more art than fashion, created on a grandiose and painstaking scale. Garments are entirely hand-sewn, with up to 20 seamstresses working on a single piece, and are often made with rare fabrics and embellished with precious jewels that push the price tag up to the hundreds of thousands, sometimes millions. This is the backbone of the fashion industry. It is essential to maintain the high standards set by the Fédération française de la couture. Fashion houses often lose money on their haute couture lines, but it is this integrity that keeps their elite customers happy, thus cementing their reputation and allowing the brand freedom to innovate on the more profitable and mainstream scale. Do not be fooled by Lagerfeld's often glib and fanciful nature: he is at heart a businessman and plans every move, every decision, with utmost precision. During his fall 2014/2015 ready-to-wear catwalk show, he had the fashion elite crawling over each other to claim a piece of fashion history when he transformed the Grand Palais into the "Chanel Supermarket," with shelves stacked with CC-branded products. No one is immune to the enduring and powerful spell that Lagerfeld casts over fashion lovers the world over.
"Personally, I don't even think I'm that famous," Lagerfeld has said, with typical dry wit. "Now, Choupette really is famous: she has become the most famous cat in the world. I even get propositioned by pet food companies and things like that, but it's out of the question. I'm commercial. She's not. She's spoiled to death. Obviously."
Whether he is being unusually modest or simply doesn't put much faith in the fickle nature of fame, Lagerfeld is beyond hype. He is a legend, and not just in the romantic sense. The Karl Lagerfeld brand is owned by British investment fund Apax Partners, and Chanel is number 85 on Forbes's list of the World's Most Valuable Brands, with the company's worth estimated at $6.8 billion. Mattel's Platinum Collection Karl Lagerfeld Barbie sold out in minutes, and in 2014, when Cara Delevingne slunk down the Fendi catwalk carrying a small, furry doll bearing Lagerfeld's inimitable likeness, it sparked a waiting list of 600-plus desperate customers and was rumoured to have earned the brand over $1 million. The world-dominating Minions movie franchise even created characters based on Lagerfeld and his fellow fashion puppeteer Anna Wintour. So whether he chooses to accept his celebrity status or not, the legend of Lagerfeld will surely last far beyond his mortal body, which raises the question: is the creative genius even human at all?
From the mouth of the man himself: "I'm very much down to earth. Just not this earth."