The House Which Luxury Built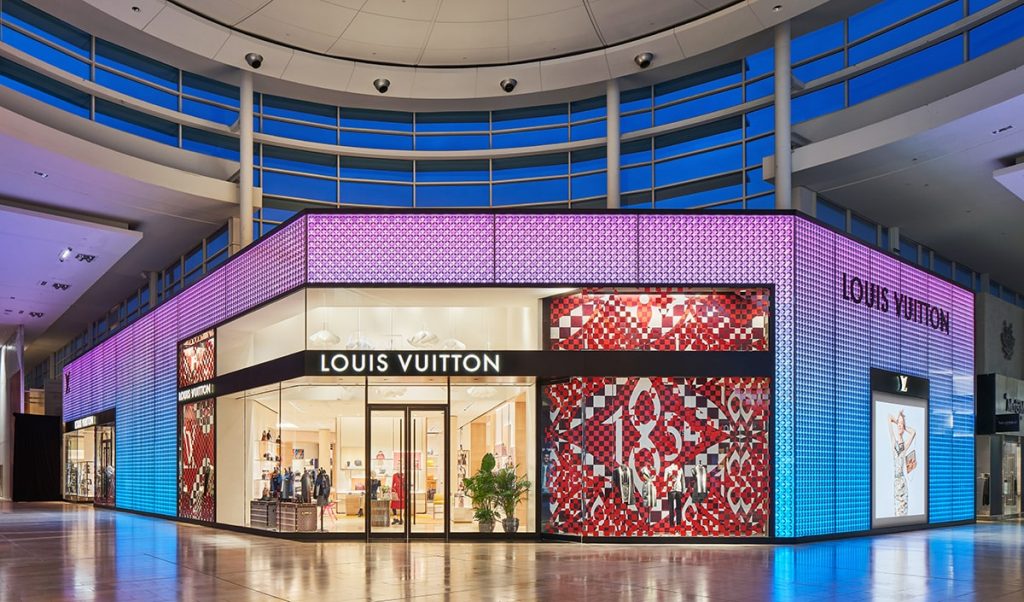 Louis Vuitton's new store at Toronto's upscale Yorkdale Mall is a multicoloured and captivating ode to its Canadian hosts.
As one of the world's leading global luxury brands, the House of Louis Vuitton has never stopped reinventing the retailing environment and improving the retailing experience for its customers. A quintessential example is Louis Vuitton's stunning new store, which opened in early October in Toronto's high-end Yorkdale Mall.
This is customer engagement on a new level, destined to become a focal point in the 270-store, two-million-square-foot shopping emporium. The grande facade is a two-storey LED screen, featuring illuminated animations of Louis Vuitton's archetypal Monogram flower motif in ever-changing colours, punctuated with dramatic and revealing double-height display windows.
Correspondingly, there are two separate entrances on different levels leading into the dedicated women's and men's collections. While the men's entrance features a sweeping wooden ceiling, the women's entrance is a double-storey atrium with a skylight and canopy of Concertina Shades by Raw Edges from the Louis Vuitton Objects Nomades collection hanging over the top. It is the ideal introduction to the treasures which are housed inside.
This store underlines Louis Vuitton's continued presence in Canada by incorporating art and cultural elements designed specifically for this Canadian celebration. Its innovative materials and architectural design reference the house's history and craftsmanship, while carefully integrating that legacy with ultra-modern components.
Columns feature prominently through the store, all wrapped in the emblematic Louis Vuitton leather complete with stitching, while the floors are finished in limestone and oak wood, predominate elements of the great Canadian outdoors.
The new Yorkdale Louis Vuitton store includes a full offering of all the house's products, including leather goods, travel, ready-to-wear, shoes, accessories, watches and jewelry, and publishing.