Yachting Life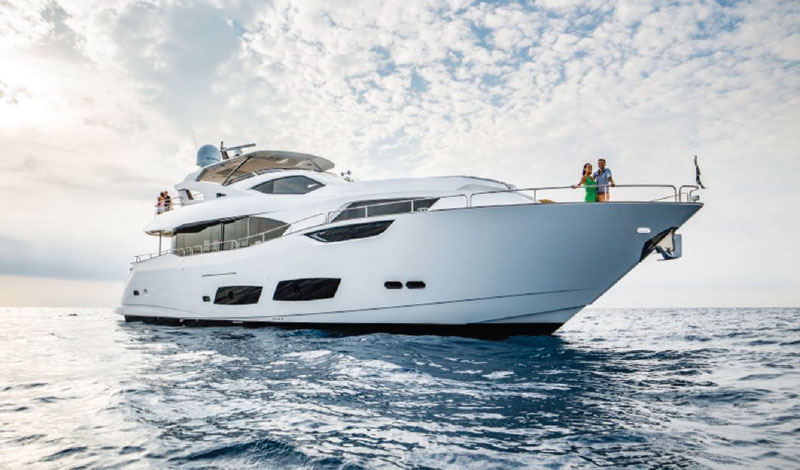 Elegant accommodations and well-supported R&R are just one side of the yachting life. For die-hards, the real luxury is the freedom to go exploring.
When Kitchener, Ont., native Derek Mader was just 12 years old, he built his very first boat with some help from his father. As a young boy, Mader would often go boating with his family on Georgian Bay, just north of Parry Sound. For Mader, it was the visceral feeling of liberty while being on the water that initially appealed to him, among other things. "There's an old adage that 'every ship is safe in the harbour.' Once you get away from the dock, things change. Your mindset changes," he says. "It's that feeling of freedom." Mader was truly introduced to the yachting world in the early to mid 2000s, through numerous summer co-op opportunities, as a student of Georgian College's marine technology program. Now, at 42, he's the president and CEO of Executive Yacht Canada.
A yacht is a large, mobile, aquatic luxury home in which elegance meets the sea, travelling becomes vacationing, eating becomes dining and rest becomes relaxation. Some who can afford to prefer yachts to hotels. "It's the ultimate privacy you [can] have with your family," says Jan Jaap (J.J.) Minnema, senior sales broker at international yacht retailer, Fraser. "You're surrounded by people you like and love, have security with the crew you're used to dealing with — not even the most luxurious resorts in the world can match that." That said, the appeal of yachting runs deeper than neatly lined caviar trays and bubbling bottles of champagne.
What drew Mader to yachting was not the stereotypical associations of elegance and wealth. He was inspired by the freedom, exploration and peace of mind it allows. "At the end of the day, whether you're 12 years old in a small boat or 40 years old in a large yacht, I don't think the feeling is any different. I think you're still an explorer," he says. "I think that's in everybody."
With shipyards on multiple continents, Mader does his fair share of exploration — he went boating in Capri, Italy, in 2016 and is set to go to Spain this year.
Yachting is a lifestyle choice, not just a hobby. "It's something that people quest for at a very young age," he says. "I don't believe that people decide at one point that they're just going to go boating. It's something that they strive to do, even if they haven't done it their whole life."
He shares that the yachting lifestyle, as well as the clientele, has changed a lot over the past 20 years. Mader notices that there are now more first-time yacht purchasers than before. "At one time, the lifestyle focused on the recreational property, or luxury yacht. The difference today is that it's not an 'instead of' purchase. It's an 'as well as' purchase."
Like Mader, Minnema finds the exploration of yachting very intriguing. "The beauty of travelling is that it makes you hungry for more." says Minnema, noting that the Mediterranean and the Caribbean remain popular destinations for yacht enthusiasts.
A boat that ardent yachters and clients of Fraser are gravitating toward is the new Legend, a 253-foot expedition yacht that launched last year. Minnema says that its sheer size and the fact that it's one of the few yachts that has the capacity for so many people are generating interest. "That makes this yacht very special. It's the only icebreaking-hull yacht in the world [as well]," says Minnema. The Legend is booked for charters year round, according to Minnema. On a personal note, he says that travelling through the Northwest Passage is next up on his bucket list.
Yachting and its accompanying lifestyle have taken both Mader and Minnema all over the world. And as author Robert Brault once put it, "Life is like sailing. You can use any wind to go in any direction."
www.executiveyachtcanada.com
www.fraseryachts.com
photos by Mike Jones, Andy Cahill and Quin Bisset