Push the Boundaries of Adventure – Alex Bellini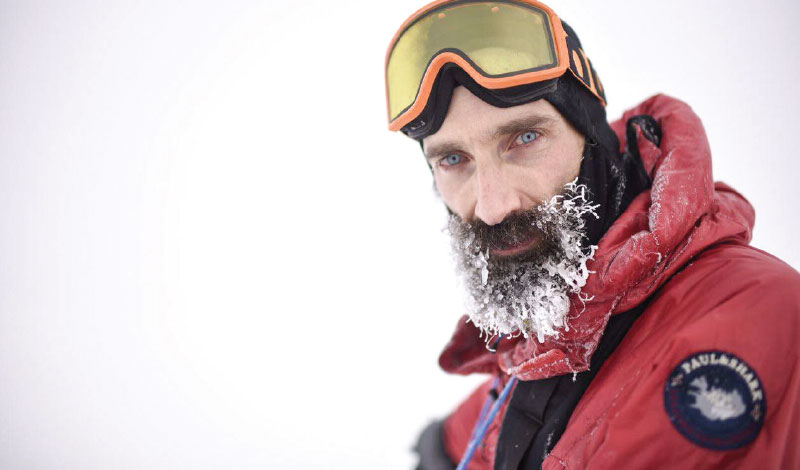 Famed adventurer Alex Bellini embarks on his greatest challenge yet, a two-week, 200-kilometre trek across the frozen tundra of Iceland.
Interview By Sarah Kanbar
Where would we be without the curiosity of the human being? At some point in the human experience, one of our ancestors decided to leave the comfort and familiarity of the communal fire to see what was over that next hill — the genesis of all of our shared experiences.
Continuing this most basic human instinct of wonderment and adventure, famed Italian explorer Alex Bellini, in a collaboration with sportswear brand Paul & Shark, embarked on his latest great adventure this past January: crossing the ice cap of the 8,100-kilometre Vatnajokull Glacier, the biggest glacier in Europe — alone.
It was a daunting task to traverse the cold, the infinite whiteness and ceaseless winds that batter this land, but it was one that Bellini embraced, just as he has done throughout his exploration career of nearly 20 years. A career that began not in the unpredictable world of adventure, but in the very predictable world of accounting.
"I was studying accountancy in university, but I had the feeling I was actually someone else and if I continued on this path, it would lead to an unpleasant way of living," says Bellini, born in 1978 in a small village among the Alps. "So I stopped my university studies to think about what I really liked in life. I started with small trips and one time when I was walking across Alaska I got the feeling that adventures and exploration could be the right thing to do and totally fulfilling. I became totally committed to adventures and began to experience very good feelings."
That commitment has resulted in an exploration career that is now the stuff of legend. In 2001 Bellini ran a stage race of 250 kilometres in the Sahara Desert. In 2002 and 2003 he walked across Alaska, pulling a sledge for 2,000 kilometres.
Those were just warm-up acts for the next incredible adventures: Bellini rowed alone in 2005 for 11,000 kilometres over 227 days across the Mediterranean Sea and Atlantic Ocean, and in 2008 he rowed for 18,000 kilometres across the Pacific Ocean from Peru to Australia, in just over 10 months, once again alone.
So Bellini was indeed the perfect choice for Paul & Shark when the brand began to look at testing new materials for its sportswear line. The well-known Italian company, now operating in 73 countries, is recognized the world over for its shark-shaped logo. The brand offers full men's, women's and children's collections as well as various "capsule" collections inspired by the world of sailing and adventure.
Paul & Shark was looking to test the quality of the -40 Capsule Collection, made up of three technical jackets, a fleece and a pair of trousers designed to withstand Arctic temperatures and the most extreme conditions. The company chose the Vatnajokull Glacier in Iceland, with its most volatile weather conditions and fluctuations in temperature, as the perfect testing ground, and approached Bellini as the perfect adventurer to put its products to the ultimate test.
"Paul & Shark had the deep knowledge of the materials," says Bellini. "And I had the knowledge of what specific clothing would be needed in that environment — it was the perfect collaboration."
Bellini was dressed in the -40 Capsule Collection during his entire two-week, 200-kilometre trek across the Vatnajokull Glacier by ski and sled. He says the Paul & Shark jacket was perfect for such an expedition. "I told them in those conditions and on a mission like that, the jacket needs to be made of tear-proof material, it needs to be breathable, have excellent down material, be comfortable and flexible, and perhaps most importantly, have lots of pockets," says Bellini. "There were times in my tent after an exhausting day when I actually felt the jacket was a caress to my heart — like it was actually taking care of me."
The -40 Capsule Collection performed flawlessly for Bellini and he gave it the highest marks in the toughest conditions. Paul & Shark's fall collection is now available at Harry Rosen stores.
A benchmark of Bellini's exploration career has always been to experience an extreme adventure to mark the profound changes that are taking place in the world today and to witness firsthand the dramatic changes in the climate, an issue that closely affects us all.
"The only way to bridge the gap between what we know, what we imagine and what is actually happening to the climate is to experience it firsthand," says Bellini.
To that end, his bigger dream is to live on a melting iceberg. "It doesn't matter when or if I will ever realize this adventure," says Bellini. "Adventure is an international language that everyone can relate to as we all have adventures in our day-to-day lives. Adventures are stories and I like to tell stories."
www.alexbellini.com
www.paulshark.it
photos courtesy of paul & shark