Raj Kothari – The Good Man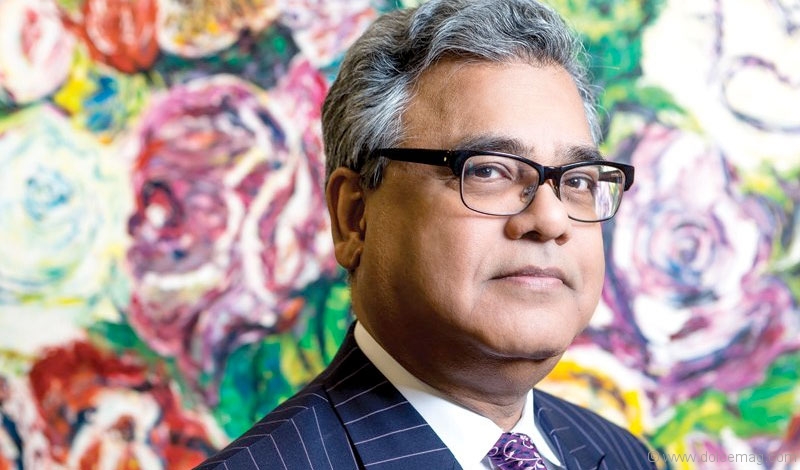 Raj Kothari guides us to detoxify our professional lives by mixing business with friendship and putting others first
It's a Monday morning in Toronto, and as half the city shuts down to make way for the year's biggest blizzard, Rajendra "Raj" Kothari and I are looking down at it all from 26 storeys above. Despite the snowy scramble at ground level — and the lurking fear of "will my car be buried in a snowdrift by noon?" — it's hard not to feel at ease in the midst of Kothari and his whatever-the-weather attitude.
I soon discover where Kothari sources his infectious zen. We're in a bright boardroom in the Toronto office of PricewaterhouseCoopers (PwC Canada), the multinational professional services network where Kothari spends his working hours as the company's global assurance leader for asset management, national asset management leader in Canada and Greater Toronto Area managing partner. The titles alone are a mouthful, let alone the to-do lists they come with, but Kothari is anything but overwhelmed. In fact, he's figured out the secret to juggling his duties and doing it with a smile on his face: he just needs to be around people. And more so, he needs the people around him to be happy.
Kothari grew up in the educationally charged, Oxford-esque town of Pune, India, and was seasoned at Poona University in India, City University in London and Harvard University. But his years of study aren't the only motivator behind his work ethic and sense of drive, which are renowned across the industry.
"My parents were ambitious and nurturing, but what was really the tipping point in my life was my father passing away when I was just 14," says Kothari. "I took that as a challenge. I became a difficult child, fighting and challenging everything, and I developed a will, a desire to succeed in spite of any obstacles."
Now, after living and working in Toronto since 1988, Kothari is not only planted firmly at the top of the corporate mountain, but he's also a man of many friends. He holds in his hands a network of strong and diverse connections, a web that stretches from business circles to philanthropic realms, from North America to South Asia.
Among these ties is the Right Honourable Adrienne Clarkson, former Governor General of Canada, whose Institute for Canadian Citizenship is avidly supported by Kothari. Antoni Cimolino, artistic director of the Stratford Festival, is another close friend, having worked closely together during Kothari's 16-year involvement with the festival.
"Over time Raj has become a personal friend," says Cimolino. "And that comes from not just his being professional, and not just his being really good at what he does, but from his being a very warm and personally forthcoming and generous human being. A good person."
Indeed, making connections and elevating those newfound friends is what Kothari does best. At work, he is the business doctor, fine-tuning his clients' companies to perfection. "At the end of the day, it's about them, not me," he says. "I bask in their glory." This humility exists both in and out of the office. On Kothari's resumé is a lengthy list of extracurricular activities, charitable adventures, other passions that keep him on his toes when he's not within the art-adorned walls of the PwC office. In the past two decades he has lent himself to several causes in the areas of health care, arts and education, and today, while this roster is somewhat smaller, his eagerness to give back is not.
"Once upon a time I was on six or seven boards at once, but I'm getting older. Now I just try to cover the mind, the body and the soul," says Kothari. To enrich the mind, he's on the International Advisory Council of the Dean of Schulich Business School, Dezsö J. Horváth. To benefit the body, he's a board member and chair of the finance committee of the Toronto General and Western Hospital Foundation (TGWHF). To feed the soul, he recently joined Soulpepper ("Says it right in the name!"), Canada's largest urban theatre located in Toronto's Distillery Historic District.
For Kothari, Soulpepper is the successor of the Stratford Festival, which he served for many years in various capacities, including as chair of its finance committee. He stepped down in 2014 to devote himself to a smaller company that's closer to home. Enter: Soulpepper. The love that he and his wife Shaila share for the theatre has over the years ignited in their three daughters, Shraddha, Akshara and Shruti,with Shruti now an actress and director on the rise.
And why devote so much of his personal time to these causes, rather than simply writing them regular cheques? According to Kothari, money isn't the only way to go about charity.
"Giving time and getting truly engaged can be more enriching than just giving money," he says. "While making financial contributions is vital, by truly engaging yourself, you understand the pulse of what really the organizations' needs are, what drives their success, and how they are contributing to the cause that they believe in."
Tennys Hanson, president and CEO of TGWHF, can attest that Kothari practises what he preaches. Working alongside him on the board, Hanson says she has witnessed great sparks flying from the mind of Kothari. Before the problem in the markets began in 2008, Kothari was the one who suggested the foundation come up with a stability fund to fall back on in tougher times — a breakthrough for TGWHF.
"It was a lot of foresight and vision," says Hanson. "Raj's time and energy has produced enormous value for the foundation."
In terms of balancing it all, Kothari might as well have a degree in time and energy management. Schedules are a common pain among businesspeople, but this exec has the art of it down pat. "Ask a busy person to do something and it will get done," he says. "When you believe in something, you're passionate about something, you find the time."
A few weeks after our mid-blizzard interview, after having chatted with a handful of Kothari's closest acquaintances, I've compiled a collection of pleasant adjectives that have been attributed to him in these talks: elegant. Enthusiastic. Bright, gracious. Insightful, with a fantastic sense of humour. The list goes on. These are what many professionals aspire, and struggle, to be, but after experiencing the edifying personality that is Raj Kothari, I know how he does it: it's about putting others first.
"Living for myself is easy," says Kothari, "but giving back and seeing the joy of the benefit of what I'm giving is priceless."
PHOTOGRAPHY BY JESSE MILNS