Jennifer Huether: Confessions of a Master Sommelier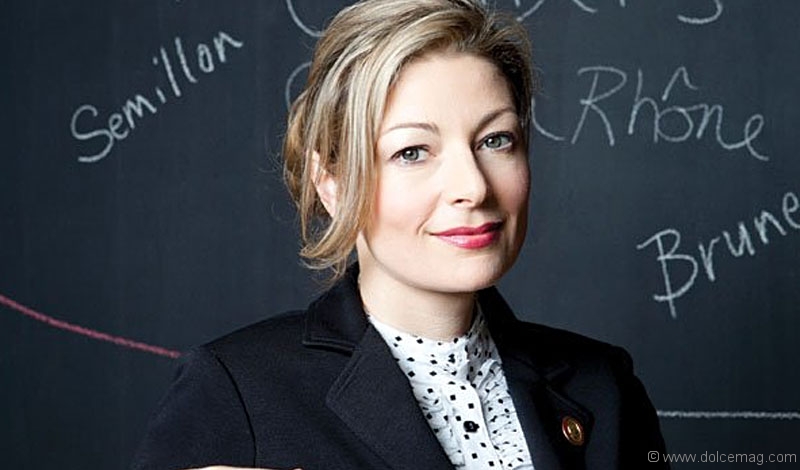 My journey to become a master sommelier began under the dim lights of an intimate, Bohemian restaurant in Toronto called the Rosedale Diner. A casual conversation with head chef and inspired grape enthusiast Av Atikan intensified when I informed him that I wasn't fond of white wine. In a breath, he began lining up glasses like dominoes and pouring me sample after sample of his revered whites. Before I could take a second to sip, he hustled into the kitchen and came back carrying plates of complementary dishes. One memorable pairing consisted of Sauternes and foie gras. I tasted the wines, indulged in the food and was instantly hooked. I have Atikan to thank — or curse! — for the next decade of my life.
After that evocative exchange, I signed up for a sommelier course at George Brown College's culinary school. It was a wonderful revelation to discover that my passion for wine could be translated into a profession. After working my way through the class, I realized I was still thirsty to learn more. I pursued a diploma of wine from the Wine and Spirit Education Trust, which took a few years of intense studying to complete.
In 2001, I heard about the Court of Master Sommeliers. It sounded easy enough: pass the advanced exam and then sit the master sommelier (MS) exam. Should be doable, I thought. It's a good thing I had absolutely no insight as to how challenging it would actually turn out to be — I may have run for the hills rather than the vineyards.
After successfully completing the advanced portion, I started to sit the MS exam. I've tried many times to put into words what the latter experience was like, and the best thing I can liken it to is training for the Olympics and the army at the same time. Wine bottles covered my countertops, study group sessions went on for hours, days, months and then years, and I was embarrassed to carry out my recycling bins. The highlight, perhaps, was when my daughter told her daycare teachers that "Mommy drinks for a living."
I was a manic studier with wine maps all over my house and books spread over my children's craft table. All the while, I was working full time as the head sommelier at Maple Leafs Sports and Entertainment Ltd. (MLSE) in Toronto and raising two fantastic children.
It didn't take me long to figure out why there were so few master sommeliers in the world. Trying to pass the final demanded a flawless synchrony of all five senses. I would breeze through one section but miss on one of the two others. This required more research, more travelling, more time with top sommeliers and, of course, more money. It was consuming in many ways and I felt like I had developed an addiction to the idea of achieving my master plan.
Finally, after sitting the MS exam six times (yes, you have to be persistent), I had a breakthrough in Texas in February 2011. The memory is still fresh in my mind. I had six wines sitting in front of me, and I had to blind-taste each one in about four minutes and verbally present my tasting notes and conclusions to a panel of three straight-faced master sommeliers.
I stood before them detailing each type of wine, its growing region, the vintage, variety and producer, and any other attributes that flashed into my mind as each new flavour flooded my mouth. It was a tough tasting, but I managed to complete it in time. Feeling spent and unsure of a pass, I sat alone in a room anxiously awaiting my results. To my surprise — and delight — I did. It was the most surreal moment of my life.
It took me weeks to realize I had finally accomplished my dream. And to think, it all stemmed from one conversation at a small Toronto diner over a glass (or two) of wine.
In the Cellar with Jennifer Huether
The master sommelier reveals her favourite winter reds
1. 2010 La Crau de Ma Mère, Châteauneuf-du-Pape, Rhône Valley, France $44.95 — Big, rich and full-bodied style of CNDP. Savoury fruit, spicy notes with very extracted dark berry flavours with a raspberry core. Delicious now but will easily get better over the next 10 years-plus.
2. 2009 Cliff Lede Vineyards, Cabernet Sauvignon, Stags Leap District, Napa Valley, California, USA $75.00 — OK, a bit gratuitous, I realize, since I work for the winery, but I can safely tell you I was buying this rock star Cabernet for the Air Canada Centre long before! Deep, tight black currants and blueberries, savoury notes, dusty earth, firm tannins with balanced acidity. While you can drink this Cabernet now with a piece of rare beef, it will also cellar and improve easily for 10 years.
3. 2008 Dei Vino Nobile di Montepulciano, DOCG, Tuscany, Italy $28.95 — This is a very heady Montepulciano, with notes of dried rose petals and violets, dark black ripe fruits wrapped in vanilla and cinnamon notes. Elegant and medium-bodied with balanced acidity and tannins. Great with lighter-style meat dishes or pasta with a Bolognese sauce.

4. 2008 Lantides Estates G, Agiorgitiko, Nemea, Greece $21.95 — Agiorgitiko is the red grape in Nemea, and while hard to say, it's absolutely delicious – especially with some bottle age. This dry red is medium-plus bodied, full of sweet cherry, plum and roasted fig aromas. A healthy dose of acidity and tannins make it perfect for drinking with some fall/winter barbecue, or laying down for a few more years.
Jennifer Huether
Guest Wine Editor
Jennifer Huether is the master sommelier for Napa Valley's Cliff Lede Vineyards and Anderson Valley's Breggo Cellars, which are owned by Edmonton native Cliff Lede. She is one of 197 master sommeliers in the world and is Canada's first and only female master sommelier. Huether formerly worked as the head sommelier for Maple Leafs Sports and Entertainment in Toronto, overseeing a large award-winning wine program. She looks forward to a fruitful future mentoring other young Canadian and North American sommeliers.
Photography by Nikki Leigh McKean/Cliff Lede Vineyards