Marcus Samuelsson: Exploring The Universal Language Of Food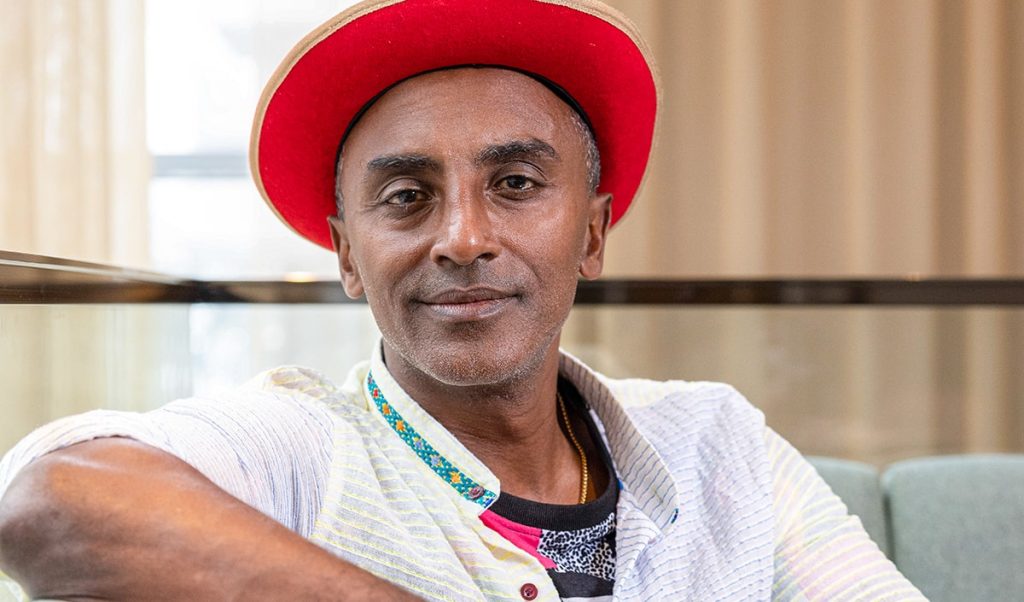 The restaurateur and chef talks about living in New York City and being inspired by Montreal's push and pull.
Situated inside the Four Seasons Hotel Montreal, the MARCUS Restaurant + Terrace, and MARCUS Lounge cater for all moments of the day, from power breakfasts to nighttime cocktails, with a dinner menu that champions produce from both land and sea. It's also a space where chef Marcus Samuelsson brings his vision of food to life.
"Montreal is an incredible place," says Samuelsson. "It's beautiful, historic and there's a push and pull between the English and French." He talks about walking around the city in the years before opening his restaurant in 2019, and how much that push and pull inspired him.
When the time came to open MARCUS, he made sure the establishment captured that ethos. "The night bar has one energy and then the dining room and kitchen have another. You have this push and pull, where people can go back and forth. It creates a beautiful, fun way of dining."
Born in Ethiopia and moving to Sweden after his mother died of tuberculosis and a nurse aided in getting him and his sister adopted, Samuelsson has an interesting perspective when it comes to food. "I've gone back to Ethiopia many times, so I'm very connected to it," he notes. "Spiritually, through food and through my love for the country."
Where he has memories of going fishing with his father for crayfish, lobsters and mackerel on the west coast of Sweden, his lasting connection with Ethiopia offers an appreciation for the depth of spice. "Crab is something I grew up with, along with searing fish," he continues. "It's very simple. Our mackerel was seared and served with horseradish and potatoes. It's very distinct flavours."
Over the course of his years in the kitchen, both his craft and renown have moved from strength to strength. In 1995, at age 24, he was the youngest chef to receive a three-star restaurant review from The New York Times, while being executive chef of Scandinavian restaurant Aquavit. In 2013, he accepted the James Beard Award for Writing and Literature for his memoir, Yes, Chef. In 2009, he was guest chef for Barack Obama's first state dinner.
He's also enjoyed a television career, featuring as a judge on the Food Network's Chopped, American show The Taste and most recently as head judge of Top Chef Family Style.
"Any time me and my mum sent a letter to get a scholarship, there was anticipation, nervousness," Samuelsson explains, looking back to where it all started. "Not only did I have to work in a different environment and take care of myself from an early age, but I also had to do it in different languages. In the kitchen, I always felt a sense of pride that I could operate in multi-layered, complex environments."
While he's had to navigate working in different cultures, kitchens and in different languages, the one language that's been universal through it all is a love for food. When you're talking with Samuelsson, you can hear the passion for flavour in what he's saying, and how he translates that to the plate. He talks of food as therapy, describing how touching, thinking, cooking and communicating about it with his chefs are some of the most calming things he can do. As he says, "I've worked for 25 years. I'm equally, if not more, inspired today than before. The minute I'm not inspired, I should be doing something else."
Today, he resides in the neighbourhood of Harlem, New York City, a place where he says he feels most at home. "Even if you don't live in America, you know so much about New York City because of TV shows and the like," he says. "You go to a small village in France or Japan and you don't know anything. I found it almost easier to be in the [United] States, because there was a level of comfort."
Looking at what Samuelsson has achieved and accomplished over the years, it would be easy to say it's been a natural progression. He's reached celebrity status, with hundreds of thousands of followers who connect with him on social media to follow his food journey. However, he's quick to share how it's not about follower count or acclaim. For Samuelsson, it's always about the food. "You set out to love your craft," he says. "I'm working on that craft and talking through my food. Everything else I can't control."
As well as serving people's palettes, he's a philanthropist and is passionate about giving back. When asked how he'd define hospitality, he responds by saying that "it's to serve your community." As well as being co-chair for the Careers through Culinary Arts Program (C-CAP), which helps educate and guide underserved high-school students toward a career in the culinary sector, he works with initiatives like City Harvest, a food rescue movement which helps to feed New Yorkers who are hungry and in need.
"I come from a hut that's twice the size of this table," he says. "I can talk to you because I was lucky. I survived tuberculosis and I had the goodness of others, like the nurse who took us in. When you come from environments like that, you have to acknowledge it and give back."
What's next for Samuelsson is unwritten. Whatever it is, however, he believes it will be good. When asked what his most fun experience has been as a chef to date, he replied simply by saying, "It's still to come."
www.marcussamuelsson.com
@marcuscooks
Interview by Estelle Zentil