Pusateri's – Fashion Feast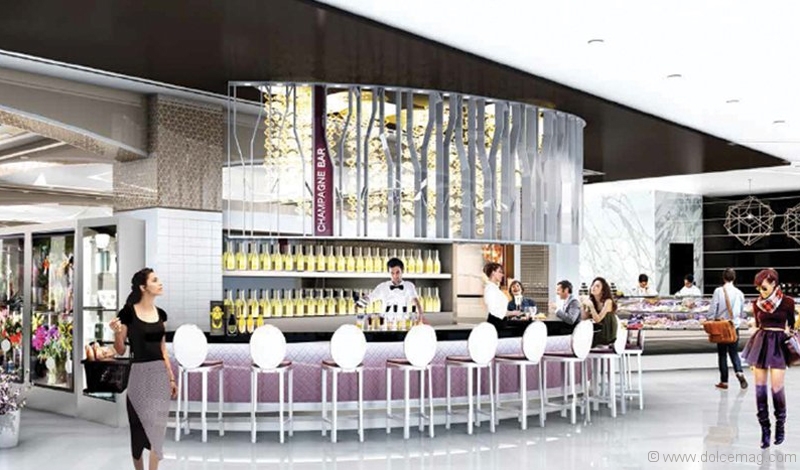 A carefully curated food experience awaits Saks shoppers in Canada with the addition of Pusateri's food halls.
With the arrival of Saks in Canada comes a delectable culinary experience by Toronto's top grocer. The first-ever Saks Food Hall by Pusateri's locations, which have an 18,500-square-foot home at Saks in Sherway Gardens and a swanky spot at the luxury department's downtown Toronto location, are hitting top marks with fashionistas and foodies alike.
From champagne sips and cold-pressed juices, to roasted brews and sashimi, to a full-service hot food counter and grab-and-go prepared meal items, the new food hall boasts 10 unique culinary stations that offer a mix of exclusive Pusateri's brands alongside Toronto gourmet vendors. Discerning shoppers can now fuel up on premium java, tick items off their grocery lists, and nosh on gourmet meals in between browsing Saks' luxurious racks. "The partnership with Saks Fifth Avenue has allowed us to curate a series of unique food experiences that reflect our team's world travels and inherent love of food," says Pusateri's president Frank Luchetta.
Impressive and engaging, the Saks Food Hall by Pusateri's is a welcome concept that also marks the resurgence of food halls once enjoyed in Canadian department stores long ago. Like European food hall Harrods in London, where patrons pick up fine pastries and cheeses, chocolate and caviar, the Saks Food Hall by Pusateri's reflects the luxe chain grocer and catering and event company's passion for excellence and fine food.
As one of Toronto's specialty food purveyors, Pusateri's has been at the top of the food chain since it opened its doors in the 1960s. Family-owned and Canadian-operated, Pusateri's has well-received storefronts on Avenue Road (its flagship), Yorkville Avenue, in Bayview Village and an imminent opening in Oakville, and has found success in catering, event, floral and giftware services. This latest partnership with world-renowned luxury retailer Saks marks the beginning of a beautiful journey of two brands dishing out the same level of quality, passion and exemplary service to their discerning customers.
The Saks Food Hall by Pusateri's hosts 10 unique culinary stations:
1. NUTELLA CAFÉ BY PUSATERI'S
Fresh, handmade crepes featuring the world's favourite hazelnut spread
2. PUSATERI'S SUSHI BAR
An eclectic mix of raw fish creations
3. CHAMPAGNE AND RAW BAR
Artisanal red and white wines and fine bubblies alongside seafood towers and rotating small plates menus
4. PUSATERI'S CAFÉ
Exclusive coffee blends and loose-leaf teas accompanied by freshly baked treats
5. PINGUE PROSCIUTTO BAR
Local charcuterie sliced fresh for eat-in or takeaway
6. PUSATERI'S SIGNATURE SPATCHCOCK ROTISSERIE
Grass-fed Ontario chicken dishes expertly made with state-of-the-art French rotisserie
7. GREENHOUSE JUICE
Plant-based snacks and cold-pressed juices available at Sherway Gardens location, and superfood smoothies offered at Queen Street location
8. LA CUCINA
Full-service hot counter with innovative recipes by the Pusateri's Kitchen team
9. PUSATERI'S OWN PREPARED FOODS
Grab-and-go single and family-sized offerings, including premium proteins, made fresh every day
10. CATERING
À la carte, corporate, holiday, private and kid-friendly catering menus