SWEET RECIPES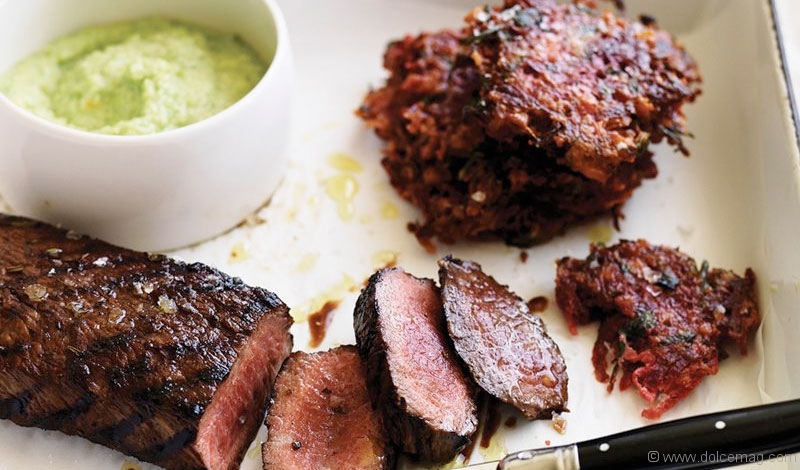 Peppered lamb with beetroot fritters, broad bean and labne PURÉE
Chef Dominique Rizzo for Lindeman's serves up a classic dish with a twist paired with a rich, spicy wine
Ingredients
4 x 200 g lamb loin eye, trimmed
¼ cup pomegranate molasses
2 tbsp coarsely ground black pepper
1 tbsp rosemary leaves, chopped
1 tbsp fresh oregano, chopped
2 tsp honey
Good pinch salt
2 tbsp olive oil
Method
1. Combine all the marinade in a bowl and rub into the lamb. Allow the lamb to sit in the marinade, covered in the fridge for 30 minutes.
2. Heat a pan over a moderate temperature and pour in the oil. Sear the lamb on all sides for about 2-3 minutes each side, cooking the loin all up for about 10 – 15 minutes, depending on the size. Remove from the pan and allow to rest covered with foil for about 5 minutes prior to slicing.
Beetroot Fritters:
250 g (2 large), cooked beetroot, peeled and grated
100 g tinned chickpeas, drained and roughly chopped in a food processor
2 tbsp fresh mint, chopped
2 tbsp fresh parsley, chopped
1 tbsp fresh dill, chopped
2 tbsp fresh coriander, chopped
Grated zest of ½ orange
½ tsp ground cumin
1 tbsp tahini paste
1 egg
Salt and pepper to taste
Sunflower oil, for frying
1. Squeeze the beetroot in some muslin cloth or clean dish cloth to remove excess liquid and transfer to a bowl. Add all the other fritter ingredients and mix well.
2. Pour enough oil into a large frying pan to come 1cm up the sides, and heat over a moderate temperature until a small amount of mixture bubbles when put into the oil.
3. Using two dessert spoons roll pieces of the beetroot mixture into compact oval balls, then flatten them into patties of around 7cm in diameter and 1cm thick.
4. Fry in the hot oil for two to three minutes on each side, until they've turned a nice dark golden colour. Transfer to paper towel, and repeat with the remaining fritters.
Broad Bean and Labne Purée:
700 g shelled broad beans
1 tbsp butter
1 small onion, finely diced
¼ cup cream
3 tbsp labne
1 tbsp preserved lemon
Salt and pepper
1. Cook the beans in plenty of boiling water for 8 minutes, drain and refresh in cold water, peel off the outer skins and place into a food processor.
2. Heat a small fry pan and melt the butter, sauté the onion for 2 minutes until softened without colour.
3. Add the cooked onions to the beans along with the cream, labne, preserved lemon, salt and pepper and blend until smooth. You may need to add a little more cream or stock to thin out the purée depending on the consistency you want.
4. Serve the lamb sliced sitting on a spoonful of the purée with the beetroot fritters on the side.
Warm mozzarella Salad with radicchio and rocket
Ingredients
2 balls of fior di late mozzarella cheese, cut into 1cm slices and placed in the freezer to chill for 15 minutes
1 radicchio, torn into small pieces
2 good handfuls of rocket
1 large bulb of fennel, sliced and left soaking in lemon water
2 oranges, peeled and segmented
Bread Crumb Mixture:
2 cup fresh bread crumbs
(made from day-old bread as opposed
to "dried" bread crumbs)
Pinch red chili flakes
1 tbsp of sage, finely chopped
1 tbsp of parsley, finely chopped
1 tbsp oregano, finely chopped
2 tbsp of parmesan cheese,
finely grated
Egg Dip:
2 eggs, whisked slightly
¼ cup flour
Vinaigrette:
1 tsp mustard seeds, crushed
2 tbsp red wine vinegar
½ cup olive oil
¼ cup orange juice
Salt and black pepper
Method
1. Coat the mozzarella cheese slices
in the flour then egg wash then in
the bread crumb mixture. Place the mozzarella onto baking paper and
set in the fridge.
2. Heat a good splash of oil in a
heavy based fry pan.
3. Deep fry the mozzarella until
golden and crispy, set aside on absorbent paper.
4. Toss the greens with a bit of vinaigrette, salt and pepper.
5. Divide mozzarella onto four
plates, and place on top of each
slice the greens, sliced fennel and orange segments.