A Tale of Two Trumps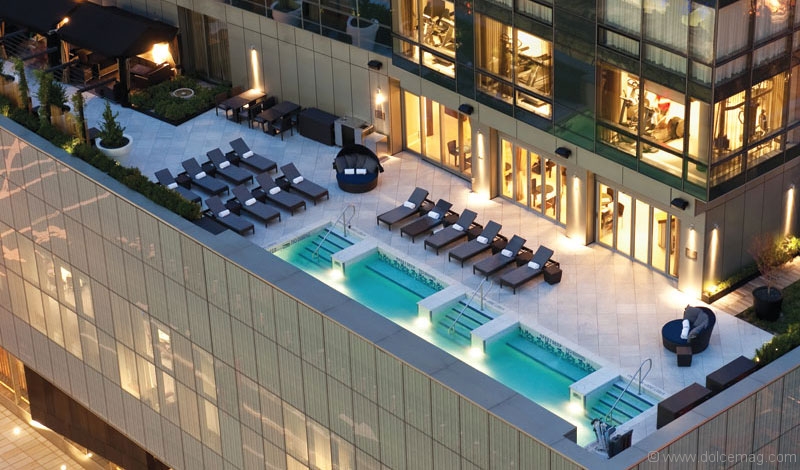 Gone are the days of butlers and boudoirs – modern luxury has just moved in. With a vast portfolio of residential and retail projects that span the globe with big-city attention, the Trump brand arguably continues to emote luxury in all its forms. The Trump Hotel Collection, which includes locations in Toronto and New York City, is one of its latest works to dominate the skylines of cities searching for five-star luxury with downtown cool, juxtaposing its penchant for heights with interiors that parallel the location and community in which they reside. Replacing gold trimmings and diamonds with imported crystal and raw materials, the series of sumptuous stays redefine the telltale symbols of luxury: a concept real estate mogul Donald Trump has monopolized for years. This subdued approach to extravagance found at the Trump International Hotel and Tower Toronto and Trump SoHo Hotel is spearheaded by his children, Ivanka, Donald Jr. and Eric – a generation of developers who relate to the needs of today's modern customer. Along with sophisticated spaces that feel more home than hotel, properties such as Trump Toronto and Trump SoHo provide elegant valet service and the trademarked touch of the 24-hour Trump Attaché program, an unprecedented service that captures the preferences of each guest immediately and instinctively. The Trump devotion to reaching new heights is palpable in a field where real-estate super brands are few-and-far between.
TRUMP INTERNATIONAL HOTEL & TOWER TORONTO
Toronto's skyline now has a residential building to look up to – the highly anticipated Trump International Hotel and Tower Toronto. Soaring to 60 storeys at the corners of Bay and Adelaide streets, the mixed-use skyscraper of steel stone and spire resonates luxury and business in Canada's financial capital. "The Trump name is known for the best addresses … there is no better match at that specific location, and we're very excited about it," says general manager Mickael Damelincourt. Catering to a wide range of clientele, which includes buyers from Canada and Europe, Trump Hotel offers 261 rooms and condo suites, with 118 private residences that sit above the hotel. According to Damelincourt, 80 per cent of the hotel has been sold, and about 65 per cent of the residential units have been purchased. "You're looking at people who are buying an address in Toronto. They are buying the hotel's amenities, but on the other end, they want intimacy; they don't want to be living in a hotel." Services include a spa and fitness facility and saltwater infinity pool, steak and seafood at Stock Restaurant & Bar, and 12,000 square-feet of meeting space. "The design is caviar and champagne, so you see a lot of brightness and darkness – it's the people in the building that are going to bring the colour."
TRUMP SOHO HOTEL CONDOMINIUM – NEW YORK
Journeying across the streets of New York's second-most expensive zip code, I ask my cab driver if we're anywhere near the Trump Hotel Soho. With fingers pointing upwards he says, "See that tall building there? That's it." Towering over the community of SoHo, a bohemian area in lower Manhattan known for its artistic soul, attic apartments and boutique shopping, the luxury skyscraper brings the outside in with loft-inspired designs and an earthy palette by Rockwell Group. A visit to The Trump at Spa reveals the city's only luxury hammam experience, inspired by Ivanka Trump's visits to Turkey. The cleansing ritual involves a heated marble stone, where I lay as a therapist detoxifies me with alternating splashes of cold and hot water, and bubble body wrap made with traditional soap.
Brimming with contemporary cool and celebrity guest stays, the condo-hotel houses 391 guest rooms and suites with Taschen books and Fendi Casa furnishings. Standing tall at 46 storeys, rooms with floor-to-ceiling windows offer a breathtaking landscape of iconic monuments, which include the Empire State Building, the Brooklyn Bridge, the Statue of Liberty and the Chrysler Building. "Sophistication, quality and luxury are the cornerstones of the Trump brand. At Trump SoHo, we envisioned a modern translation of these concepts," says Ivanka, who, along with her brothers, executed the 2010 venture with building-owner Alex Sapir and development partner Bayrock Group LLC. With only 12 rooms per floor, the sleek, sexy Trump Soho affords an intimate, turnkey experience for international buyers. "My father has worked very hard to build such a successful empire, and my brothers and I intend on continuing his work."