Alex Filiatrault: Champion Of Diversity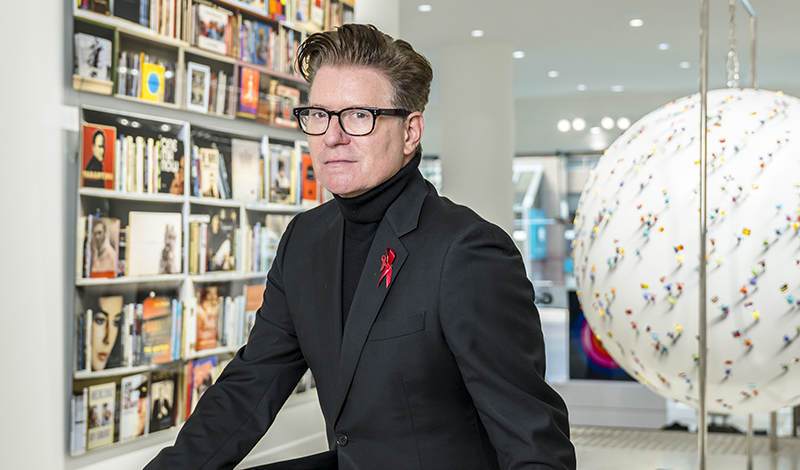 A genuine supporter of community, Alex Filiatrault is a man of action and a champion of transformation and inclusiveness.
"Diversity" and "inclusiveness" are buzzwords that have been making the rounds over the past few years. There is a decided difference, however, between parroting the words conversationally and actually practising these philosophies as truisms through continuous and genuine actions.
Alex Filiatrault, CEO of the Canadian Foundation for AIDS Research (CANFAR), is a proponent and a beacon of the latter — a person who embraces and loves Toronto's multi-layered mosaic.
A native of Montreal, Filiatrault was born and raised in an immersive bilingual environment. After working in a brokerage firm in Montreal for six years, he capitulated to his love for travel, spending just under two years in Europe. When he returned, he joined the hotel and hospitality industry as an executive in sales and marketing, a sector he worked in for 25 years.
Laughingly sharing that his friends would most likely describe him as a man on a mission, generous of heart, easy, accessible and passionate, Filiatrault says he refuses to take "No" for an answer. Having worked as a volunteer with CANFAR for 14 years, when Filiatrault was offered the role of CEO, it was a synergistic and natural fit.
CANFAR's four key pillars — its guiding lights — are: prevention, testing, care and reducing stigma. In order to raise awareness and actualize these pillars, CANFAR works closely with key partners to ensure continued investment in innovative research, thanks to ongoing generous donations that translate into grants for ending HIV in Canada.
"I Love The Diversity Of Communities In Toronto. The City Is An Amazing Canvas Of People"
HIV awareness is promoted across multiple platforms. The events platform includes Bloor Street Entertains, the November annual marquee event now in its 23rd year. The event is hosted by 19 venues (including four new ones for 2019) and is attended by between 720 and 750 people. Other key events include Can You Do Lunch?, where national spokespersons such as Valerie Pringle, Suzanne Boyd and Jeanne Beker moderate high-profile speakers, and AIDS beat, where Bay Street law firms come together annually in a musical competition.
Along with social media awareness campaigns and the development of new websites and apps to help young people, a huge awareness campaign is in the works around HIV self-testing kits. "This is transformational for young people, who will eventually be able to pick up a kit at their pharmacy and self-test in their own home," Filiatrault says. "We are pushing to get government approval, as well as make the kit accessible to everyone by 2020."
While a diagnosis of HIV is no longer a death sentence, and great strides have been made in the diagnosis and prevention of HIV, unquestionable concern still exists around the fact that six to seven new cases of HIV are diagnosed each day in Canada. "The Youth Awareness Program, which falls under the national awareness program and is a key part of CANFAR's mission, reaches out to teachers and thousands of youth 15–29 [years old]. The focus in particular is on marginalized communities, at risk communities such as Indigenous communities, new Canadians, drug users and men who have sex with men," Filiatrault says.
In conjunction with his commitment to CANFAR's fundraisers, other key initiatives and annual fundraisers important to Filiatrault and his partner of 30 years, Dr. Graham Smith, include the SickKids Scrubs in the City event, Princess Margaret Cancer Centre and The Butterfly Ball – Boost for Kids.
Filiatrault, who lives at Bloor and Yonge streets, says he loves the beat of the city. "I love the diversity of communities in Toronto. The city is an amazing canvas of people from many parts of the world who bring their uniqueness to the city. In turn, this diversity has changed the city in very positive, international and cosmopolitan ways," he says.
A lover of history and architecture, Filiatrault is enchanted with cities such as Paris, Berlin and London. But he also loves New York and Los Angeles for their cosmopolitan and inclusive communities. "I am very big on cosmopolitan cities, on inclusive cities," he says.
As a way to discover Toronto in his spare time, Filiatrault rides his bike through the city's myriad neighbourhoods. "It is great to cycle around different neighbourhoods, discovering the new buildings going up," he says.
"Everyone Has A Voice And Can Be Part Of Change. We Can All Come Together And Be Very Impactful. I Believe Strongly In Communities And Being Very Active Within Them"
And while Filiatrault can literally spend days and days wandering the streets of Paris, admiring the city's historical buildings, he also loves the towering skyscrapers of Toronto and New York. "I get a big kick out of the new high-rises — how they are built, how high they are going, the architects; they are an inspiration," he says.
An eclectic dresser, Filiatrault loves Canadian designers such as Christopher Bates, as well as international designers from Italian and French design houses. "I welcome the opportunity to discover local designers," he says.
A movie enthusiast and a big fan of the Toronto International Film Festival (TIFF), Filiatrault says he loves familiarizing himself with emerging filmmakers and understanding the ins and outs of the movie industry, how movies and scripts come together and the technology behind the newest movies. "And while I have a soft spot for historical movies, I also like science fiction."
When the art of living, as defined by exquisite food, eclectic fashion and definitive home design, comes together in symbiotic harmony, Filiatrault believes a dolce vita life has been achieved. He also firmly advocates that "everyone has a voice and can be part of change. We can all come together and be very impactful. I believe strongly in communities and being very active within them."