Born to be Bond – The Work Of Pierce Brosnan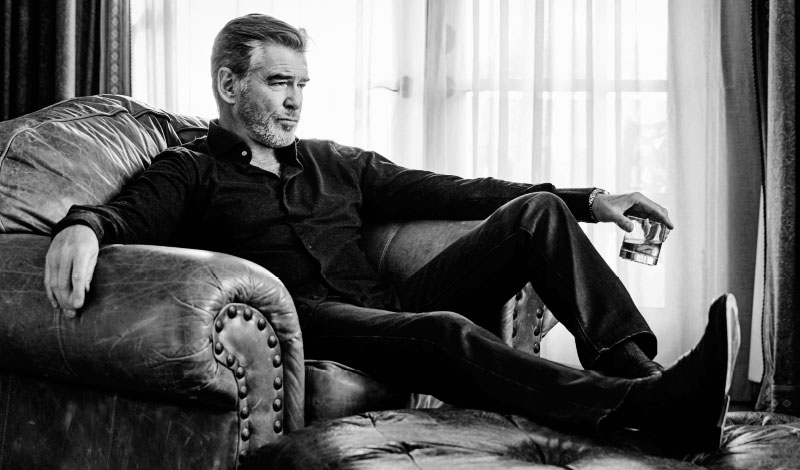 Nearly 20 years after the end of his reign as James Bond, Pierce Brosnan is still lighting up screens big and small. With multiple projects in the works, the Irish-born actor shows no signs of stopping.
No matter what else he does, Pierce Brosnan will always be remembered as one of the five actors to have played James Bond on the big screen. And he's OK with that — as a matter of fact, he's grateful.
Brosnan is one of those well-travelled souls you can't easily attach to one location. He's got a mix of accents and cultures. Born in Ireland, he lived and worked in England before moving to California. These days he splits his time between Malibu and Kauai, Hawaii's most eco-friendly island.
His quirky sense of humour is probably the most obviously Irish thing about him. One can imagine it's helped him weather painful life events like the departure of his father when he was a little boy and the passing of his first wife and his daughter, both to cancer. Brosnan has also found solace in working steadily — not only as an actor, but also as a producer. His production company, Irish DreamTime, produced a number of movies that he starred in.
His new TV series for AMC called The Son sees him playing a Wild West patriarch. He'll also be showcasing his range again in a Mamma Mia! sequel. Two of his four sons, Dylan and Paris, are now in-demand models, having just walked the runways at Paris Fashion Week a few weeks ago. And an exhibition of Brosnan's paintings is in the works for next year.
At sixty-four, Brosnan, looking quite dapper with a full beard, is as busy as ever, though he made time to sit down with Dolce.

ACTING
How did you get started in acting? What made you want to be an actor?
The movies made me want to be an actor. I grew up in Ireland. I left Ireland as a young man. In 1964, I went to London. I was an immigrant, Irish, trying to fit in, in London. I was good at art — I loved art. I still paint. And my passport into life was a cardboard folder of drawings, of paintings. I got a job in a small studio, drawing straight lines, straight lines, straight lines and making cups of tea and watering plants. Then one day, I was in the studio talking to a guy from the photographic department about movies. He said, "You should come along to the Ovalhouse." It was in South London. I went there and that was it — I became an actor. It was the beginning.
What was your ambition when you started? What ambitions do you still have?
My earliest ambition was to be a good actor, once I found acting. To be a great actor, magnificent, brilliant, wonderful! [laughs] My ambition was to make movies, always was. When I found acting, I did train, I went off to drama school, I did repertory theatre in England, the West End. But I loved the movies. My ambitions now? All the same. To be a better actor, to create something which is uniquely yours. To try to be an unexpected surprise now and then. And to paint. I paint. I might have an exhibit next year in Paris. We've been talking about it, we found the space. I always say, "If I can sing in Mamma Mia!, I can show my paintings!" [laughs] Have fun, enjoy life, give it away.
How do you define a good actor?
A good actor has technique, passion in his heart. He is courageous, fearless. To be fearless, to be open, to be vulnerable. To be able to go through the fire without losing yourself, without messing your life up, if you can help it. To meet the best people, to work with the best people, to have humility, to have some gratitude for your gift, because it's a very strange art form. Because you're dealing with yourself the whole time. You're constantly constructing and destroying yourself. So people like Daniel Day-Lewis and Anthony Hopkins — and Jackie Chan! — they commit wholeheartedly, courageously. What he does in The Foreigner is beautiful work; it's very open and very vulnerable. Very contained at the same time. It's very hard to define what a good actor is. A good actor connects with the audience, connects with the people. That's what you want to do to turn people on.
Do you have a particular method or technique to get immersed in a character?
I was taught in the Method school of acting. The school I went to was very Method-orientated. The Method always fascinated me, because when I found acting, Marlon Brando was a huge influence, Montgomery Clift was a huge influence, Clint Eastwood, Steve McQueen as well. All these people, they created this aura on screen that I found rather intoxicating. So I was taught as a Method actor to be vigilant and detailed. I wish I was more often! [laughs] Then you find yourself. You do your own role, you define yourself. You read the script and try to have an emotional connection to each scene, to each part of the story. You read it, and you read it, and you read it … and you try to leave yourself alone. You try to be real, you try to listen.

THE FOREIGNER
What drew you to The Foreigner? How did you prepare for it?
You sit down to read a script. It's a top one. It's in the company of men like Martin Campbell, Jackie Chan. You pay attention, so you read. Very slowly, quietly. Do you want to turn the page? When you turn the page, does it engage you? Does it have emotional content for you as an actor? When you get to the end of it, do you want to go back and read it again? Does it sustain you for six weeks, for six months? It ticked every box, so it was easy to do.
Did you know Jackie Chan before filming this movie?
No, I didn't know Jackie. We didn't really get to know each other, I'm sad to say. It just so happens that when he was filming, I wasn't. He was playing a character pursuing my character. There were a few dinners set up at the beginning of the film, but they didn't happen. Once the movie starts, then the time is not yours; it's just work. There was a lot of work, a lot of dialogue. You have to do your homework. You finish work, you go home quietly. So one of these days, Jackie and I shall go rip the town up! [laughs]
"A good actor has technique, passion in his heart. He is courageous, fearless"
JAMES BOND
You were James Bond in four films. How did you make the character consistent without repeating yourself?
Oh, I repeated myself. I was required to repeat myself in some regards. When I [first] played the part, it had been dormant for six years, and no one really felt like there was a need to go back to that well and do James Bond. So the odds against [director] Martin Campbell and myself, the whole company, and the family, [producer] Barbara Broccoli, were pretty set against us. There was doubt. There was a great element of fear and risk. I was brought up on the character played by Sean Connery and then Roger Moore. I'd also seen Timothy Dalton play it, so I knew what was required of me, and tried to address those issues accordingly. My Bond was influenced by Roger Moore and by Sean Connery.
How did your feelings about Bond evolve over time?
I adore the character. I have nothing but gratitude toward the character of James Bond. It allowed me to create my own company, Irish DreamTime. It allowed me to make movies with that company, like The Thomas Crown Affair, The Matador, and many others. I knew that at some point, the curtain will fall, and you will be stamped and branded as James Bond forever, if you get it right. You know this going in the door. And you want to get it right. Every man that has played James Bond has got it right, in their own way. So yes, you just celebrate it, once you commit. I know that Daniel [Craig] was very nervous when he was taking over. I sat with him on a few occasions and he spoke of his apprehension, and rightly so, because it's a huge undertaking. He committed in the most incredible fashion and made a most magnificent James Bond. So you digest all of that, you sit with all of that, then you will do your thing.
Do you find people identify you with James Bond?
Oh, yes, of course. Forever. Once you play that role, you're a marked man — in a great way. To be an actor, you want to entertain, you want to please people, you want to make people happy. You want be able to have a career, to have a career which has longevity. A career that is meaningful for you as a man and an actor. James Bond was a significant small chapter of my life, but it's the gift that keeps giving!
Can you speak to Bond's influence on pop culture at large?
Oh, Bond has influenced so many writers, so many directors, so many actors — so many generations of filmmakers. It's one of the most unique characters on the landscape of filmmaking. It's one of the most indelible and potent characters in cinema. What the Broccoli family has is uniquely theirs, and no one else has such a beloved character. So it will be played for many decades to come. There will be other men waiting to play this role. I wish I could be more eloquent about it. I am one of five men who played the role. And people love James Bond! There are many detractors, too. When I saw Bourne Identity, I thought, "Uh-oh, this is good, this is really good." Paul Greengrass, Matt Damon, the whole vibrancy, the kinetic value of it — it was quite exhilarating. So that upped the ante for the James Bond franchise.
Harrison Ford recently returned to the Star Wars franchise. If you had the chance, would you be James Bond again?
Highly unlikely. It's another man's job.

OTHER PROJECTS
In The Matador it's almost like you made fun of the James Bond persona. Can you tell us a bit about that movie?
I wasn't making fun of James Bond. I might have been playing in the wheelhouse. The Matador came to me as a writing sample for The Thomas Crown Affair 2. Richard Shepard, who wrote The Matador, came to interview with this piece of material. I thought it was so good, I said, "Let's go and make The Matador."
Can you share details about the Mamma Mia! sequel?
I just finished it last week! "Here we go again —" Sorry, I'm singing again, guys! I don't sing as much, so you'll be OK! [laughs] Jackie loves to sing, by the way. Jackie Chan's a good singer. He sings all the time. I was in his makeup trailer and someone said, "Come, come, come." I was wondering, "What does he want me to see?" There was Jackie, singing!
Do you see changes in the sorts of movies being produced these days based on how audiences have changed?
I live such a kind of simple life, really, as an actor, as a man, as a father. I used to know what was happening, who was running the studios. It has metastasized to a point where it's very hard to keep an eye on everything. I just go from project to project. I do pieces that sustain me, that come to me organically. I try not to second-guess. It's an exhilarating time in movie making. It's an exhilarating time for young writers and young filmmakers because everything is so accessible now. You have the world at your fingertips with an iPhone! You have your university there, stories, content at your fingertips. Has it changed? Of course it's changed. Cinemas are closing down, one after the other. Content is much faster. Studios make massive tentpole movies. The need for smaller stories is always necessary.
Can you tell us about your new TV show, The Son? TV used to be viewed as a step down from movies, but not anymore.
The TV world is very fertile now, it's very potent, somewhat because the cinema has diminished. It has diminished because people have access to movies in their own homes. I had, for the last number of years, wanted to do a TV series, and my late partner, Beau St. Clair, bless her, she and I had been actively looking. And then The Son came up out of nowhere, really, and that's why I'm here in Austin, Texas. We're shooting the second season of The Son. It's really well done with a beautiful cast of young actors. And the character is very timely for me; it's a man of certain years in life named the Colonel. And work begets work. Keep it as simple as possible. The ego can pull you in many different directions. I love TV — I started on stage and then on TV, but always dreamt of the movies. One should be able to do everything. If you're an actor, if you're a good actor, if you're a hard-working actor, you should be able to do anything, or at least pretend.
"James Bond was a significant small chapter of my life, but it's the gift that keeps!"
PERSONAL LIFE AND ACTIVISM
As well as being an actor and producer, you're also an activist for antiwar, environmental, and animal rights causes. What do you think about the role of politics in people's lives, especially right now?
Well, I think in America, everybody has to be actively connected to their community, very much so. Everything starts in the community, everything starts with the family and everything starts in the home. So if you love your family, if you love your children, and you want the best education for them, and you want the best environment for them to grow up in, you better pay attention to the politician who runs your community. Then you have to speak out. In America now, there's a definite imbalance within the country, which is palpable. That comes with some heartache. America is my adopted country. I'm an Irishman, but I've lived here in America now for 35 years. I'm an American citizen, I have a wife and children here. I grew up in the countryside. What I see happening to our rivers and oceans, and the deforestation of the land — it's really heartbreaking. There has to be more communication between our leaders, and hopefully, we should be able to come out of this period, in time. If you're passionate about living a good life for yourself and for your children, you have to educate yourself and start getting involved.
Do you think the movie industry has an obligation to comment on the present political climate? Should movies make a political statement?
I think it can do all of the above. I think ultimately, it's there to entertain and to enrich people's lives and to hold up some kind of mirror to their lives so they can have some identification in a positive way. And then within that, you can make a political statement — yes, of course you can. Sometimes you can be censored — you can be censored so badly by the ones taking care of you or by someone in a position of power. And artists are always the first ones to be censored and made aware of their position in society. But they have to break through that censorship and say, "This is the way I see it."
You have been in Hollywood for a long time. What do you think of the diversity problem?
We just barely get on with each other, that's for sure. We should get better at identifying each other's cultures and embrace the cultures we have. It's heartbreaking to see so many individuals who are trying to make a life for themselves be crippled by the politics.
Can you tell us about your upcoming projects?
Well, Mamma Mia 2 will come out this summer. I'm in the second season of The Son. Martin Campbell and I are going to go off and do a movie called Across the River and into the Trees, which is from an Ernest Hemingway story. So hopefully in the spring, we should go to Italy and make this beautiful love story. My wife and I are producing partners now. She just made a beautiful documentary called Poisoning Paradise, which is about the pesticides and GMOs that happen on our island of Kauai. She's been working steadily on that. She and I are about to go off and make another documentary on a book that we auctioned called Girls Like Us. It's about Carole King, Joni Mitchell and Carly Simon. Work. Always work.