Guillaume Côté and Heather Ogden: Sweet Dreams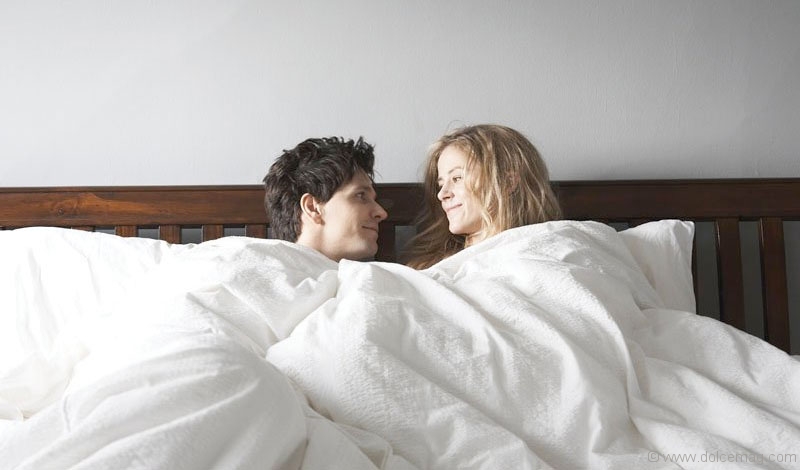 The hardwood stairs squeak ever so softly as Guillaume Côté and Heather Ogden soar up to the bedroom of their rustic industrial Leslieville home. The National Ballet of Canada's principal pair leap into their king-sized bed, lift the down-filled covers up to their eyes and let out a muffled laugh. Unflinchingly open to this cheeky photo shoot, the newlyweds exchange coquettish witticisms as the camera clicks away. This playful frame is just one case of the consummate couple's spark that's setting the ballet world ablaze.
It's noon on a brisk Monday and having just returned from a three-week tour in Washington, D.C., and Ottawa, Ogden and Côté are still settling in. "There's a lot of things shoved in cupboards right now, don't open any doors," Ogden kids. On Friday they'll be packing again for a two-week stretch in San Francisco to be guest artists in the Hamburg Ballet's Nijinsky. The autobiographical melodrama of dance, love and lost dreams is oceans away from this duo's reality, but Ogden says it's one of her most emotional roles yet. "They're husband and wife but it's not all pretty, you know? He has his demons and she has hers and they stay married. It's not storybook at all."
Ogden, who trained at the Richmond Academy of Dance in British Columbia, joined the Toronto-based National Ballet of Canada in 1998, the same year as Côté, who was raised in Lac-Saint-Jean, Quebec, and who studied at Canada's National Ballet School after being primed in his parents' dance studio. "The first year in the company is usually as an apprentice, so it's like one big audition year," says Ogden, whose startling talents landed her a contract with one of the most competitive companies in the world.
Their striking connection came to life in the classic love stories of Romeo and Juliet and Cinderella. "When I first joined the company the first big roles that I danced were with her. We learned how to dance, together," says Côté, who has a degree in music composition and a Takamine electric-acoustic guitar in the corner of his living room that strums up his rock-star ambitions.
Following several years of flirtatious friendship, the two finally realized their partnership went beyond the stage's perimeters. "I always thought either we'll date and it'll be a disaster or we'll get married. I knew it was going to be the best or the worst," says Ogden, 32, who has the champagne tendrils of Taylor Swift. "So eventually when the timing was right, we were both single, for me I just started feeling differently about him." After being separated by a long period of travel, Côté returned and asked Ogden to join him for a casual drink. "Then we kissed and that changed everything," Ogden gushes. Her husband, a 31-years-young Christian Bale carbon copy, winks.
"We were already best friends," says Côté, who proposed to Ogden on Ponte Vecchio Bridge in 2009 above Arno River in Florence, Italy. "I was in Florence two years before and I remember standing there one day and it was the most beautiful sunset and I remember missing her terribly and I was just like, 'I think one day if we get engaged it'd be amazing to do it here.'" Ogden still makes Côté perform the proposal for fun (which he politely refuses to do today). "I feel like we're lucky; we're so in love. We say it all the time: we're lucky." she says. "We're living la dolce vita — minus the sweets," Côté adds. They both break into a spell of laughter.
Covetous romance aside, today they're awakening what ballet legends Rex Harrington and Karen Kain once evoked within them. After a recent performance in Ottawa, Côté was approached backstage by a young, bright-eyed fan who expressed his candid veneration in a thoughtful card. "Dear Mr. Côté, it was nice to meet you. I am amazed by how you do all that!! You inspire me. I can't wait to see you again," Nigel scrawled in perfect Comic Sans. These moments capture the profundity of their performances. "You realize you are living the dream because ultimately what we do inspires young people and inspires beauty and it changes people's lives. It's a wonderful thing."
Before heading back to the National Ballet to rehearse, Côté opens up his laptop to share his latest feat, Lost in Motion, which went viral on YouTube. "We had one crazy idea, we wanted to make a commercial for male dance," he says of the high-production, cinematic short film he created with Montreal director Ben Shirinian. "You watch a hockey commercial and it's just a guy doing a slap shot but somehow he looks like a God because there's slow-mo and there's a cool track in the background. So, I was like, 'What we do is pretty incredible, it just needs to be shown in a different light.'"
That light took two-and-a-half years and a major fundraising campaign to ignite, but it caught fire with an online audience of more than 1.3 million and was lauded at the Toronto International Film Festival. It even caught the eye of L.A. Times' culture writer Jean Lenihan, who hailed the talent of Canada's premier ballet company and called the three-minute piece "a fast-spreading international calling card" and "the greatest evocation of a dancer's springy ballon yet on record."
Huddled around the laptop, Côté's self-choreographed solo performance leaves us breathless at his sheer defiance of gravity and time-suspending pirouettes. To the instrumental pop-poignancy of James LaValle, Côté unspools a performance of a lifetime — one that's making an international impression.
This is the global validation artists like Côté and Ogden have earned. And considering it was just a side project, there's no question their journeys have more juice. "We're making a counterpoint now for a female dancer," he says, gazing at Ogden. She beams at the anticipation of filming her own ballet proclamation. At the crescendo of their careers, two partners appear to be dancing at the transcendental intersection of dreams and destiny.
Photography by Christoph Strube