Hilary Weston: Art, Philanthropy, and the Family Name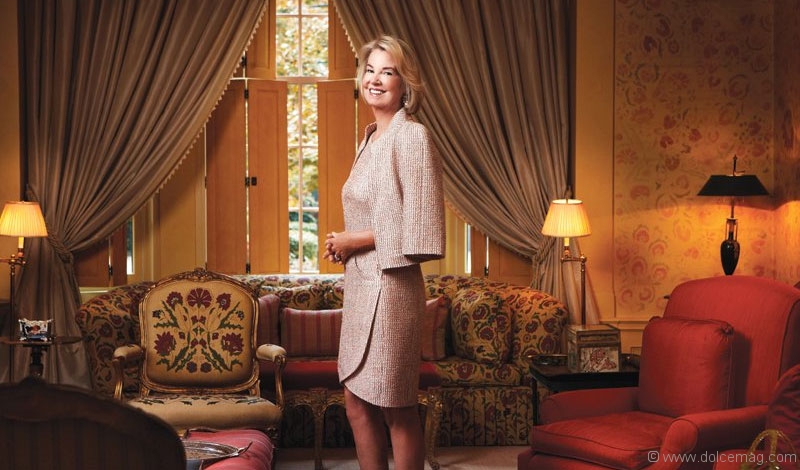 Hilary Weston's mellifluous voice and refined presence cast a shadow on a regal living room that would otherwise demand the attention of a curious eye. Donning an elegant navy blue Oscar de la Renta dress in her west-facing central Toronto home, the Weston matriarch proceeds to explain the perennial importance of the Henri de Toulouse-Lautrec poster across from her. With one foot dipped in Virginia Woolf's stream of consciousness, her insightful prose shed light on what lies behind the lone crayon-drawn horse. "It's just a few lines, but this is what drawings make in your mind. You can see 20 horses in there because they give you the feeling that there are other people in that picture and the sense of what might be going on, like a parade and the crowds," says Weston, her hands oscillating as if conducting the orchestra that filters through the frame. While Weston's love of the arts is certainly no secret, there are many kept-to-the-chest nuances about the erstwhile lieutenant-governor of Ontario and philanthropic wife of billionaire retail baron W. Galen Weston that only surface at second glance.
Before Galen entered the picture, Hilary Frayne – daughter of an appliance salesman – had a vibrant middle-class upbringing in Dublin, Ireland. She was particularly drawn to the work of the Bloomsbury Group,  a famous circle of English authors, painters and intellectuals that included the great Woolf, Vita Sackville-West, Vanessa Bell and Duncan Grant, the artist who created one of her very first pieces. "It was a voyage of discovery through reading that finally brought me to be interested in art," she says. While working as a fashion model around that time, she caught the eye of Galen, who came to Ireland to set up a grocery chain. He was following suit in the entrepreneurial successes of his grandfather George and father Garfield, who thrived in the food industry. A few years later, the two married, simultaneously sparking a union of art that, among a list of things, would later transmit to their children, Alannah and Galen Jr. "We became very interested in drawings per se, so we started to collect French and Italian Renaissance earlier drawings … In those days it was what one could afford, and we felt very fortunate to have been able to buy them at the time because prices for paintings were crazy," says Weston, whose last name currently sits second on the list of Canada's wealthiest, with an estimated net-worth of $8 billion, according to Canadian Business magazine.
Alannah vividly remembers growing up in a house where the walls could talk, particularly in the green language of new realism artist Christo, whose work her parents avidly collected. "Ever since I was a little kid I was surrounded by conceptual art, so I remember writing my final exam at Havergal [College] all about Christo and trying to defend the fact that his art was ephemeral, it was temporary even though it cost millions of dollars to create, and then it was gone within a few days," says Alannah. She has been lauded as a transformative force in her current creative director role at Selfridges, the high-end British department chain her father famously added to an empire that encompasses Loblaw Companies Limited and Holt Renfrew & Co. in 2003. Coincidentally, it was Alannah who would introduce her parents to the world of contemporary art, which she discovered during her studies at the University of Oxford and subsequent stretch as an arts-beat journalist for London's The Daily Telegraph. "It's all my fault," she says, laughing in her sprightly tone while looking back on her mother's amusement when she would come for a visit and find video installations in the bathroom. Alannah's laugh elevates and reddens when she tells the story of the time she posed nude for her friend, artist and photographer Beth Derbyshire. "I posed for her undergraduate degree work and my dad was a little shocked so he ended up buying all of the work … so that was a great introduction!"
With the curatorial influence of her daughter, Weston's newfound affection for contemporary art would inevitably become the pulse of a private residential community her and Galen Sr. established in Vero Beach, Florida more than two decades ago. As creative director, Weston was at the helm when ground broke on Windsor, a 416-acre "village by the sea." Consisting of 350 uniquely designed luxury home sites, its complementary grounds reflect Weston's affinity for architecture and horticulture. Windsor was built by Andrés Duany and Elizabeth Plater-Zyberk, architects of the new urbanism movement, on a verdant barrier island between the Indian River and the Atlantic Ocean. "Everything there was designed by my parents, really carefully, to kind of reflect all the essential human needs. So, of course, it's a very privileged place, but at the end of the day, no matter how we live we all want to live in communities, we want to live close by each other, we want places to go to eat, to meet our friends, we want to play; we want to be inspired, and I guess art is part of that," says Alannah, which is why she made a monumental move in adding a not-for-profit art gallery to Windsor in 2002 while filling in for her mother, who was serving her final year as lieutenant-governor of Ontario at the time. Suffused with natural light, The Gallery at Windsor has featured the works of important contemporary artists such as Peter Doig, Ed Ruscha and Alex Katz. Even the Weston family's eccentric leading man Christo and his wife, the now-late Jeanne-Claude, have been by for a discussion. Of all its achievements, it's Weston's newest project that has her on the edge of her seat.
It's an idea that came to light under a veil of stars at Windsor when the Westons were hosting Iwona Blazwick, director of the Whitechapel Gallery, London's century-old art space acclaimed for premiering modern icons like Jackson Pollock and Pablo Picasso. "It just flowed over dinner one night," says Weston of the conversation that led to a curatorial collaboration in which Whitechapel Gallery will bring three annual exhibitions to The Gallery at Windsor. "In a way it's kind of paradoxical," says Blazwick. "We are absolute opposites: the Whitechapel Gallery is in the east-end of London, it is the most dense, urban, edgy location you could possibly imagine, you know, the sirens never stop … so this seemed like a really exciting idea to go to a place which was like paradise: it's tropical, it's on the ocean, it's got the most incredible lush vegetation," she remarks, of an east-meets-Weston partnership that begins December 2011 to coincide with Art Basel Miami Beach.
For a range of reasons that include the scope of her cultural influence and geographical context, the vibrant, rhythmic screen prints and wood block editions of renowned Brazilian contemporary artist Beatriz Milhazes were selected for the first solo exhibition. "One doesn't necessarily plan for any of these things, they just take on a life of their own," says Weston.
Such off-the-cuff undertakings may be a recurring thread in Weston's life, but it's never before measuring depth that she decides to dive into a blue pool. Whether it was her decade-long tenure as deputy chair of the board for family owned Holt Renfrew, or her notable term as lieutenant-governor where she fought to bring awareness to youth homelessness and women's issues, every venture is carefully considered.
Her cautionary approach was perhaps most transparent in 2002, when she accepted the ambitious philanthropic post of Renaissance ROM Campaign Chair, pledging to help raise hundreds of millions of dollars in Canada's largest cultural fundraising movement. "She took a lot of time and interviewed our board chairs herself before she finally committed herself to lead that campaign," says the ROM's former director and CEO William Thorsell, adding that once she came on-board she was very willing to work in the trenches. Thorsell recalls many instances where he and Weston would park their car outside a potential donor's office tower and strategize over the approach they would employ to get that person to make a massive contribution. "We'd come out and high-five after, so you know, I got to know her well enough that we could do this, but it's not the Hilary Weston most people see. She's actually got a great wit, she's relentless, she doesn't take 'no' for an answer in the sense that if somebody says no, she'll say, 'that means not yet.'" Her effective persistence even made headlines in The New York Times, which applauded her for famously persuading businessman Michael Lee-Chin to donate the $30 million that revolutionized the architectural face of Bloor Street with the Daniel Libeskind-designed Michael Lee-Chin Crystal. "So much of these things are about understanding and respect, because I think that you can't expect people to give you money, you've got to hope it's a good fit and that they believe that it's real," says Weston, who elevated the campaign with a gift of $20 million split evenly between her and her husband, and The W. Garfield Weston Foundation. "You have to learn how to give money away, that is a lesson in itself." On another philanthropic page, The Hilary Weston Writers' Trust Prize for Nonfiction recently praised its first winning author with a substantial prize of $60,000.
Like acclaimed contemporary artist David Hockney has said, "The longer you look, the more you see." Watching Weston articulate her passion for the arts, philanthropy and her upcoming Windsor collaboration is a bit like dipping photographic paper in developer and seeing a portrait gradually emerge. Canada's closest connection to the royal family is an astute businesswoman, exemplary wife and fun-loving mother, who, according to her daughter, is filled with Irish catchphrases and wise advice like, "Always leave a party when you want to stay a bit longer." In contrast to her descriptive interpretation of the Toulouse-Lautrec piece, it takes Weston a few moments to harness her definition of a happy life. Not for a lack of words, but for an abundance. "A happy life is being curious in life, and learning through your experience and enjoying it as a result of what you've learned … I think it isn't just one thing, because curiosity brings you into so many different areas and you discover so much about yourself by learning through other people, and one's always seeking the spiritual in life and I think sometimes you find, and sometimes you don't, that it comes and it goes, but to have them all is really, truly, the sweet life."