Infiniti and Cirque du Soleil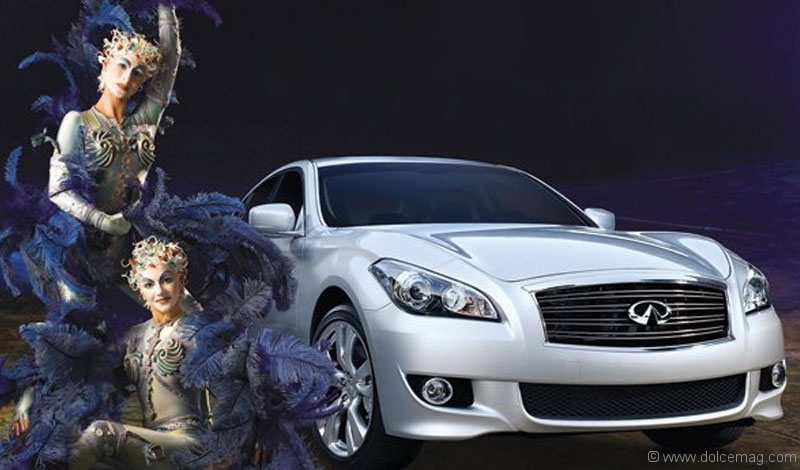 Envision the graceful impetus of an immaculate automobile as it swiftly rushes down a deserted road, veering on the edge of utter exhilaration. Now picture a captivating acrobatic act that flows so fluidly, it mesmerizes you as if in slow motion. Sometimes you don't have to travel very far to make an unlikely connection.
Though their differences are discerning, the striking similarities between Infiniti Canada and Cirque du Soleil are undeniable. The two famed brands solidified their similarities by once again banding together to celebrate and implement the concept of inspired performance.
"This partnership personifies the brands' mutual desire to invoke the graceful strengths, vibrancy and exhilaration of craftsmanship," says Wendy Durward, director, Infiniti Dealer Operations, Canada. "We look to move people emotionally, not just physically."
As the exclusive automotive sponsor of Cirque du Soleil for a third year, Infiniti has organized and supported many of Cirque du Soleil's initiatives, including its attempt at winning a new Guinness World Record for the highest circus act performance at the CN Tower. In 2009, the world-renowned troupe secured a record for the most people walking on stilts in multiple venues.
Just as Cirque du Soleil's shows present remarkably riveting routines, Infiniti Canada's luxury cars have been designed to provide exceptionally dramatic experiences.
As part of its 20th anniversary celebration, the company unveiled its inspiring revolutionary concept car, Essence. Cirque du Soleil founder Guy Laliberté posed in front the Essence model during a recent photo shoot, which visually displayed two inspired performance representations to the world.
Through the sleek, futuristic design of the Essence concept car, Infiniti forecasts its outstanding capabilities of continuing to produce vehicles that give drivers and passengers an unforgettable travelling experience. The Essence concept model – a gas-electric hybrid coupe – explores new and beneficial highlights and has become an icon for the brand. It offers drivers 592 horsepower and features advanced technology, including systems that detect, warn and help prevent collisions – systems that are also now available on current Infiniti models. The new 2011 Infiniti M was inspired by the Essence concept.
While Infiniti continues to produce vehicles that transport its seaters into an ambiance of stimulation, as well as to their desired destination, it's no surprise that March 2010 was the strongest March ever in Canada, with 888 units sold – up 53 per cent from the same month in 2009.
Whether taking courageous strides across a sky-high tightrope or embarking on a ride down a thrilling stretch of road that overflows with twists and turns, both Infiniti and Cirque du Soleil captivate and compel their audiences and customers with an experience they won't forget.
"We're not just interested in moving people from point A to B, but also in making sure our clients have a unique encounter while driving the vehicle, using the technology within the vehicle and the esthetics of the vehicle." www.infiniti.ca, www.cirquedusoleil.com