Fashion: Cobblestone Couture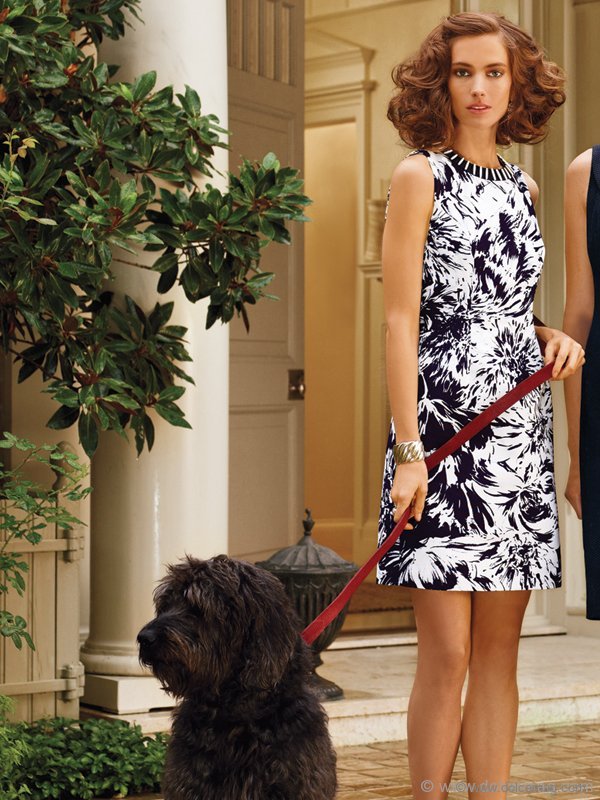 Those who downplay the magnitude of fashion are often unaware of its ability to convey character and conviction. There is simply something intriguing about being able to express a mood or emotion without uttering a single word. While nothing will ever outperform the personality that comes from within, a little panache on the outside can push past boundaries.
Not-so-normal neutrals. Plain Jane may have had a reputation for steering clear of colour, but a neutral dress that's driven by edge is capable of stopping traffic. Though the classical clean look has drastically developed over the decades, it has always remained in style. A soft crisp outfit with a modern modification is one of the best ways to make a black, beige or cream-coloured ensemble stand out. A backless maxi or tie wrap skirt might just be the wake-up-call your wardrobe needs. With some subtle variation, the minimalist look can actually make a massive impact that seems effortless.
Go with the flow. Have you ever had the urge to wear something slightly out of your element? This is the time to release your reservations. The recession has triggered a runway trend that's spreading down the streets: fearless fashion. The liberation of style is a sign that all is not lost. It is a portico to a more fruitful future – fashion-forward, if you will.
Bolder colours, higher high heels and ornate jewelry provide a sense of escapism for those seeking to break free from monotony. Though basics are always a safe choice, bolder statements are not only accepted, they are now celebrated. This movement towards experimental fashion sends the optimistic message that an economic downturn will never shackle the spirit of style.
Love or lust? Adding length to the little black dress and complementing it with a precious piece will make an infatuated crowd radiate reverence. Sometimes it's the little things that don't count. Dominating the runways, the maxi has managed to garner extreme praise and recognition for its versatile capacities. From classic casual, to classy elegance, a floor-dropping dress can take you from dusk to dawn in style. You can enhance the look with a pair of fancy flats, but don't be afraid to let your hair down and slip on a simpler sandal.
1. Carmen Marc Valvo unleashes summer style with this sleeveless floral-print dress with an embellished neckline. www.saksfifthavenue.com
2. This sophisticated David Meister pleated bow collar dress provides a soft silhouette that can take you from work to play. www.saksfifthavenue.com
3. As a leader in the luxury jewelry frontier, De Grisogono creates inventive pieces with spectacular cuts and combinations of dazzling gems. www.degrisogono.com
4. Achieve classic flair with a swooping caramel tie wrap skirt like this Antonio Pernas version. www.caramelo.com
5. Slip into crisp, clean elegance with this cream-coloured dress cinched at the waist. www.caramelo.com
6. This jaw-dropping, floor-sweeping black backless maxi by Antonio Pernas is a seasonal must-have. www.caramelo.com
7. These stunning circular-cut diamond ear pendants with suspending briolette-cut emeralds exude supreme grace. www.christies.com
8. Auctioned off at The New York Sale by Christie's for $1,650,500, Catherine the Great's Emerald and Diamond Brooch is a rare historical gem. www.christies.com
9. Wrap your wrist in Bochic's black Bakelite cuff with jade and gold flower detailing to enrapture. www.bochic.com
10. Antonio Pernas sweeps us off our feet with this sleek, sleeveless maxi. www.caramelo.com
11. This striking Tiffany & Co. diamond necklace was sold by Christie's auction house in April for $362,000. www.christies.com
12. This detailed mini-dress with Juliet sleeves by Caramelo is designed to flatter. Slip on a pair of stacked heels to take the look to new heights. www.caramelo.com
13. Cartier's dazzling hexagonal-cut sapphire ring bounded by diamonds makes all other rings sound lacklustre. www.christies.com
14. Make a momentous move by slipping into this vibrant maxi and all eyes will gaze green with envy. www.caramelo.com
15. This intricate emerald and diamond ring by Bhagat is just one of the many exceptional beauties auctioned by Christie's. www.christies.com