Kyle Bean: Eggshells & Honesty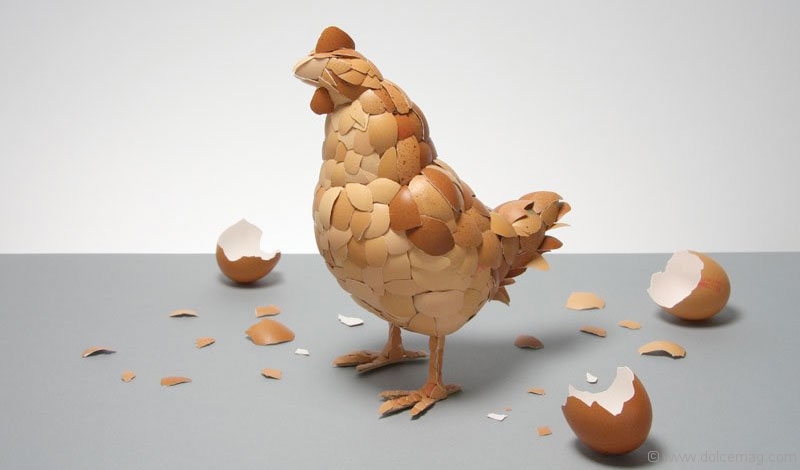 What came first, the chicken or the egg? According to Kyle Bean: both.
Taking a playful philosophical jab at the age-old chicken versus egg dilemma, What Came First? — a life-sized chicken made of broken eggshells — is one of the many charming, thought-provoking, handcrafted pieces to emerge from the mind of this budding English artist.
It's immensely clever; obvious in hindsight and yet glowing with novelty, much like the punchline of a well-delivered joke. Classifying Bean as an "artist" then seems only fitting. And yet the "designer specializing in handcrafted models, set design and art direction," as his website specifies, struggles to embrace the Artist label.
Why?
"Maybe it's just my understanding of what art is," he explains over the phone from his home in Brighton, England. "When I'm doing personal work I might consider myself an artist. When I'm doing paid work there's something inside of me that feels a bit wrong about saying I'm an artist." So modest, especially considering the sizable strides he's already made at such an early point in his career. The 26-year-old's work has graced the pages, and the odd cover, of several prominent publications, including The New York Times, The Guardian, Wired, GQ and The Atlantic; it has been displayed in the windows of major London retailers, such as Selfridges and Liberty, and has been part of marketing campaigns for Hermès, Louis Vuitton, Rimmel and Peugeot.
A smouldering heart made of construction paper for an article on heart disease in Men's Health magazine; intricately crafted paper watches sliced in half: commentary on the fragility and fleeting nature of time; a dress made of neon-coloured leaves, hanging in the window of Union Jewellery, disintegrating in a feigned autumn breeze; a gelatine grenade from a collection of harmless weapons for an article in CUT magazine — Bean's work explores, deconstructs and reshapes subjects with a keen eye, sharp wit and youthful curiosity.
"When I'm coming up with ideas," he explains, "I'm very aware that I don't want it to be something I've seen too much before." It doesn't have to be completely new, he cautiously adds (always so polite), but he doesn't want it to feel as if it's "been done to death." He chuckles and notes that he also gets quite bored quite easily, and enjoys experimenting with new materials "to mix things up a bit."
A touch of pride would be neither unexpected nor off-putting. But Bean is a man of little pretension, even less arrogance. Honesty is at the heart of his humility, the "ethos" of every project. Whether personal or commissioned work, he strives to be true to himself through both the messages he sends and how they're delivered. The medium is the message, and like all humble artisans, Bean can't lie.
"I spent a lot of time doing work I was not happy with because it felt like I was trying to be someone else and work in ways that did not feel natural," Bean explains of his early days at the University of Brighton. Classes featured heavy digital components to ready students for creative industries that rely on software to produce images for public consumption. While he appreciated learning the techniques, the results were unsatisfying. As a child, he enjoyed building models and playing with Lego, and longed for that tactility. "I knew that I wanted to still have that physical connection to the things I was making," says Bean, who notes Cornelia Parker, Theo Jansen, Fritz Kahn and their surreal works as inspiration. He chose to go against conventionality's grain, away from increasingly popular digital art, and focus instead on what felt right.
While software is still very much part of his process — there are aspects of his work that would be extremely difficult without modern technology, he makes clear — Bean feels at home with his arts-and-crafts ideology. He constructs by hand, generally with easily accessible everyday materials, like construction paper, pencil shavings, match sticks, ice cream — it's all fair game.
But while the materials are often simple, they are always key to the concept."Quite a lot of the time my approach to a creative brief is to try and come up with a concept where the material is almost part of the message," he says. Obsolete devices made of cardboard, life-sized instruments made of sheet music, and of course, the eggshell chicken — the materials used say just as much as the object they form. "It's about observation, and then creating something usually with an element of irony or juxtaposition that just ties together the material with an idea."
Bean understands why titles and labels are often obsessed over — "it makes things easier if we have labels" — but for this humble talent, classifying creativity is unimportant. Labels don't add or detract from a piece's quality. Creativity is about curiosity, passion and honesty. If employed, those elements will resonate with audiences. Call him what you will — designer, illustrator, sculptor, artist — Bean is downright creative. And that's the only label that matters.