Naomi Azrieli-Heritage and Legacy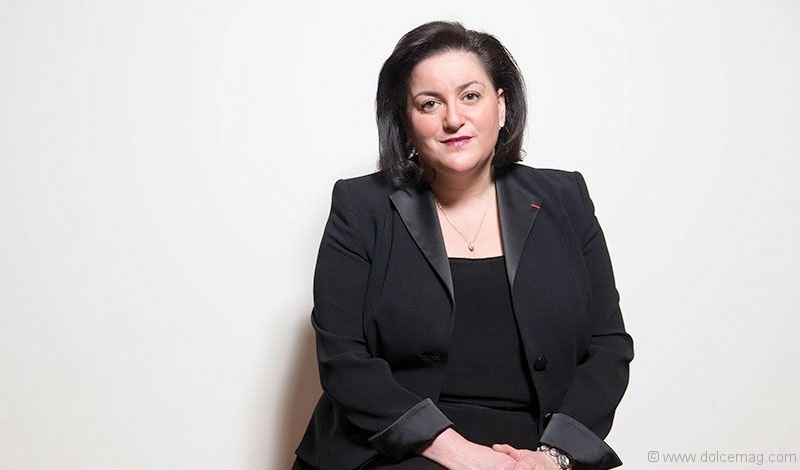 There are two essential elements that influence every philanthropic move Naomi Azrieli makes: heritage and legacy. The first is where you come from, because "you have to be true to your roots," she explains. The second is what you leave behind; the effect that you hope reverberates in your wake. She's used this marriage of honouring the past and envisioning the future to steer the foundation her father built a quarter of a century ago. And with it she's found that while supporting big institutions and massive causes is necessary, she also appreciates how small acts of kindness can make the biggest impact.
In a boardroom overlooking the bustling Yonge and St. Clair hub of midtown Toronto, the chair and CEO of the Azrieli Foundation recalls how much has changed in the 12 years since she took the reins of the philanthropic enterprise her father, Jewish real estate mogul David Azrieli, began in 1989. When she started, she says, the foundation had a roughly $50 million endowment; today, it's over $1 billion. "My father made a decision to basically leave everything to the Foundation," Naomi explains. "When he made the decision to do this it went into a whole other level."

David is a self-made man worth, according to Forbes, $3.1 billion. He immigrated to Canada in 1954 virtually penniless and built his empire, which includes Canpro Investments in Montreal and Azrieli Group in Tel Aviv, Israel, building by building. Naomi describes her father as a maverick entrepreneur, but one who made strategic decisions. "My father has lived a very entrepreneurial life. He's been a careful risk taker," she says. "His eyes were always to the future, and yet it was 'Where are we right now?'"
Known for his many development projects, such as shopping malls, hotels and office towers in Canada, the U.S. and Israel, David's generosity is equally conspicuous. A proponent of education, David has offered support to various post-secondary institutions, such as endowing Concordia University with its first graduate fellowship in 1975 and, more recently, donating $5.5 million to the Carleton University School of Architecture, from which he graduated in 1997 at 75 years old, to establish an endowment for the Azrieli School of Architecture. "My father remembers the help he got in education as being probably the most important thing to ever happen to him," Naomi, executive vice-president of Canpro and director of the board of the Azrieli Group, says.
But while these acts of largesse are necessary and well received, Naomi explains that what really matters is people. "We invest in institutions, no question," she says, "but more importantly, we try to empower individuals to make a difference." Building up and supporting a single person undulates to others, influencing not just the lives of that person today, but future generations as well. On top of the Foundation's Fellows Program, which provides financial support to top graduate students from Israel and abroad, one of its signature endeavours is the Educational Empowerment program. It focuses on at-risk youth on the verge of dropping out of junior high school. Naomi knows that, at that age, "when the education piece falls apart, the ripple effects are much worse." If you can catch them at that time and help them finish their education, the difference is monumental. This after-school program provides a hot meal to its members and tutoring on the fundamentals of academics. "It's math, it's reading, it's English," she says, "and once you get those basics and you have confidence, you can do anything."
And it's not just about education. Every student who participates must also do community service. "What we realized is that these kids have often been on the receiving end of help," says Naomi, who also holds a doctorate of philosophy in history from the University of Oxford. "They actually have to find something that they're going to do that's going to help somebody else. Sometimes that's the most important aspect." She knows not every kid will excel in life and go on to great things, but the hope is that they'll lead better lives than if they'd quit. "Hopefully they'll have families and they'll be able to pass on the value of education to the next generation."
Arguably one of the most important programs that she captains is the Foundation's Holocaust Survivor Memoirs Program. Started in 2005, the program collects and publishes the memoirs of European Jews who immigrated to Canada after surviving the Nazi-led genocide of the 1930s and '40s. The initial motivation, Naomi explains, was simple enough: there was a desire to preserve and share the memories of those who survived the state-sponsored persecution and murder that was the Holocaust. Especially, she adds, knowing that children survivors are all well into their autumn years today.
After the Foundation put out a call, and the memoirs rolled in, she found there was a more inspirational reason to continue this work. "You couldn't survive the Holocaust unless somebody helped you. It's just that simple," says Naomi, who before taking over the Foundation was also active in the academic world, writing and lecturing on history. Even if it was as simple as slipping them a piece of bread or telling them to take one path over the other because of Nazi patrols, someone took action. "It brings home how small acts, and sometimes really simple acts, can actually make a difference," she says. "So I think the crux of it for me now is that the survivors' stories are important because they inspire people to action now."
Like all moves the Foundation makes, the memoirs program has a personal connection — Naomi's father is a Holocaust survivor. David was 17 when the Nazis moved east into Poland in 1939. As they advanced, David and his younger brother, Pinchas, left their hometown of Makow-Mazowiecki, fearing what horrors approached. He would be on the move until 1942, fleeing through Russia, Uzbekistan, Iran, Iraq and eventually Palestine. It was a harrowing ordeal in which he lost his parents, sister and brothers (one brother he would see again years later; the other was never heard from again.) He was smuggled into the U.S.S.R. by wagon, escaped Russian authorities by jumping onto a moving freight train and would eventually fight with Haganah, helping to form the State of Israel.
Years later, after David, a self-proclaimed Zionist, had settled in Montreal and raised both a family and his real estate empire, he seldom spoke of those experiences. A small trigger, mentioning blueberries perhaps, would spark a memory and the Azrieli patriarch would recant a rare tale; the family knew the importance of these revelations. "He would start talking and it would be like, silence," Naomi says. "We had to stop and listen."
In the summer of 1990, soon after the fall of the Soviet Union and travel in eastern Europe was possible, David took Naomi and her sister Danna to visit his hometown in Poland and retrace his journey during the war. The girls recorded it from start to finish. "The outcome of that trip was that he wanted to write it," says Naomi, who spoke at the United Nations' opening of the "March of the Living" exhibit in January. The process, though, was difficult. Even with his vast wealth and resources, it took David 10 years to finish the book, which would be called One Step Ahead. Because of David's status, Israeli publisher Yad Vashem quickly picked up the book and published it in Hebrew, English and Russian in 2000. But David knew that for most survivors this wasn't the norm. He discussed it with his family and they decided to see if there were any other manuscripts out there. When the program started in 2005, 50 manuscripts were submitted within 30 months. Today, the Foundation has collected close to 170 and published 31 of them into 40 books in English and French.
Besides education, the Azrieli Foundation is also moving into brain research. Naomi's brother, Rafael, suffers from fragile X syndrome, the most common cause of autism. Through a partnership with Brain Canada, the Azrieli Foundation recently finished the first round of funding for innovative neuroscience research in Canada and is looking to invest in studies focused on neurodevelopmental disorders. "It is the latest frontier," Naomi says about brain research. "It is where I think science is going to have the most important breakthroughs, and I think we can make a difference."
When it comes to running the Foundation, Naomi explains her father, who is still active in the organization, gave her three pieces of advice. The first, says the mother of three, is to work with people who have real passion. "If you're going to support an organization or an idea or an initiative, make sure that the people behind it have a huge amount of passion for it," she says. The second, and possibly the hardest, is don't be afraid to say no. There is a lot of need out there, many causes that do great work, but "you do have to be strategic, and that's OK. That doesn't mean you're not doing a lot of good in the world." And finally, love what you do. "If you don't love it, you're a slave," she recounts. "You could be poor and free and happy, and that's better than being rich and a slave, and that was always his attitude." The advice is one more gift to encourage individuals. And that empowerment, Naomi says, is the best legacy her family can leave.