One Patient at a Time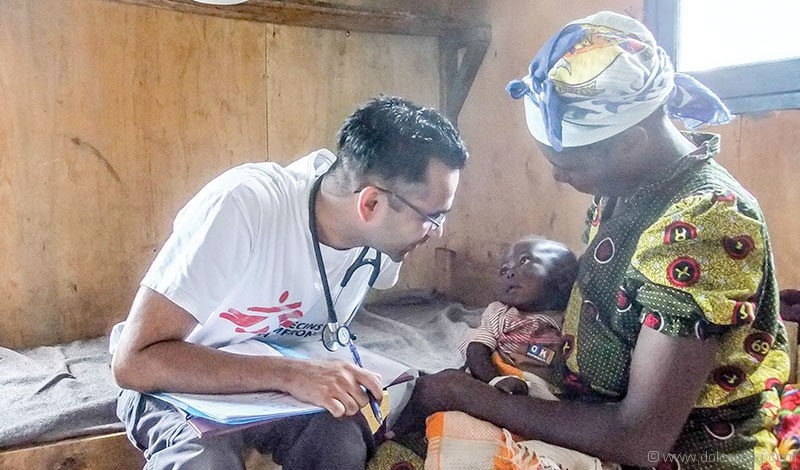 The truck crawled through the pitch-black African jungle; its lights flashing to signal any rebels or government forces that may be waiting ahead. Dr. Raghu Venugopal knew the risks of driving at night in the Central African Republic. In the past, other Médecins Sans Frontières/Doctors Without Borders (MSF) expatriates had been shot and killed along these roads, but the woman he and his team were transporting was bleeding to death — she needed help. An ectopic pregnancy, a condition where the fetus develops outside the uterus, caused one of her fallopian tubes to rupture, leading to a loss of blood. In Canada she would have been on the operating table within minutes, but in this conflict area the nearest surgical theatre was six hours away. Dr. Venugopal treated friends and family of both the government forces and the rebels, and was on good terms with many local groups. It was a calculated risk to transport her at night, one that balanced the needs of the patient with the needs of the project. It paid off. After 12-hours of travelling, including stops by armed soldiers and waiting for other security issues to be resolved, they arrived at the surgical site. The woman received the treatment she needed — and lived. It's experiences such as this that underscore what Toronto-based physician Dr. Venugopal loves most about working for MSF, a Nobel Peace Prize laureate. "We dedicate our resources to individual human beings," he says. "We're not only writing and compiling statistics — we're focusing on people whose humanity is the same as yours and mine."

MSF is an international humanitarian organization that brings medical aid to people faced with the grim circumstances of poverty, violence and catastrophe. Since 1971, MSF has worked to alleviate suffering and bring a level of dignity to those in need. Today, MSF has grown into a global movement operating in over 70 countries, helping countless of sick and injured. Treatments range from simple life-saving vaccinations to childbirth and addressing trauma, serious infections or gender-based violence. What's important, says Dr. Venugopal, who has also been on missions to Burundi, the Democratic Republic of Congo and Chad, is that MSF is independent of governments and other organizations. "We are aiming to be neutral," he says, "but we also want to be impartial," meaning care is provided regardless of social standing, political affiliation or religious belief. "We exist solely to aid the patient."
Every day, thousands of MSF workers just like Dr. Venugopal put their own comfort and safety on the line for the sake of other human beings. They live in spartan conditions, often in violent regions and catastrophe zones; places where clean water is often non-existent and security is never certain. While many workers usually come from Western countries, Dr. Venugopal explains that about 90 per cent of the 30,000 people who work for MSF are hired locally. "The face of Doctors Without Borders is not only that of a Western, male physician like myself. The face of our work is more often that of a locally hired medical or non-medical colleague who is doing a lot of the day-to-day trench work," he says. "Because the day the doctor from Canada is not needed [and] the nurse from Africa can care for the patients will be the best day possible." MSF missions are often unbelievably intense, both physically and mentally.
But staff know that these inconveniences are nothing compared to what is endured every day by those they are treating. Violence and poverty are the norm, and most of these people will never get a fair shot at life. And yet they demonstrate an amazing resiliency. Dr. Venugopal explains he's humbled and amazed at how people can endure such hardships and still get back on their feet and face another day. He knows he might not be able to change the world, "but we can change the world for individual people."
www.msf.ca
In light of the admirable efforts of Médecins Sans Frontières/Doctors Without Borders (MSF), Michelle Zerillo-Sosa, editor-in-chief of Dolce Magazine, and Sylvia Mantella of Mantella Corporation launched Amore Without Borders. This initiative is dedicated to raising funds that allow MSF to continue its humanitarian missions. The inaugural event will be held on May 14, 2014, at Downtown Porsche's Toronto dealership, where a custom 2014 Porsche 911 and a trip by private jet to New York or Miami for a stay at a W Hotel will be auctioned off to benefit MSF.
For more information on how you can attend, visit
www.amorewithoutborders.com
Quick Facts
Médecins Sans Frontières/Doctors Without Borders (MSF) is an independent humanitarian organization that was founded in
1971 by a group of French doctors who worked in Nigeria during the country's civil war. Today, MSF is a global leader in providing medical relief to millions of people around the world. In 2012 alone, MSF accomplished the following:
• Nearly 32,000 MSF staff worked in 71 countries
• MSF provided more than 8.3 million outpatient consultations, admitted more than 472,000 for inpatient care, performed more than 784,000 antenatal consultations, delivered more than 185,000 babies, treated more than 1.6 million cases of malaria, and provided 191,000 mental health consultations
• 66 per cent of MSF programs were conducted in Africa, 25 per cent in Asia and the Middle East, and 6 per cent in the Americas; 55 per cent of these activities were carried out in settings of instability
• 81 per cent of MSF's budget of 944 million euros (C$1.4 billion) was spent on humanitarian activities; the other 19 per cent on management and fundraising
• 90 per cent of MSF's income was donated by more than 4.6 million private donors
Information provided by Médecins Sans Frontières/Doctors Without Borders