Vital Voices, Women's Rights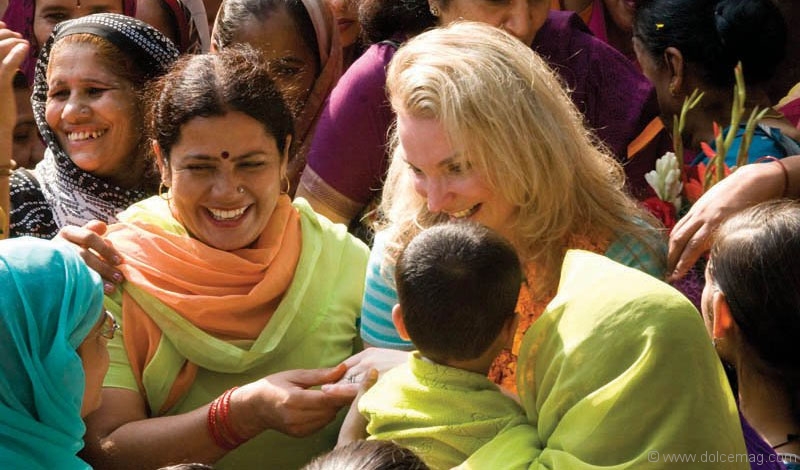 It happened more than 15 years ago, but Alyse Nelson can still hear the deafening silence that shook the auditorium after former First Lady Hillary Clinton made a momentous declaration in Beijing. "If there is one message that echoes forth from this conference, it is that human rights are women's rights, and women's rights are human rights," said the current United States secretary of state at the United Nation's Fourth World Conference on Women in 1995. In an effort to make actions louder than words, Clinton joined forces with Madeleine Albright, the first woman to become a U.S. secretary of state, to incept The Vital Voices Global Democracy Initiative. That life-changing message left Nelson compelled: she joined the program as deputy director, eager to further lift the platform of female empowerment. Undulated by the ripple effect of change brought on by some of the greatest champions of women's rights, Nelson inherently understood that raising awareness on female advancement does the world good. "I knew I needed to do the same, I wanted to commit myself to raising the voices of those who had been silenced by circumstance."
Today, Nelson is the co-founder, CEO and president of Vital Voices Global Partnership, a Washington, D.C.-based non-governmental organization that supports a universal network of female leaders in their pursuit of constructive change in their communities. Such women include Burmese Nobel Peace Prize recipient and general secretary of the National League for Democracy Aung San Suu Kyi, whose resilient voice was condemned and censored by the Burmese government with an almost 15-year house arrest term, and Kakenya Ntaiya, the first woman to attend college in her native Maasai village in Africa. In 2008, Ntaiya's impetus to break ground in women's rights opened the doors of the first girls school in Enoosean, Kenya – her dream now reality.
These entrepreneurial and political endeavours by women are what fuel Vital Voices, which provides progressionists with leadership, economic development and political participation training. Interviewing hundreds of international leaders and playing an instrumental part in the implementation of Vital Voices conferences and projects around the world, Nelson believes that all it takes is one woman – whether she's protesting in the Middle East or marching in Argentina – to challenge the disparities in gender equality for another woman to rise. Involved in the mission since her Clinton-Albright days, Nelson is one such woman.
Q&A with Alyse Nelson
What are some of the most significant obstacles or opportunities that you have overcome to spread and/or advance the charity's message/reach across the world?
In the late 1990s, when Vital Voices first emerged as an initiative of the U.S. Department of State, so-called 'women's issues' were largely relegated to the periphery – it was rare to read about women's rights in the media, and women were not a focus in discussions on foreign policy. We knew that no country could move forward if half its population was left behind, but this message wasn't common in the mainstream. No one was telling the stories of these extraordinary women leaders who move their communities forward – women taking daily risks, working on the front lines of change to protect human rights, create economic opportunity, and advocate for progress within their governments and through civil society … We have seen that in countries where women's rights are respected and where women have access to opportunity, societies are more open and free, children are healthier and better educated, and economies are more stable. Though leaders in the public and private sectors are increasingly turning to women – whether as catalysts for economic growth, defenders of human rights, or advocates for democracy and transparency – there is a growing realization that the women of the world don't need our help, we need theirs.
Of the 200 international leaders you have interviewed, who left a lasting impression on you?
I have been truly privileged to meet some of the greatest women leading our world forward. This March, I had the rare opportunity to speak with Burmese pro-democracy leader Aung San Suu Kyi in Rangoon. The experience is still very much on my mind; I know that I will always think back on those few hours as some of the most surreal and inspiring of all my life.
In a lifetime of leadership, Aung San Suu Kyi has never hesitated to stake her voice, her freedom or her safety to preserve an ideal. The risks she has taken, and the persecution she has endured at the hand of a military junta, do not compare to the worth she sees in protecting values of equality, democracy and justice. She sees beyond risk, beyond temporary indignity, because she knows that worlds built on injustice cannot stand. Her compassion and strength are humbling, and the reality she imagines asks more of each of us.
Since its founding, how has Vital Voices grown in terms of transforming the lives of women around the world?
For 14 years, our honorees and program participants have been these ripples in a tide towards global progress. The power of our work and our mission rests in each of them. Their stories and their character inspire action in others, who inspire others still, and without even knowing it, one woman has lit a spark that comes to life as a woman leader for the rising generation. I think our reach has expanded, and our network continues to grow, because the idea of women's leadership resonates across culture, geography, and generation.
To learn more, go to www.vitalvoices.org