845 United Nations Plaza – Luxury mansion in Manhattan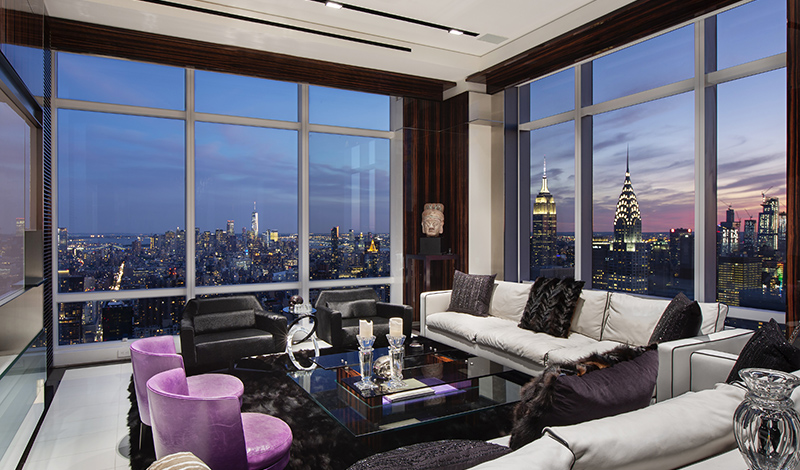 You can be on top of the world in one of Manhattan's newest luxury real estate listings at United Nations Plaza.
When you're living in New York's Manhattan, you aim for the stars in real estate. This is now possible with the ultimate in luxury at the 82nd-floor mansion atop 845 United Nations Plaza.
This architectural marvel boasts a 360-degree view of New York City, with a spacious 7,500 square foot floor plan. The generous living space also offers six bedrooms, five bathrooms, two kitchens (which are button-activated, pending usage) and two laundry rooms. The master bedroom has a Sex and the City-like master closet room with an automated 12-foot ceiling-scape, allowing the shelves and clothing racks to be brought to eye level for ease and comfort.
Additional perks of this property include: personal gym, home office, personalized gallery and temperature-controlled wine cellar. Owners and their guests can rendezvous in the 40-foot living area around the extended fireplace, where they can savour spectacular views of Central Park, the East River and the renowned United Nations building. Guests can also view legendary structures such as the rebuilt World Trade Center, the Empire State Building and the Chrysler Building, enjoying a genuine New York City sightseeing experience.
This piece of real estate has stayed ahead of the tech curve with state-of-the-art products. The pristine living quarters contain smart-home advancements, including Crestron Electronics's automated and voice-activated television panels to mask screens while not in use, as well as an integrated sound system to provide the best in quality audio. Automatic curtains and LED lights set the mood for each occasion, and privacy panels maintain a comfortable space from neighbours.
This gorgeous mansion was designed by New York-based architectural firm Mojo Stumer Associates and has been listed by Douglas Elliman Real Estate. The property has been priced at US$39 million and is being handled by Liza Nematnejad and Sandy Scheinman.
Schedule an appointment with the Douglas Elliman team to view this property today.
---
PROPERTY DETAILS
Neighbourhood Turtle Bay
Price US$39 million
Monthly Maintenance/CC US$8,002
Minimum Per Cent Down 10
Square Footage 7,500
CONDO
6 Beds
5 Baths
1 Half Bath
Central Laundry
Concierge
Courtyard
Full-Time Door Attendant
Garage
Pool
Private Storage