Q & A With Greg Natale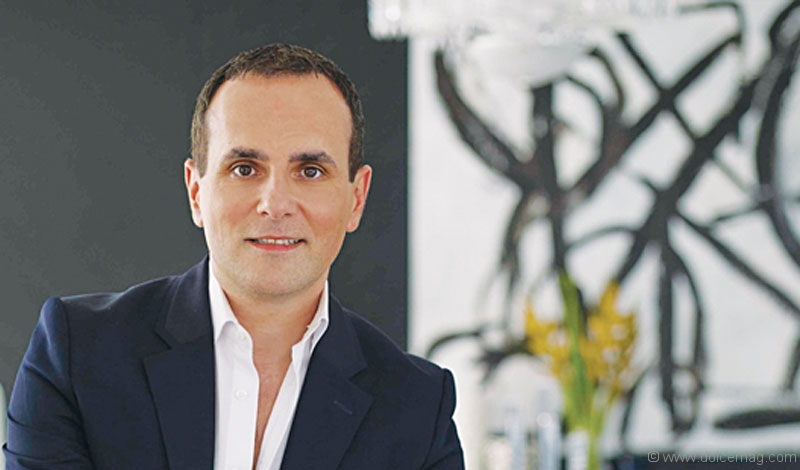 Dolce Magazine gets the scoop on interior design for 2016 with the author of The Tailored Interior.
Q: Where does your highest inspiration come from?
A: Experiencing different cultures and varying landscapes are a constant form of inspiration. It is even moments such as walking down the street and observing varying patterns on pavements and buildings that have provided me with some of the greatest ideas for my projects.
Q: What can one find when they open your book, The Tailored Interior?
A: I love books about design of any kind – I collect them myself. I always wanted to write one of my own in which I could share my design philosophy and discuss what I am most passionate about. People constantly ask me for advice about interior design, and I know that the process can seem overwhelming. I try to convey to my clients that a lot of it is common sense, and I saw The Tailored Interior as a chance to illustrate this by taking readers through my steps toward creating a stylish and cohesive interior. I want people to know that designing their dream space doesn't need to be as daunting as they think.
Q: What are the latest trends in interior design and furniture?
A:
I am excited to see a range of metallics such as brass and burnished gold coming through in designs. I am also very excited about the revived interest in the postmodern, Italian design collective Memphis Group – I love its vivid colours, geometrics and graphics. It's wonderful to see people pushing creative boundaries and experimenting with new takes on classics. 
Q: Explain how your personality shines through your work.
A: With any project, the client is at the core of the work. I approach design in a cohesive order, beginning with the interior architecture and then moving to considering the proportions of the room and building up the layers of furnishings. When I design, there is a constant interplay between organic development and careful planning; there is a balance. 
Q: How has your esthetic changed over the years?
A: I have always loved bold, sophisticated and glamorous in both interiors and fashion. I've also always been a fan of prints, patterns and textures; from a very young age I was surrounded by patterns in my parents' home. So it felt natural that I looked to these areas when I started to develop my style within my own business. At the time, the industry was just coming out of its obsession with minimalism, and I knew that to be noticed I needed to really make an impact. Inspired by the work of the late English designer David Hicks and Danish designer Verner Panton, I began playing with prints, colours and geometrics, and contemporary and classic lines, layering these to create warm, liveable interiors. My style has evolved but at its core there is a consistency, and I make sure to tailor it to the particular space I'm working with.
Q: What new and exciting projects are on the horizon for your design firm?
A: We are in the closing stages of our first hotel project, where we were in charge of the complete reimagining of all 80-plus rooms, bars, restaurants and common areas. It's a mammoth refurbishment project in a well-known wine-making region in Australia. It will be a thrill to see people experiencing it. 
---
Greg Natale is a leading Australian interior designer, winning the Belle Coco Republic Interior Designer of the Year award twice. His recent book, The Tailored Interior, boasts a photographic compendium of his classic, contemporary and original projects, as well as his love for layers and vibrant colours.
www.gregnatale.com