Seventeenth-Century France meets Long Island's Gold Coast in The Maison Des Jardins Estate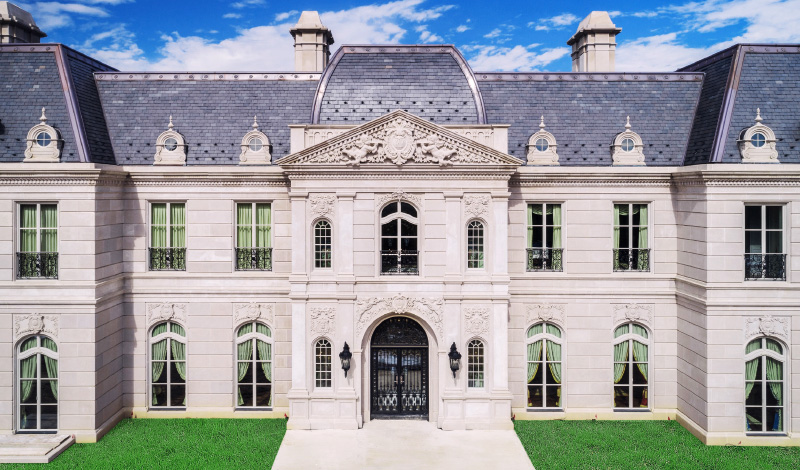 The Maison des Jardins echoes historical homage with modern design.
Interview by Michelle Zerillo-Sosa
Quick question: what would your dream house, look like? Would there be iron gates granting entrance to a long cobblestone driveway adorned with the foliage of eastern New York? Would there be French flowering shrubs and pear trees hinting at spring? What is your vision?
If what I've just described specifically inspires you, you can make your dreams a reality with the Maison des Jardins estate, located on the Gold Coast of New York's Long Island. The property has been listed by Douglas Elliman Real Estate for $60 million.
The Old Brookville, Long Island, estate was created in homage to the legendary Palace of Versailles speaking to the elegance of 17th-century classical France. The combination of château and home drives the design of this 160 ft. long limestone beauty. Set on an eight-acre piece of property, the Maison des Jardins dominates, from ground to sky, reaching 60 ft. in the air with its massive limestone and iron chimneys.
On the facade of the estate, lavish window dormers (40 in total) gracefully expose the east and west wings of the house. The architects, Michael J. Wallin and Douglas R. Schneider, aimed to please the original owners with a curved rooftop to match the look and feel of a Vermont slate roofscape in the centre of the home.
We chatted with listing agent Eloise Halpern from Douglas Elliman Real Estate about her career transition from fashion jewellery to Douglas Elliman, and on landing this $60 million dream château listing on the Gold Coast of Long Island.
Why did you decide to change careers from being your own boss to becoming a realtor and later an agent for Douglas Elliman?
I loved fashion jewellery, but when I was divorced in 1993, my daughter was three years old and I really wanted to be near home to be able to spend more time with her. I had to sell my own home at the time, and my real estate agent told me I would never be able to work for anyone after having had my own business with 20 employees. She was probably right! I do work for people, but they are my sellers. It's a much more flexible career. I was with a local agency for years, but I realized a few years ago that the real estate industry is headed in a much more global direction, and that I needed to be with a larger firm with a more global networking capability. Douglas Elliman Real Estate is the perfect place for my partner and me.
This listing is quite possibly every agent's dream. Why do you think the clients chose Douglas Elliman and yourself as the lead agent for their property?
Patricia [Bischoff, my partner,] and I have had prior real estate transactions with the sellers, and they understand how we work. They believe in our style and how it is a benefit to them. They also know that it's in their best interest to go with a large firm with that global reach, which Douglas Elliman Real Estate offers. Our partnership with Knight Frank is an important link to the overseas market, which may ultimately provide the buyer for this property.
Who are the sellers?
The sellers are the epitome of the American dream. One was born here and the other in Israel, but grew up here. They are entrepreneurs who literally "made it" through hard work, perseverance, incredible talent and belief. They continue to expand their business in the realm of beverages here and internationally.
Where did you grow up?
I was born in Glen Cove Hospital, the closest hospital to Plainview, Long Island. I lived in Plainview until I went to college at Binghamton University, [then] spent a year abroad in France and Italy studying languages and art [as well as] travelling and working. I then got a secondary degree in jewellery design at the Fashion Institute of Technology, which honoured me with the Mortimer C. Ritter Award for Outstanding Alumni when I owned my Manhattan-based fashion jewellery factory.
What do you like about this listing's neighbourhood?
I love Old Brookville for several reasons. First, it offers the beauty of the north shore with its sweeping lawns, horse properties, rolling hills, beautiful beaches with views of Westchester, Connecticut and even Manhattan from certain areas. It's so close to the quaint villages of Locust Valley, Sea Cliff, Roslyn and Cold Spring Harbor, and yet equidistant to upscale shopping areas such as the Americana of Manhasset and Wheatley Plaza in Greenvale. It's a short distance to Manhattan as well. It truly is the best of all these worlds. And if you golf or play tennis, [or do] any sport including boating, you're surrounded by fabulous country clubs and community facilities enabling you to participate in any or all!
What are some of the top features of this listing?
What I find truly desirable about this property is the warmth of each and every room. For all its grandeur, you never feel you can't "live" in the house. I love the French doors looking out to verdant views of sweeping lawns and gardens, the rich colour palette so pleasing to the eye. The agent in me loves the construction of this house! I've never seen anything like it in my 24 years as an agent. It is beyond any of the top-quality construction I've seen over the years. And the geothermal heating is a fabulous green feature, so in line with today's building. Personally, I would just adore having a theatre in my house, as I love going to the movies. This would be such a luxury. And I can so see myself entertaining in the wine room. On top of that, I'm a bit of a fitness nut, so I would be over the moon to have a beautiful fitness centre in my own home. And the covered limestone loggia with outdoor fireplace in this house is just to die for! It's like [it's] out of a dream. The expansive property, the long romantic drive leading up to the house … the anticipation as you drive along toward the house — you're transported to another world!
Can you describe a suitable buyer?
I think the buyer for this home is most likely someone who needs an easy commute to Manhattan, but in my opinion, there are many types of buyers who could live here. The most important element is the financial ability to buy it.
Making sure the property is the right fit for a buyer is key to a successful transaction. What are some of the things you do as an agent to ensure your clients are happy?
Over the years, I've come to realize that buying a property is in many ways similar to finding a life mate. Nobody can convince you they are the right person … you just know it. You feel it. It's exactly the same with a home. I can't sell someone on wanting a property if it's not right for them. It's getting buyers in to see it, and enough of them that the right one comes through the door. To keep clients happy is to pay attention to their needs. This is a service industry, so we need to listen more than talk.
Define a happy home.
I believe a happy home is one where the inhabitants have created the backdrop for them to live the way they want with ease and which supports a loving family.
What was the first property you listed and sold?
My first sale was a small home in East Hills, 57 Sherrard St., and I think it was 1995. I believe the sale price was $258,000. I can't be sure, as the computer system doesn't go back that far! I had been working as an assistant to another agent when I first started and I had conducted a Sunday public open house for her. A couple attended the open house who were about to buy a house on the service road to a large expressway. I remember the wife having some concerns regarding her health, breathing in potential fumes … she was pregnant. They didn't buy the house where I had the open house, but I mentioned a few other options for them, and they ended up buying one of them. It was very exciting for me, and I felt I did a good deed for them. I can't remember where my first listing was. That took a little time. Most sellers do not list with new agents, as they prefer to hire a seasoned agent who has encountered all types of situations and had to navigate this complex process.
What is the number one selling feature of every home?
I believe the number one selling feature for every home varies, depending on the buyer and what is important to them. It could be location, curb appeal, style, the kitchen, the master bathroom. Usually it is one of those items.
Do you prefer paint or wallpaper?
Personally, these days I opt for paint. There's so much you can do with paint! You can even make it look like wallpaper if you want.
What designers do you follow?
I follow one of the architects of this property on Instagram … Douglas Schneider of Schneider Architectural Works. His work is simply fabulous. I'm currently following a bunch of different [interior design and home décor] companies like @tilebar, @cambriasurfaces, @luxemagazine, @caesarstoneca and even @kohlerco on Instagram, because I'm redecorating and remodelling my own second home in Scottsdale, Ariz.! I love everything from ultra-contemporary to ornate and embellished, such as the property I'm representing. I'll buy bedding at Target and yet my draperies are hand-embroidered floral Schumacher fabric. My decorator here is Cynthia Woody, and I hired her because she understands my desire for modern minimalism with a touch a rustic, ethnic, southwest, Native American or Mexican influence.
What is your favourite place to visit?
My absolute favourite place to visit is Italy! I love everything about it. My husband and I go on biking trips, and we've gone to Italy about eight times now. The most recent trip was to Sicily in September of 2017 on yet another cycling journey.
What's the last book you read and enjoyed?
The last book I read was The Woman in Cabin 10 by Ruth Ware. It's a great story with a lot of twists and turns … a bit of a mystery. Loved it!
Have you had the pleasure to meet and do business with any celebrities?
I'm a huge tennis fan, and so is my husband. He used to work for a large corporation that sponsored the U.S. Open, so we've run into a number of celebrities in the company suite, such as Billie Jean King, Jeb Bush, Matthew Perry. One of my husband's former associates is a significant sponsor of the Animal Rescue Foundation, which Tony La Russa founded. We have attended a few of their fundraisers, and I had the privilege of meeting and sitting with some big sports celebrities, including Tony La Russa himself, Tommy Lasorda, Albert Pujols, Jim Thome (soon-to-be Hall of Famer) and Carney Lansford. I have had celebrities view properties I've represented over the years, but I'm not at liberty to mention names publicly.
Define la dolce vita (the sweet life).
La dolce vita would mean to me spending relaxing times with good friends, laughing, storytelling, enjoying fresh food, good wine — and especially in Italy, the wine, views, the people, the culture. Being in this atmosphere is my favourite thing, and to have a beautiful setting such as a beautiful outdoor veranda or loggia with a fireplace or a kitchen and maybe a pool is the ultimate!
How would you describe Douglas Elliman?
To me, Douglas Elliman Real Estate is a very established, growing firm, deeply rooted in the real estate world, yet with an uber-young feel about it. Our leadership is unparalleled and innovative. Our PR department is on point and available to us around the clock, working to give us the incredible exposure needed in this current global market.
How important is art in a space?
Artwork can transform a room. I grew up in a very artistic home. My mom has two masters degrees in sculpture and photography, so I have a special love for photography. I feel a minimalist style of décor lends itself well to art collectors so that the work becomes the décor and focal point of the room.
---
Property Details
Neighbourhood: Old Brookville, New York
Price: $60,000,000
School: District North Shore
Lot Size: 364,815 sq. ft.
8 bedrooms
10 bathrooms
5 half bathrooms
Approximately 22,000 sq. ft.
Leisure facilities
Elevator
Garden Swimming pool
Staff accommodations
Triplex
Fully furnished
Private parking garage
Utility rooms