REVAMPED RELICS: Rustic romance, awakening artistry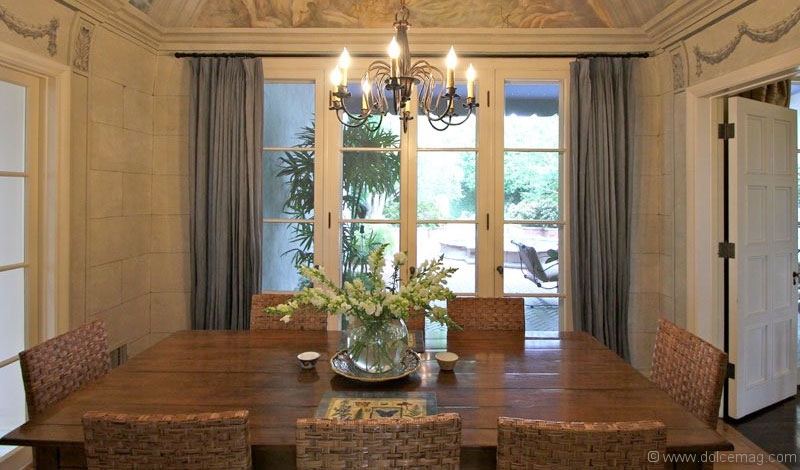 — these extraordinary estates seem to have sprung from the pages of history books and fairy tales
HISTORIC ESTATE: Los Angeles | 108 Fremont Place $8.5 million USD
Minutes away from world-famous Rodeo Drive and within the guard-gated community of Fremont Place waits a treasure trove of historic beauty. The designer of this classic 1920s-era double lot, totalling over 37,000 square feet, has left no stone unturned. Each space holds its own unique character and charm, once adored by original owner A.P. Gianni, founder of the Bank of America. Classic Batchelder tile flooring, hand-stencilled wood beams and picturesque trompe l'oeil paintings grace the walls, each beautifully authentic detail flowing gracefully into the next. Both the main and second residence are chock full of timeless rustic details, adding the perfect touch of cosiness to this grand L.A. mansion.
Roaring '20s landscape was all about greenery, with a desire to welcome nature in all its glory, and some things never change. Last owned by actress and screenwriter Karen Black, this lush landscape sparks inspiration. Picture serene breakfasts by the blue-tiled pool, followed by a stroll through the lavish rose gardens, surrounded by green as far as the eye can see.
Contact Greg Moesser: 310-770-9014, www.sothebyshomes.com
FAIRMONT  HERITAGE PLACE  San Francisco | 900 North Point St., Suite D100
Unique opportunity for fractional ownership. Starting at: $169,000 USD
There is nothing sweeter than a chocolate factory turned five-star hotel and private residence. Overlooking the San Francisco Bay, Ghirardelli's former chocolate-making  site has been transformed into a collection of luxurious living spaces in Fairmont Heritage Place. The historically inspired building is surrounded by the urban-contemporary cityscape of San Francisco, and offers the perfect vantage point to the city's abundance of beautiful attractions. Old charm meets modern-day San Fran with the classic red brick walls and gorgeous timber beams contrasted by fresh accents. Residences come complete with gourmet kitchens, airy living space and the option of breathtaking city or bay views.
Whether you are searching for a family vacation home or looking into a romantic escape for you and your sweetheart, Fairmont Heritage Place is an investment that prides itself on its unparalleled luxury and amenities. Allow gracious Fairmont staff to go above and beyond, to assist you in planning the ultimate San Fran experience. Rich in culture, the entertainment and dining options are endless in this upscale part of the city.
www.fairmontheritageplace.com