Sweet Sistine Stallone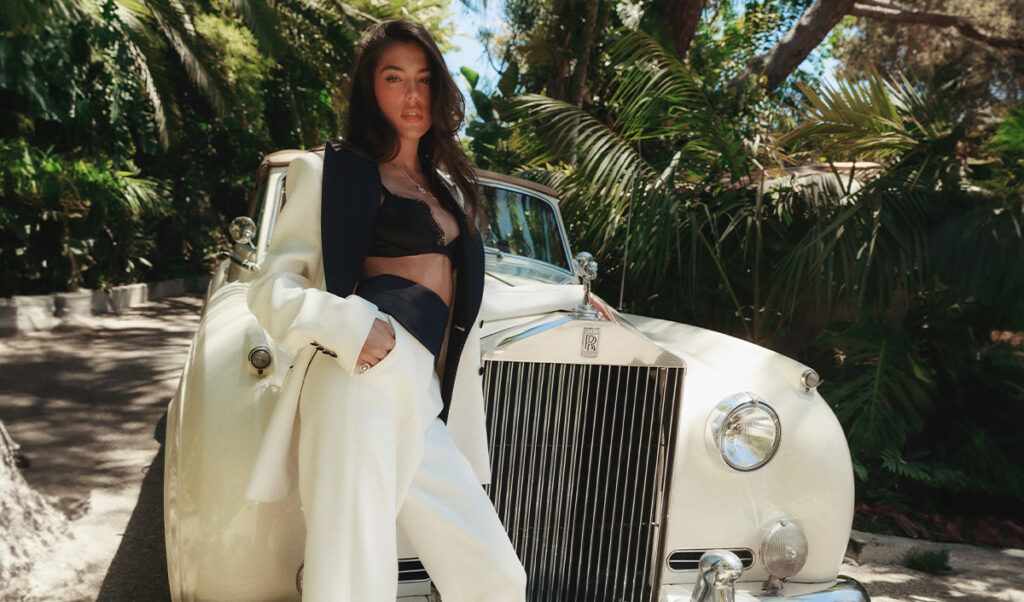 After the reality TV show she started, The Family Stallone, was renewed for a second season, actress, writer and podcast host Sistine Stallone has been making a name for herself with wits that match her looks.
Almost as breathtakingly beautiful as her namesake, the Sistine Chapel in Rome, Sistine Stallone has catapulted her family name into a wholesome limelight that is very refreshing.
The twenty-five-year-old Los Angeles-born actress, writer, model, and podcast host has nurtured the entrepreneurial spirit passed on to her by her parents Sylvester Stallone and model Jennifer Flavin. She's acted in a couple of movies, written a screenplay, launched a reality show and a podcast — all of this after her first career as a model. We were curious to explore the roots of Sistine's sweet life and discuss what the future may have in store for her, and there seemed to be no better location than the iconic Sheats- Goldstein Residence in Los Angeles to meet the reality-show star and photograph her for her feature article and cover of DOLCE.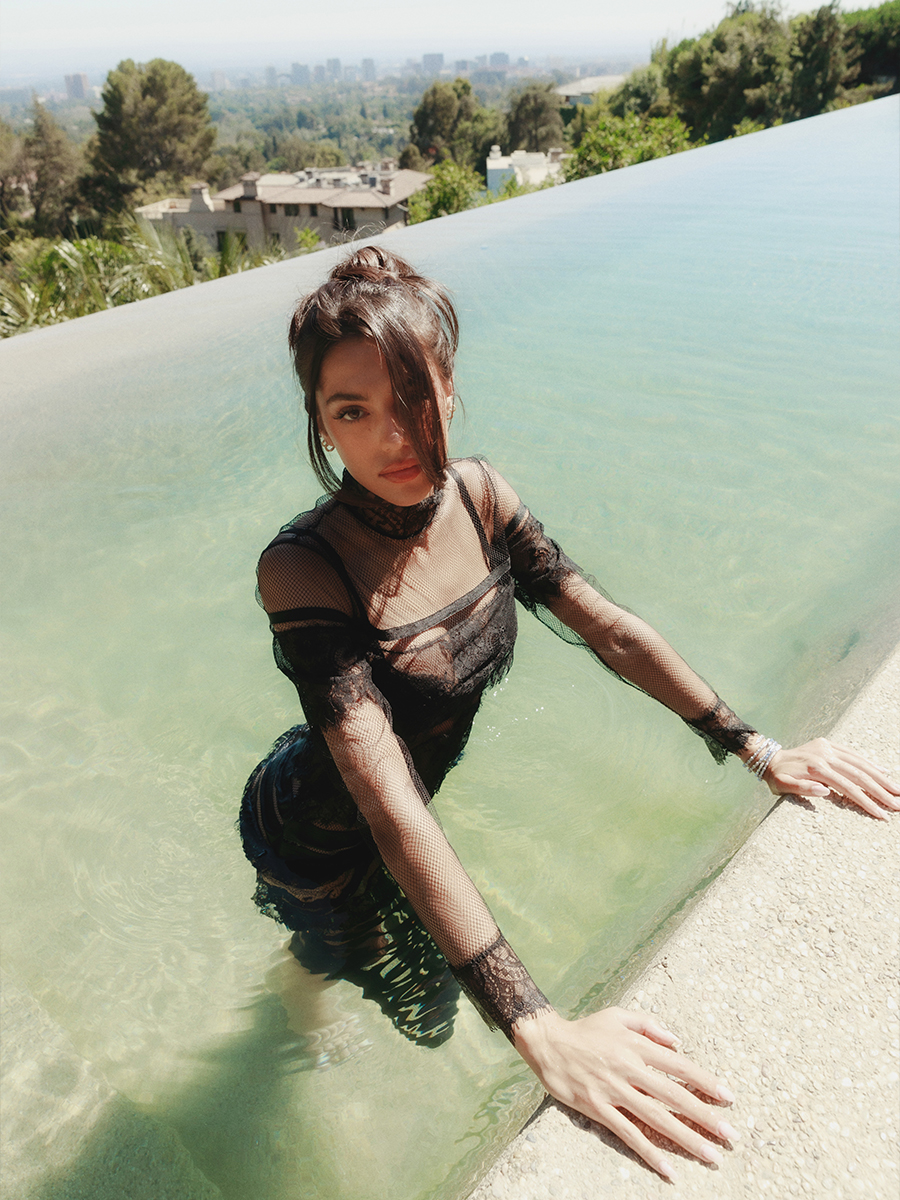 PHOTO BY SAM SPENCE

Sylvester Stallone met model and actress Jennifer Flavin in 1988 and the couple married in 1997. They have three daughters, Sophia, Sistine and Scarlett. Sistine is the one who resembles her father the most, not only physically and because of her brunette hair, but in the way she talks as well.
Sistine notes that being the middle child comes with a unique blessing. "Being in the middle is the best," she says. "I personally love being the middle child because I get the best of both worlds. I get to act mature with my older sister and a little bit goofy and silly with my younger sister."
Imagine growing up with a father who to this day is revered for playing characters like the underdog heavyweight boxing champion Rocky "Italian Stallion" Balboa or the indestructible guerilla-warfare-trained marine John J. Rambo. Weird, no? For Sistine, it took some time to realize her family was anything but ordinary. "I don't think there was one moment where I thought, 'Oh my gosh, my family is well-known around the world,' she explains. "I think I started to grow a little bit suspicious when paparazzi would follow us to and from school. And if we were getting a milkshake after school they would be there. And I was always, like, 'Dad, why are these men with cameras following us?' So, I kind of just understood it as time went on."
The Stallone family did have some rituals like other families, and Sistine remembers them fondly now that she's moved out of the family home. "My parents were adamant that every single night at 5:30 we would all sit at the dinner table as a family," she remembers. "I really cherish those moments when I look back, because we don't get to have that anymore."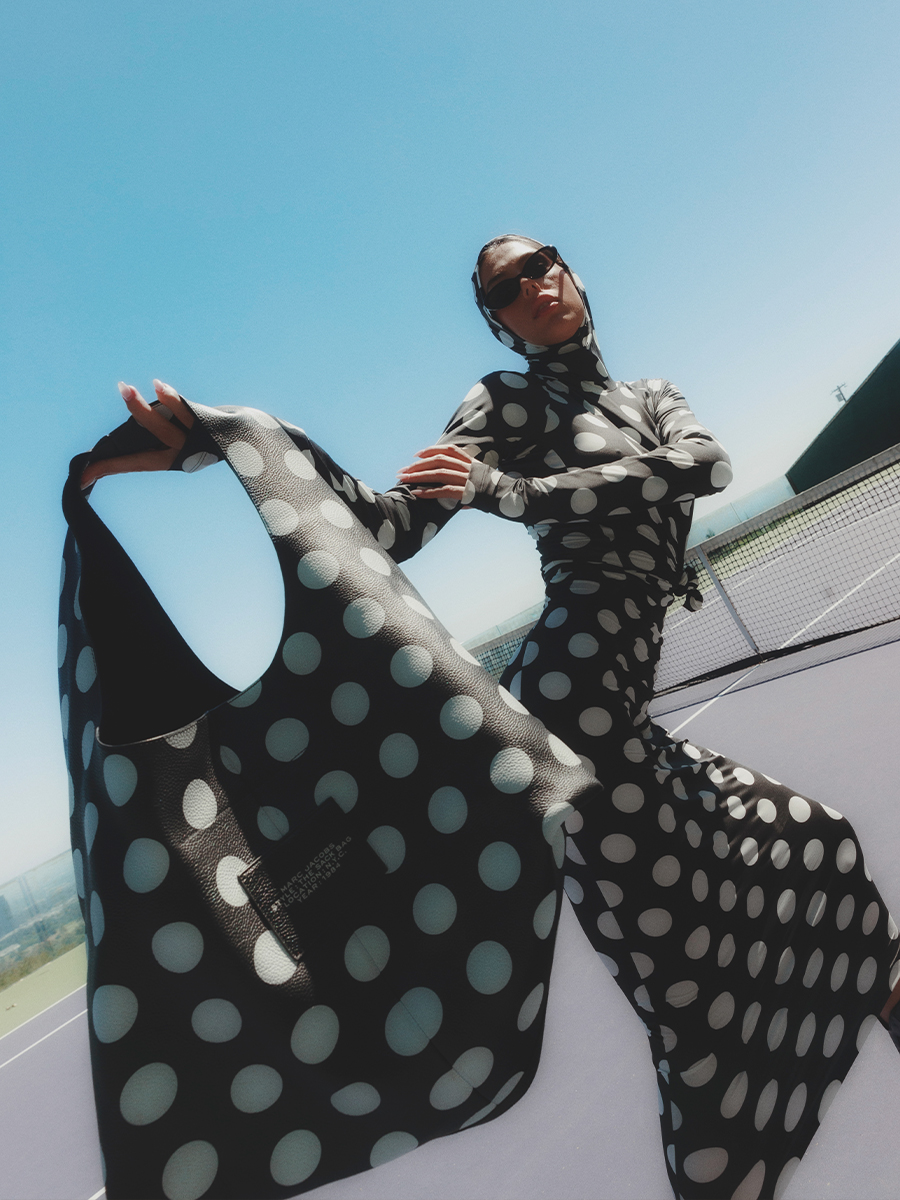 PHOTO BY SAM SPENCE
It is difficult for any child to pinpoint the source of a parent's success, especially when it comes to achieving global recognition in the world of cinema. But Sistine has some keen insight into how her father developed his movie star persona. "My dad's favourite film when he was a child was Hercules," she explains. "That grew a lot of the inspiration that he had later on for building that sort of body and having this almost superhero god-like persona. And so that's why a lot of his characters are based on these well-built people. But my favourite film of his has nothing to do with this. It's Rhinestones, with Dolly Parton. He hates when I say this!" Sistine says, laughing at the thought of her father reading this article.


Sistine's mother, Jennifer Flavin, now an entrepreneur and owner of Serious Skin Care, a beauty products company that sells treatments and cosmetics, started modelling for Elite at 19 years old and went on to appear on the covers of Marie Claire and Cosmopolitan as well as many other magazines. So when Sistine became a teenager, it was natural for her to explore following in her mother's footsteps, and she signed with IMG Models in 2016. Sistine walked her first fashion show for Chanel at the age of 18 and also walked the Dolce & Gabbana runway during Milan's Fashion Week with her sister.
"I definitely was influenced by my mom," she admits. "It was a really fun thing that I got to do with her. I started when I was 14. And it was a really good bonding moment — she got to show me old photos, and we would study — we'd practice walking down the hallway." Sistine went on to appear in Glamour magazine and graced the cover of ELLE Russia in 2017 and many other magazine covers. "It was just a really nice, easy time. I don't do too much modelling anymore, but I only have good things to say about it."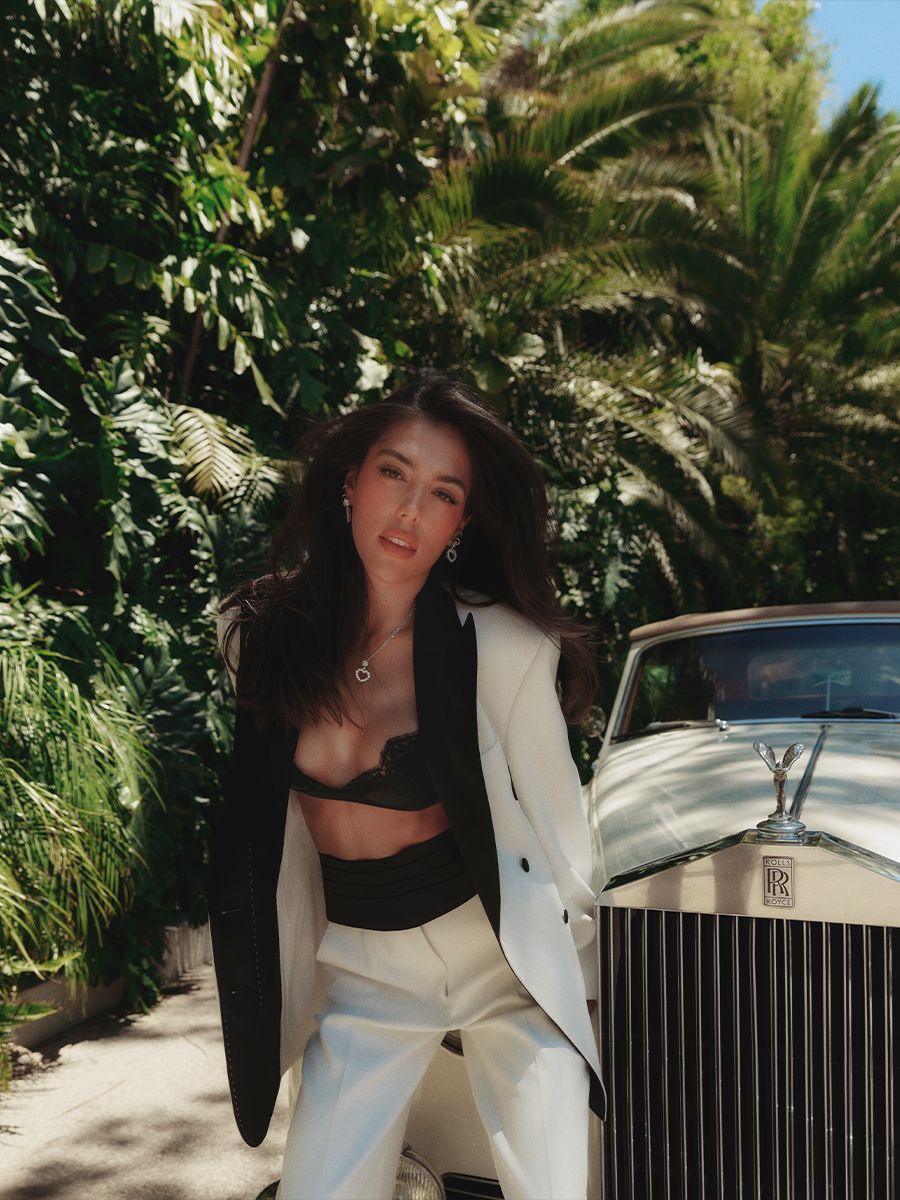 PHOTO BY SAM SPENCE
"I think I started to grow a little bit suspicious when paparazzi would follow us to and from school. And if we were getting a milkshake after school, they would be there."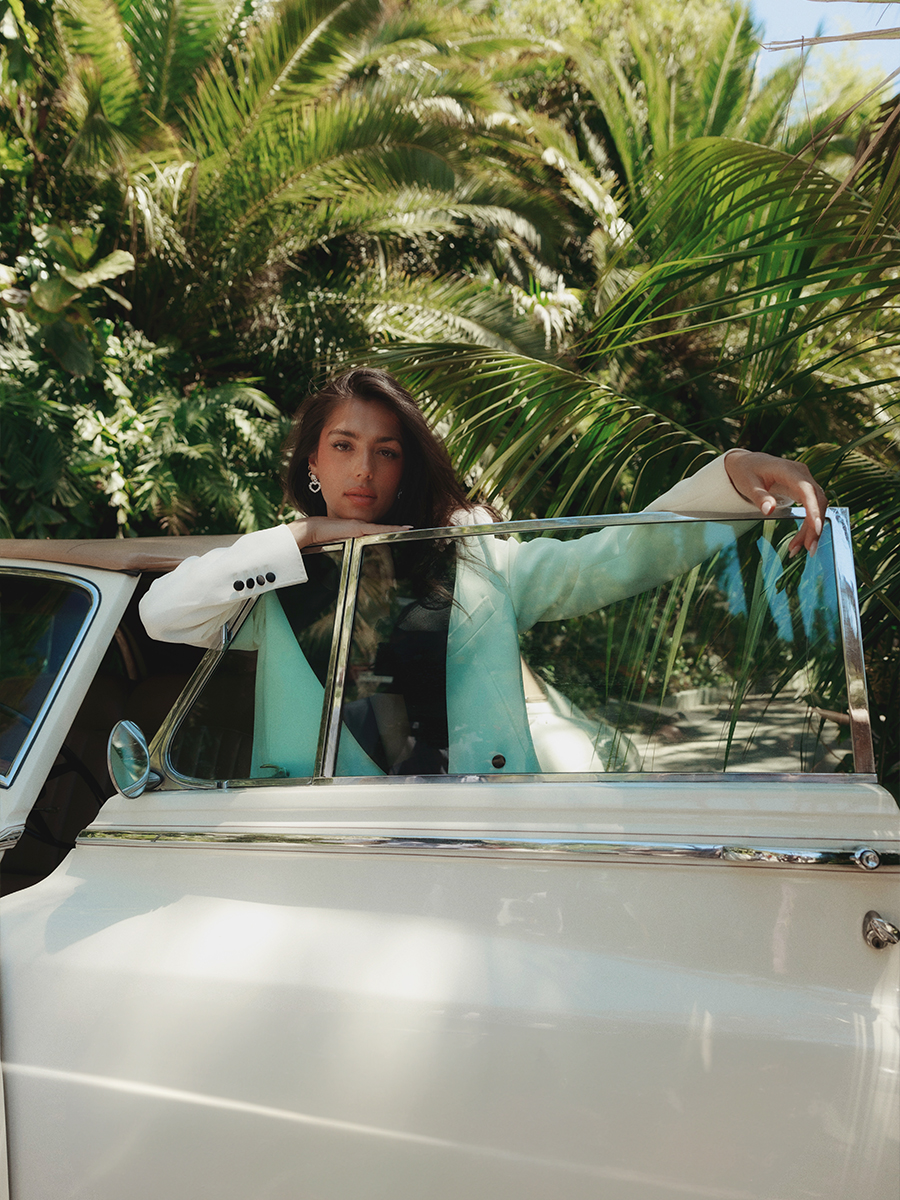 PHOTO BY SAM SPENCE
In May 2023, the first season of The Family Stallone dropped on Paramount+. Although also a reality show, it is very different than any of the Kardashian-related TV products. It's a very wholesome look at a family that, while not living an ordinary lifestyle, still has many elements that everyone can relate to. It shows a goofier side of Sylvester Stallone, one that not everyone is familiar with, and features guest appearances by Al Pacino, Dolph Lundgren and many other celebrities. During the show, Sistine recalls one instance when after bringing one of her first boyfriends home to meet the family, the mere sight of the Rambo-like silhouette of her dad on the second-floor balcony was enough to make the young man rush back into his car and drive away, never to be heard from again. There are also plenty of moments where you see a softer, gentler side of the family. For example, in one episode, Sistine reconnects with her passion, horseback riding, which she sometimes used to do with her dad. She tells viewers that she began riding when she was 15 and competed in many contests in California, qualifying for the national championship for her age group. That all came to an end when Sistine decided to pursue her modelling career in New York.
The series was such a success that it was renewed for a second season a week after its première. But did the whole family wholeheartedly and enthusiastically jump in? "It definitely wasn't a unanimous decision," says Sistine. "It first started with my older sister, Sophia, and me. Many networks were coming to us, for years, just wanting to do a show about us. And we thought, 'Oh, let's bring in my little sister, Scarlett.' And she was a bit hesitant at first because she was in college. And then my parents said, 'Well, what about us?' So eventually, many years later, we did it with the whole family."
Sylvester "Rocky/Rambo" Stallone in a reality show? That raised a few eyebrows. It was hard for some people to imagine the Hollywood legend happily agreeing to let cameras into his home, Kardashian-style. In one episode, Sylvester appears clearly reluctant to be on the show. He's grumpy and impatient. There's more to this than meets the eye, though, if his daughter Sistine is to be believed. "You don't want to know," she says, with a big laugh. '
"He's such a liar — let me tell you, he is such a liar! He loves when the camera's on him! And he says it's a great excuse to have the family back under one roof again. So, we're currently filming Season Two right now. It's been really fun being back together!" In November 2022, Sistine and her sister Sophia revealed that they wanted to move in together in New York. They did make that move earlier this year.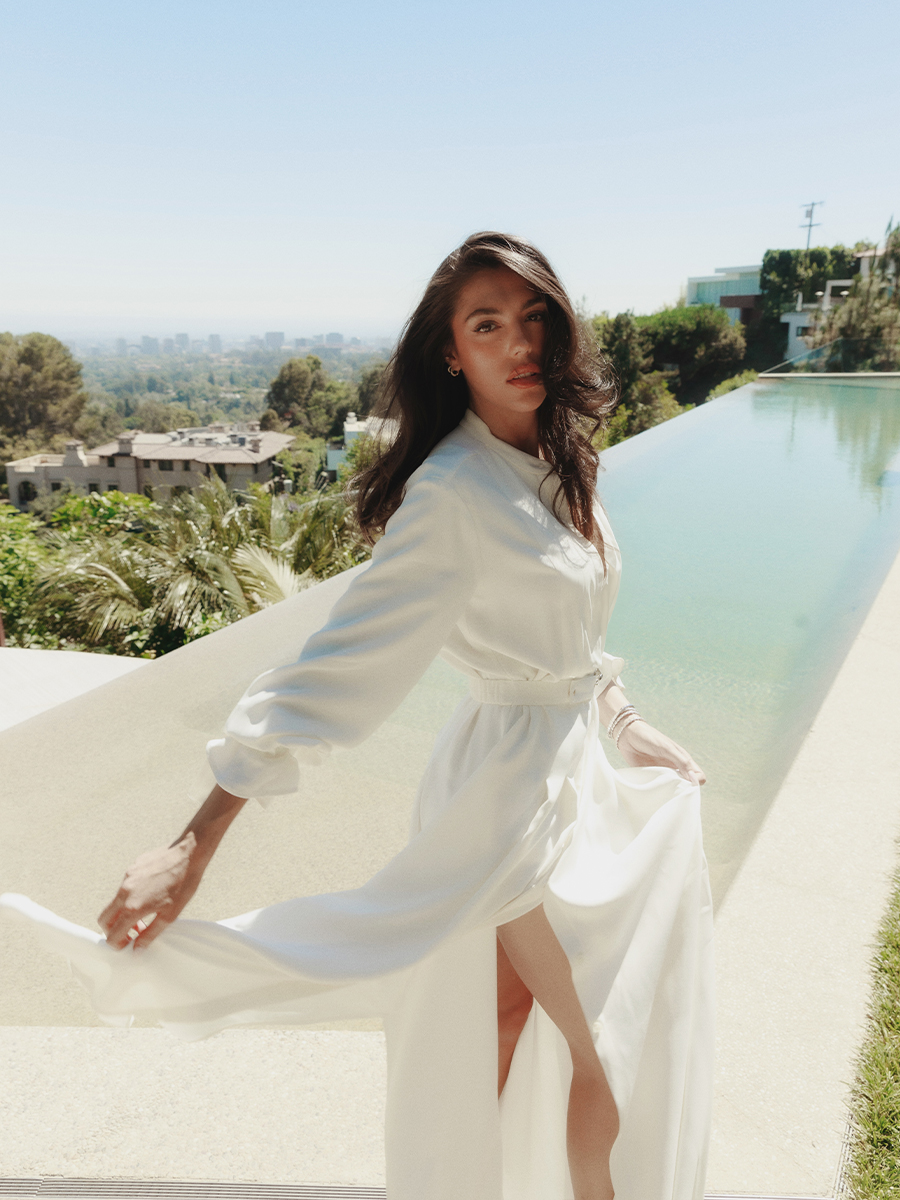 PHOTO BY SAM SPENCE

Before The Family Stallone, the world's introduction to Sistine came from another one of her ideas, a weekly podcast called Unwaxed that she does with her sister Sophia. There are now an impressive 95 episodes available, and Sistine is clearly a gifted interviewer. The episode where they interview their father is moving, funny and heartwarming. But it took some time for her to learn the trade. It wasn't handed to her — she had to work for it. "It definitely did not come naturally to us," she says. "I can say there were at least 30 unused podcast episodes because my sister and I would talk over each other. And then we'd start fighting on audio. And then it just became a mess! It really took a lot of practice to understand how to not cut the other person off, to know when to go in, to know when to wrap up an interview. It took lots of practice, but I think we figured it out."
For the past couple of years there has been a discussion in Hollywood about the unfair advantage that so-called "nepo babies" do or do not have. Do the scions of well-known Hollywood families have an unfair advantage when it comes to getting the best roles or jobs? In the Stallone family, it's clear that there is no "nepo" anything, since none of the kids have appeared in their dad's movies. But there might be one big advantage to being Sly's daughter: you get free advice from Rocky himself. "My mom and my dad give me advice all the time," admits Sistine. "For example, they always say when it comes to any job that I'm doing, whether it's a modeling, shooting an interview, an acting job, they always say, 'You have to respect people's time. So, arrive early, stay late, and work as hard as you can in between.'" Now these are not just empty platitudes. During her shoot with DOLCE, Sistine arrived five minutes early, driving her own car. And the next advice she was given she also practiced, being very respectful of everyone on-set. "My mom always says, 'Just be kind to everyone, because everyone is there trying to make you look better.'"
Sistine is not resting on her laurels, with several projects in the works. Her relentless ambition even created tension within the family, since she hadn't told older sister Sophia about her work on Scavenger Hunt, a horror movie screenplay. On one episode of the show, Sistine reveals that she's been working on the script since 2018, when she wrote the first treatment, and pitched it to MGM.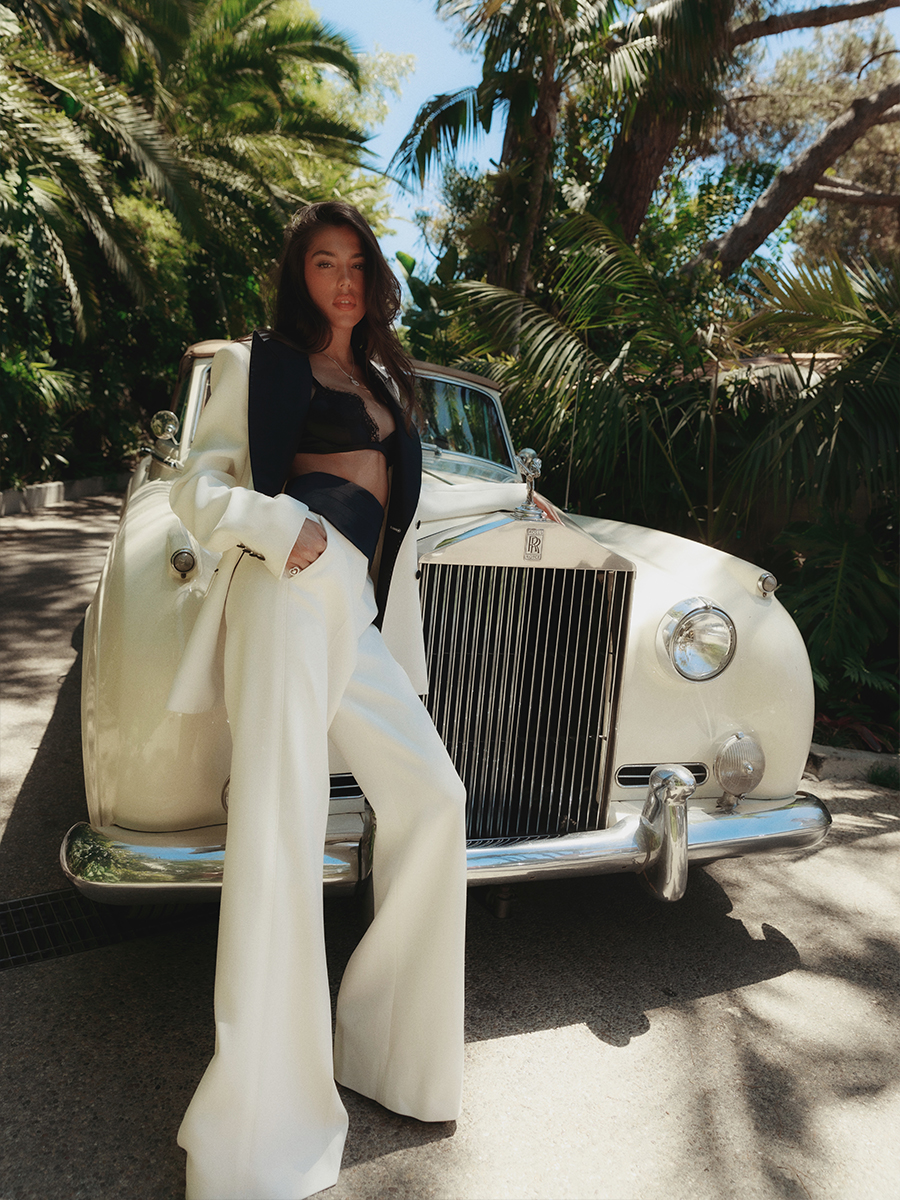 PHOTO BY SAM SPENCE

"I would love to get into producing," she admits. "I'm currently working on something that is very near and dear to my heart. I would love to grow the podcast with Sophia. We would love to go on tour, create merchandise and perhaps create a line of our own someday. Lots of things are in the works!"
Sistine is active on social media, with 1.6 million followers on Instagram. "I've had my Instagram since I was 13 years old, and I think it just sort of happened over time. I should be more efficient and use that platform to help my career … I have to say I've been quite lucky that I haven't necessarily dealt with a lot of hate or negative comments" or with the negative side of social media, she adds. "Touch wood, let's hope it stays that way. But I feel really happy. I feel really lucky that I'm in the position that I'm in, especially when it comes to the podcast. We have a lot of young listeners who message me and it feels really nice to know that girls my age are relating to what I have to say and to the advice I give."
"I WOULD LOVE TO GROW THE UNWAXED PODCAST WITH SOPHIA. WE WOULD LOVE TO GO ON TOUR, CREATE MERCHANDISE AND PERHAPS CREATE A LINE OF OUR OWN SOMEDAY. LOTS OF THINGS ARE IN THE WORKS!"
The Stallone family has roots in the south of Italy, which is from where Sistine's grandpa Francesco emigrated to New York in 1923. It's obvious that the whole family holds that country close to their hearts. "If I were to close my eyes and picture my perfect dolce vita moment," says Sistine, "I would probably be in Tuscany with my family, perhaps with an Aperol spritz in my hand. Everyone is happy, everyone is healthy. And I'm eating a lot of good pasta. That's my dolce vita!"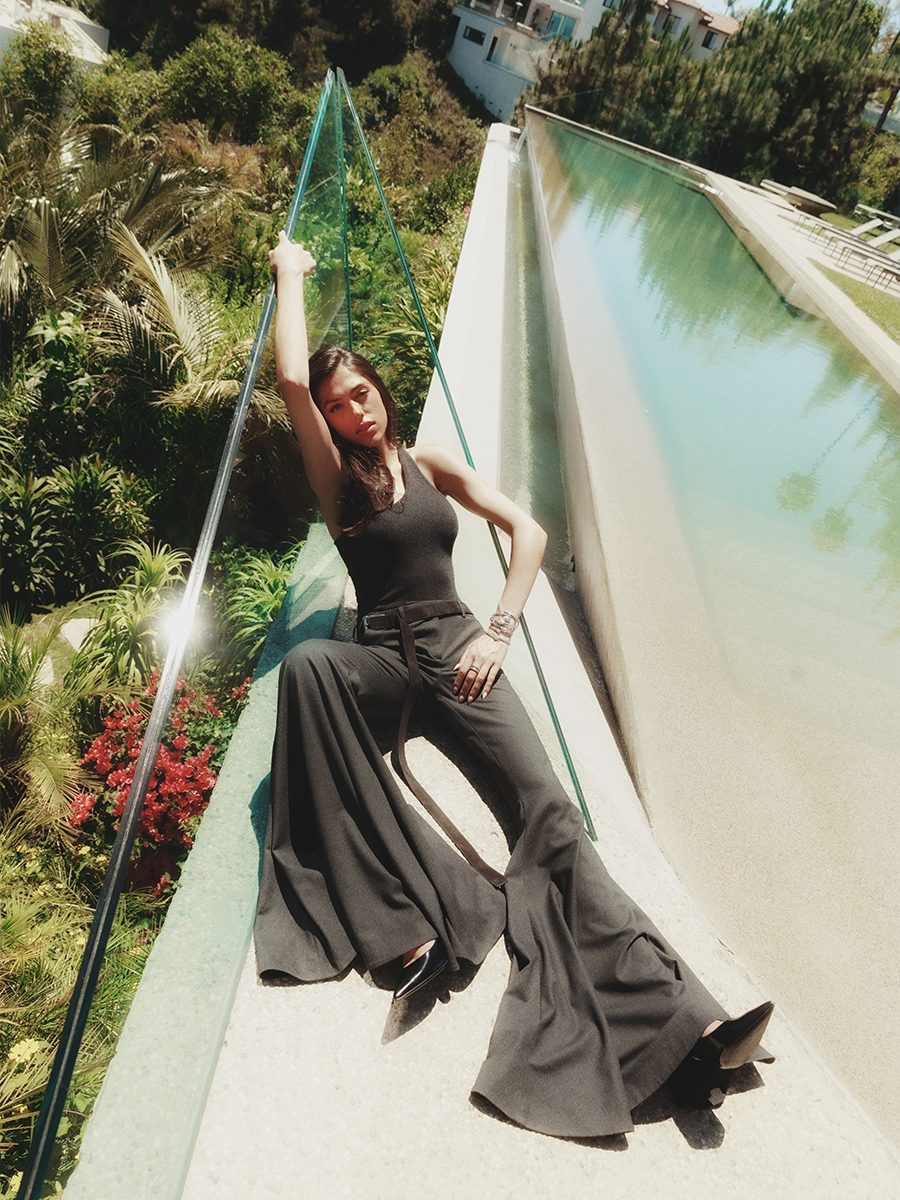 PHOTO BY SAM SPENCE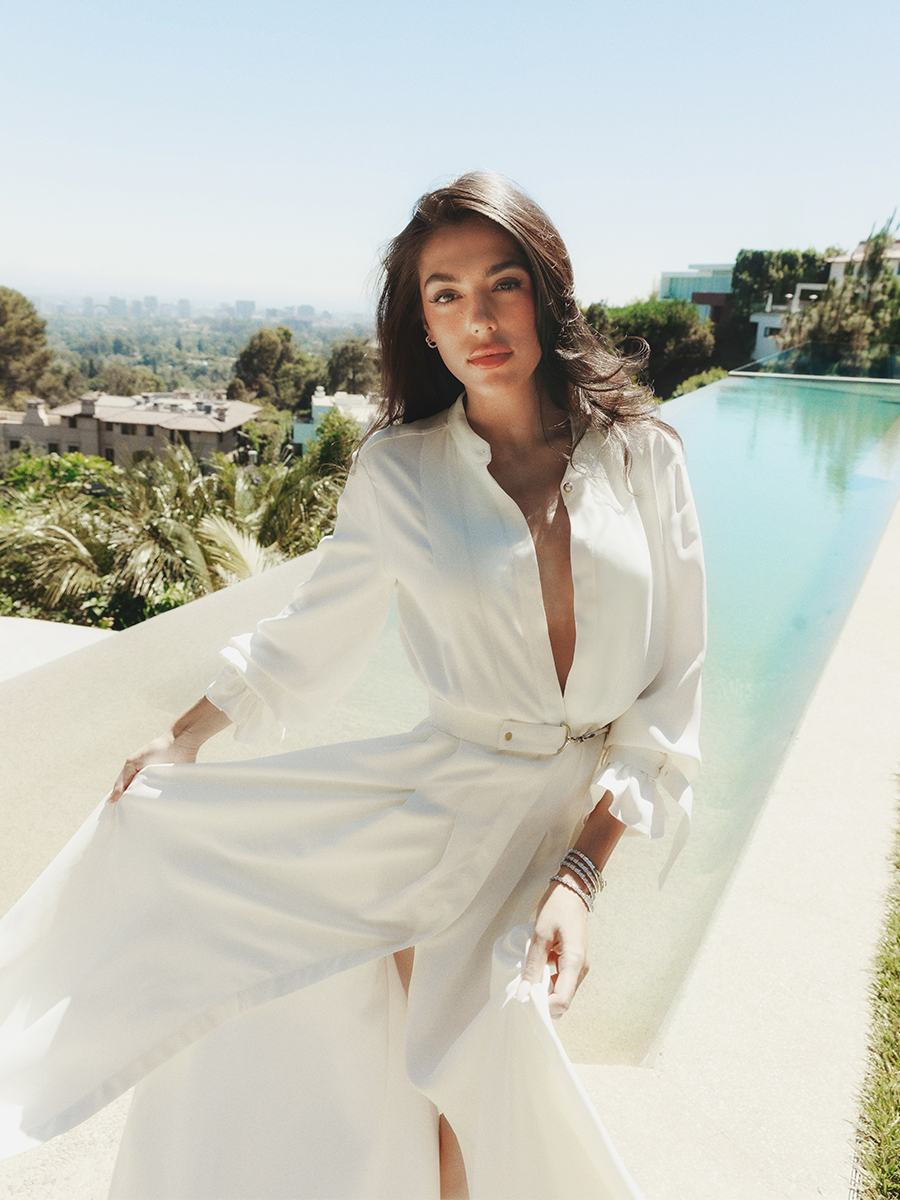 PHOTO BY SAM SPENCE
What's the last judgment on Sistine Stallone? She has already shown the world that she's passionate and has a strong work ethic mixed with of a bit of sassiness for good measure. She's serious about her work but doesn't take herself seriously and is very respectful of others. With many projects in the works, some of which she isn't at liberty to discuss, she has bright future ahead of her. Could this be the start of a new Hollywood dynasty?
PHOTOS BY SAM SPENCE
STYLING BY ORETTA CORBELLI
MAKE-UP BY ALEXIS OAKLEY
HAIR BY KILEY FITZGERALD
ARTISTIC DIRECTION BY MICHELLE ZERILLO-SOSA
CINEMATOGRAPHY BY MARTIN PERRY LUTZ
SHOT ON LOCATION AT THE SHEATS–GOLDSTEIN RESIDENCE
PRODUCTION BY COOL HUNT INC.