The Urban Townhome Collection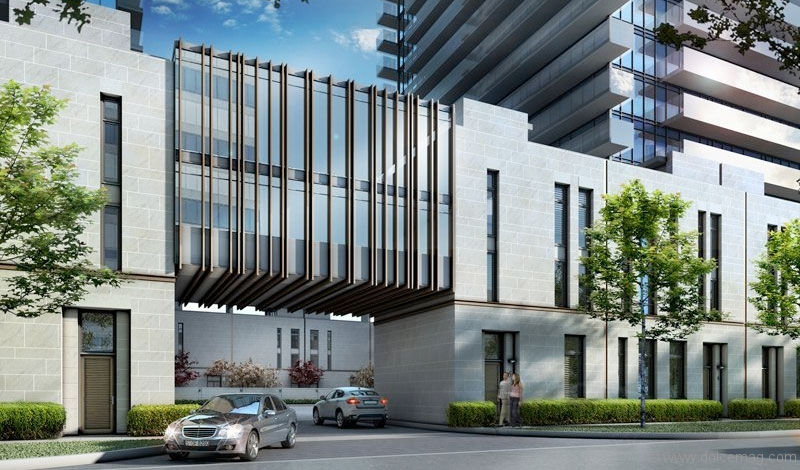 Pemberton Group's latest masterpiece melds art with culture and luxury with modernism, giving Toronto's residential market a much-needed boost of creativity
It seems that every few weeks there's a new builder making promises to erect Toronto's "Next Big Thing." But this claim, made by renowned residential builder Pemberton Group, is actually sticking. That's because its latest high-end townhome development strays from the cookie-cutter standards set by its peers, re-establishing the definition
of luxury.
Anchoring the two high-rise towers of Pemberton Group's recent project, U Condominiums, the Urban Townhome Collection comprises 19 unique layouts, all targeted at Toronto's high-earning young professionals who aren't quite yet ready to graduate to Rosedale or Forest Hill. With each suite boasting its own garage, private elevator and custom features, plus access to a 4,500-square-feet community rooftop space with a wraparound terrace and party room — complete with a caterer's kitchen and private wine locker — these residences are flawlessly tailored to the young, urban and high-earning professional.
"We were trying to create something kind of sexy and contemporary with a bit of humour, a bit of wit." says Neil Jonsohn of Toronto-based design firm Union 31, who was responsible for curating the luxe furnishings and accents for the model suite.
Bay and Bloor is a cultured corner of the city where the stylish flock to sip coffee and sightsee. Claimed mostly by the storied architecture of the University of Toronto, the cherished neighbourhood is often viewed as a piece of art to be looked at, not touched, particularly by the city's swelling construction boom. But as Jonsohn explains, the Urban Townhome Collection has no agenda of jeopardizing the historic feel of its neighbourhood. In fact, it promises to complement it.
"You have this Canadian Ivy League School and appropriate buildings that reflect that, and then you have this modern take on it. I just think it's nice to see something modern that respects the traditional," says Jonsohn, who helped curate a series of authentic works by Canadian author, visual artist and cultural iconoclast Douglas Coupland to accentuate the model suite.
Artistically driven, Pemberton Group is crafting the Urban Townhome Collection to radiate the creativity and culture of the Bay and Bloor neighbourhood, paying its respects to the nearby Art Gallery of Ontario as well as to the historic buildings and lush greenery of the St. Michael's campus of the University of Toronto, which surrounds the development.
Awaiting to welcome home Toronto's next generation of stylish dwellers, and offering a space where modernism meets luxury, the Urban Townhome Collection's suites are now available to be purchased.
www.utownhomes.ca