Francois Paul Journe: The Test Of Time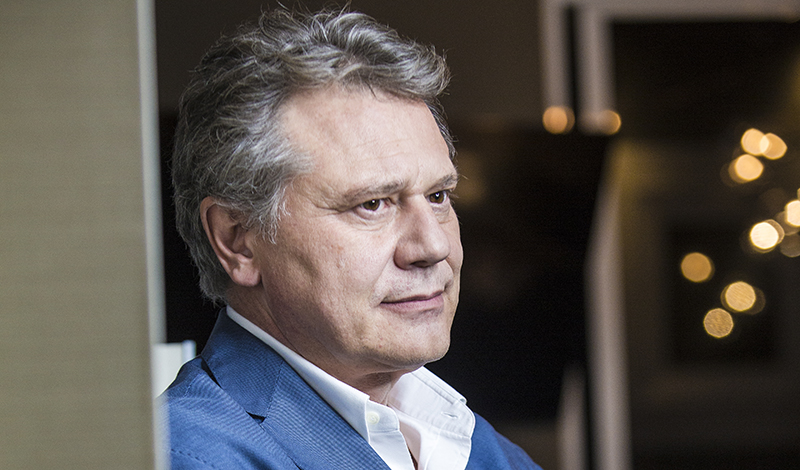 F.P. Journe takes classic design, innovation and quality craftsmanship to an exclusive new level, creating impressive, beautiful timepieces that are unparalleled in the history of watchmaking.
Q. The Tourbillon Souverain Vertical is revolutionary. How did it come to be? How is it different from the Tourbillon Souverain? What are the advantages of a watch such as this?
A. The Tourbillon Souverain Vertical is revolutionary, and no other watchmaker had the audacity to conceive it.
Abraham-Louis Breguet invented the Tourbillon for pocket watches and in the pocket, the Tourbillon was in a vertical position. When the wearer put it down, he was putting it on a support in a vertical position. For this new Tourbillon, the principle is the same except it is a wristwatch: when you lay it on a table, the Tourbillon also remains vertical, and it will be vertical in all the positions, thus it will keep the same precision.
For the 20th anniversary of the Tourbillon Souverain, I was working on an idea, somewhat different but furthermore an innovation that would bring something to precision. Ideas come little by little.
I also tried to preserve the spirit of the first Tourbillon wristwatch I had made in 1991, in adding something modern. On the face, the guilloche movement is visible with a sub-dial in enamel.
Q. Do your watches share common characteristics?
A. Yes, with a quest for precision, innovation and timeless esthetics. A watch should give time with precision, but it must also provoke an emotion.
Q. Can you tell us a bit about your childhood? Growing up? How and when did you first become interested in watchmaking?
A. I was a terrible scholar, and my mother was wondering what she was going to do with me. During the summer, my uncle Michel, eminent restorer of antique horology in Paris, accepted me for an internship and he did communicate his passion to me and thought I had some predisposition. He advised my mother to register me at the horological school in Marseilles, France, and she did. I really enjoyed working on mechanisms and my only problem was that I would finish the work very quickly, and therefore I was disturbing the class. I was expelled from the school and I went to the watchmaking school in Paris to finish my studies. I genuinely realized the potential of creativity and satisfaction I could get when I worked in my uncle's workshop. My passion was born, and here I am today — not that the road was easy.
Q. Is this a family business? How is your brother involved?
A. No, not at all. As I said, after having completed my watchmaking school, I became totally passionate when I worked in my uncle Michel's workshop in Paris. I later opened my own horological atelier. For me, independence is non-negotiable.
My brother Laurent joined me three years ago to take over the Miami Boutique; we needed a director. Today, he brilliantly manages the boutique in Los Angeles and in a very short time developed an exceptional clientele.
"A Watch Should Give Time With Precision, But It Should Also Evoke An Emotion"
Q. How many watches are produced every year?
A. Nine hundred, all models combined. This number does not include the Élégante [line], which is approximately 300 watches annually.
Q. What place do your watches have in a world driven by technology?
A. Connected watches are not watches, they are wrist computers. Very soon, the younger generation will replace them with real watches; they are our clients for tomorrow.
Q. Why is the Patrimoine service so important?
A. It was created following the requests of clients who were looking for a specific model that was no longer in production in our collection. By lack of trust, or knowledge, they did not want to buy a watch in a public sale, nor on the Internet. They had asked us to buy those watches for them and restore them.
The idea thus came to my mind, to buy our watches that are no longer in production
and … allow recent clients who would want one of these collectible timepieces to buy them in complete confidence and completely restored, furthermore, with a guarantee.
Q. As a small, independent watchmaker, how did it feel to have one of the most expensive wristwatches sold at auction?
A. Of course it is rewarding, but it is even more gratifying to have a number of buyers passionate enough about your work to overbid each other and pay such a high price.
Q. What are you most proud of? What are your hopes for the future?
A. To have kept faith in my ideas, to have been faithful to my authentic haute horology project of following in the footsteps of the great masters of the 18th century, and never deviated, without any compromise.
Q. What do you most enjoy about your work? Your life?
A. To be able to do what fascinates me on a daily basis: conceive and construct beautiful and innovative mechanical watches.
And outside of the manufacture [of watches]: share great moments with my close friends around a delicious meal and a good bottle of Burgundy wine — or a few.
---
INTERVIEW BY DONNA PARIS