Julie Vino: Barcelona 2020 – The New Era Of Beautiful Bespoke Brides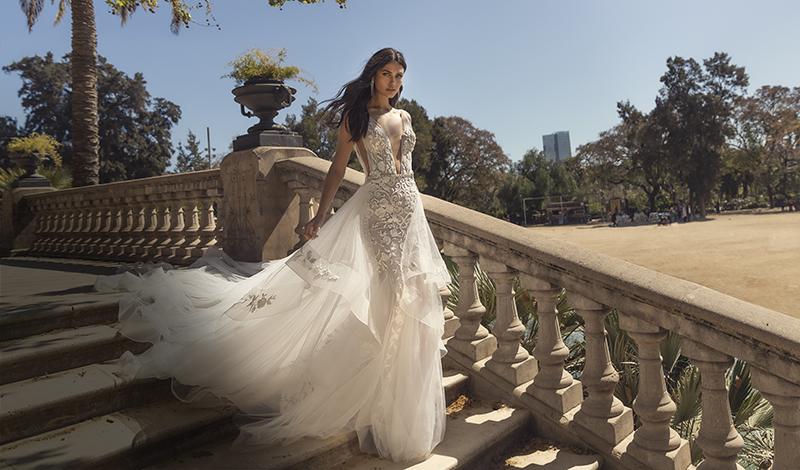 The Barcelona 2020 Collection from Julie Vino is a marriage of breathtaking elegance, pearlized style and dramatic flare, all with a strong connection to the leading runways of Paris, Milan and New York.
Creatively inspired from an early age, Julie Vino's passion for fashion became a reality in 2008, when, after an internship in some of Canada and Israel's leading bridal fashion houses, she established her own brand of bridal and evening wear in Tel Aviv, Israel.
Her inspired and stylistic vision is both original and singular in that she combines classic styles with tasteful seduction and breathtakingly dramatic flair. Sourcing different markets and suppliers for the fabrics and accessories that most inspire her — ethnic, handmade brocade from India, lace from France and fabrics rich in details and embroidery from
Italy — Vino creates standout fabrics and patterns that she designs herself, thus making her bridal attire bespoke and beautiful.
In a special department in her Jaffa, Israel, studio, Vino's team of embroidery specialists add texture and additional embroidery to each fabric, making it exceptional and exquisite.
With an emphasis on sculpting and quality tailoring, Vino's primary mission is to engage her bridal clients in the full process of creating a dress that mirrors the bride's most fervent and magical dreams. To do that, Vino has created and dedicated an intimate area in her studio that includes a shower, dressing room, hairdresser and makeup artist, so the bride and her most cherished friends can envision what the big day will look like.
Of course, clients of Julie Vino are well assured that their special day will be stunning, as they appear before their partner in a gown that could only be envisioned by the passion of this superior designer.
---