RJ Spider-Man Watch Collection Takes Flight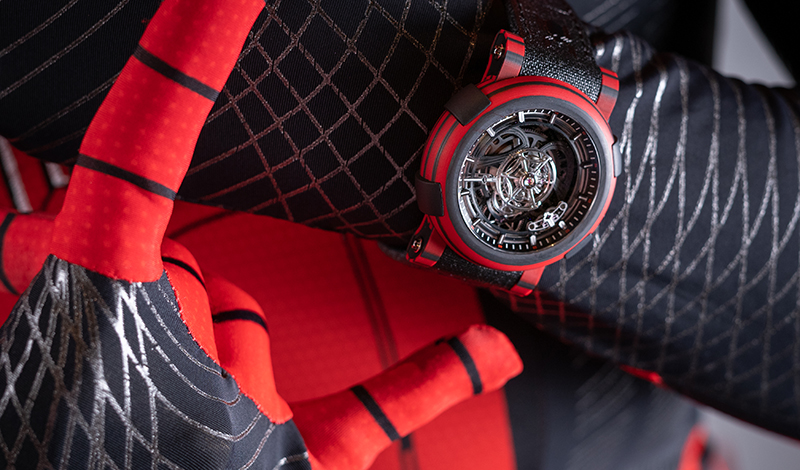 The technically innovative, limited collection of timepieces makes a bold statement of personal style.
For decades, wristwatches have in some way been the epitome of personal style, especially for men. They are their most prominent pieces of jewelry, and unlike women's jewelry, remain unchanged day-to-day. Men choose the look of a watch based on their comfort level thinking it reflects our personal style and then pretty much ride with it. Men's options for jewelry have always been somewhat limited, so when something different and unique is offered, it is noticed.
Swiss watchmaker RJ did just that this past fall by introducing its new ARRAW Spider-Man collection at Watches of Switzerland Soho in New York. It includes the ARRAW Spider-Man Tourbillion – 45 mm, extremely limited in two variations at just ten pieces each starting from US$92,000, and the skeletonized ARRAW Spider-Man Carbon mechanical watch, a new 100-piece limited series retailing at US$20,000.
It is RJ's latest offering as a result of its partnership with the creative storytellers at Marvel, part of The Walt Disney Company, with a library of more than 8,000 characters developed over the last 75 years. It follows RJ's recent limited-edition Batman and Space Invaders watch series.
RJ was founded in 2004, and the brand re-launched in 2018 under the creative direction of CEO Marco Tedeschi. Ever since, it has proudly manufactured its own in-house movements at the brand's headquarters, RJ Studio in Geneva.
The Spider-Man limited collection series is another advancement from an industry innovator, which brought history-making materials to the wrist with its DNA Concept watches, using steel from the Titanic, genuine moon dust, or remnants from the Apollo 11 spacecraft, which first landed man on the moon.
"We are proud to launch two innovative in-house movements inspired by Spider-Man," said Tedeschi at the October launch. "These new calibres affirm RJ's mission to create innovative Haute Horlogerie watches that challenge traditional notions of what high-end watchmaking is and to partner with likeminded innovators."
While having a superhero on your wrist is certainly a statement of your personal style and a guaranteed conversation-starter, it is the excellence of design and innermost precision by RJ's artisans that separates this timepiece from all the rest.
The Spider-Man Tourbillion features a fully coaxial construction with a peripheral display of the hours and minutes, and has increased the power reserve to 150 hours (more than six days). The case has no crown and is wound by lifting a hoop found on the back case and turning it like a key, a faster winding method.
The case back is finished using a high-tech cartridge engraving technique, with letters that are polished and stand out from the micro-blasted back. Four sapphire crystals on the case back allow for maximum visibility of movement.
The skeletonized Spider-Man is an open-worked model integrating visual cues from the Spider-Man universe, including a spider web, lacquered spider and the famous spider icon.
RJ Studio has created an original design with this new Spider-Man watch collection and has introduced highly engineered timepieces as unique and stylish as any superhero.