An Afternoon with Stephen Carter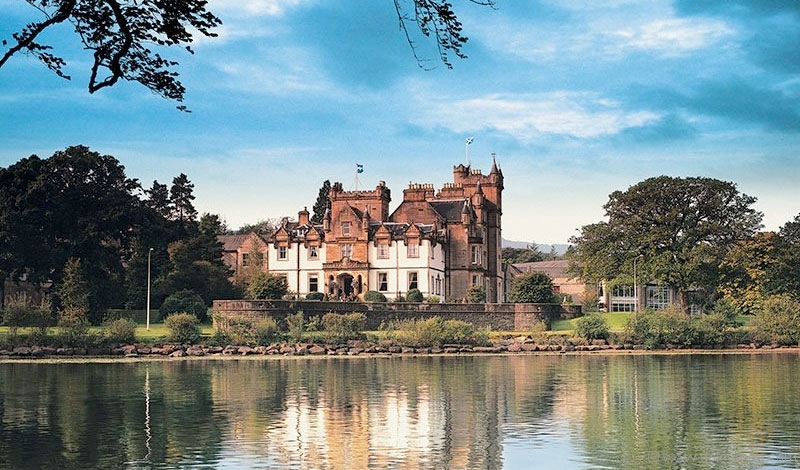 Sitting on the banks of the famed Loch Lomond in Scotland and surrounded by acres of charming woodland, a baronial mansion unites the adventuresome and amorous with a stay of grand proportions. Exuding detailed luxury and the mysterious pull of nature's wonders, the Cameron House Hotel seems as though it was plucked from a medieval fairy tale and placed in the hands of those fortunate enough to visit. Luckily for Stephen Carter, his days begin and end at this idyllic five-star resort.

As chairman and former managing director of Cameron House Hotel, Carter opens his mornings by striking up empowering conversations with employees and friendly chats with guests, his hearty laughter resonating across the sweeping property and its next-door luxury spa and 18-hole championship golf course. The simple yet effective exchange of niceties, explains the hotelier, helps him stay connected to visitors on a personable level, bringing their needs and wants, however infinitesimal, to the foreground. After all, he continues, "guests are the people that we are here to look after." But for now, Carter's decided to shake up his routine with a lunch break in Canada, no less.
Touching down in Toronto for the Ignite Business Event Expo this past April, Carter manages to slip away from the hullabaloo, heading north of the city to the village of Kleinburg for an afternoon of casual fine Italian dining. It's a welcome reprieve for the passionate hotelier, who manages to multitask as a trustee of the Hospitality Industry Trust Scotland (HIT) and director of both Visit Scotland and the Royal Scottish National Orchestra. Wearing a sharp pinstriped suit and fiery-red-orange tie, Carter slides onto a seat at Avenue Cibi e Vini restaurant, sipping on red wine and basking in the rays of sunshine that beam through the enclosed terrace. "By the time I was 10, I knew I wanted to go into the hospitality industry. It's been everything that I always expected about it; it's such a great industry because it's filled with people, welcoming people, from all different parts of the world. I think it probably came from home. My parents, but my mother in particular, was always very keen on looking after people and playing her part in the community," says Carter. He instinctively pours me a glass of water.
A mainstay in Scotland's hotel and hospitality industry, Carter knows all too well how to curate the perfect holiday. His 35 years of experience have earned him and the Cameron House, which celebrates its 25th anniversary next year, top-notch accolades in the field. Most prestigiously, Carter was made an Order of the British Empire (OBE) in 2007 for services to the hospitality industry. "Getting the OBE was a big one because that was totally unexpected, totally out of the blue. It was a great privilege to be presented the award by Prince Charles."
Carter proceeds to order the grilled squid to start and linguine with mussels and tomato to follow, singing his praises as he tucks into his meal. Hailing from a country brimming with delicious delicacies, the self-described fisherman can't help but be reminded of back home. "Scotland has such wonderful raw food. It has salmon, it has berries from Fife; it has good stock potatoes and Scotch beef — food items that make just great, great dishes."
While the Ryder Cup at Gleneagles, the Commonwealth Games in Glasgow and the 700th anniversary of the Battle of Bannockburn take hold of Scotland this summer, Carter suggests a few local must-dos: a visit to one of the many historic distilleries, a tour of Stirling Castle and dinner at Castle Terrace Restaurant in the capital city of Edinburgh. This season also highlights Scotland's Year of the Homecoming, a government-sponsored initiative first held in 2009, which celebrates Scottish culture and heritage, the arts, food and its national drink, whisky. "I take mine with just a dash of water, no ice," says Carter with a grin. A true believer in employing local people who know the community well, Carter continues to shape an original and authentic experience for the guests at Cameron House. "We are very blessed in Scotland to have people that are very friendly and open, that can have fun while being authentic, that can read the patron they're looking after."
www.cameronhouse.co.uk