Life Cranked Up: Tessanne Chin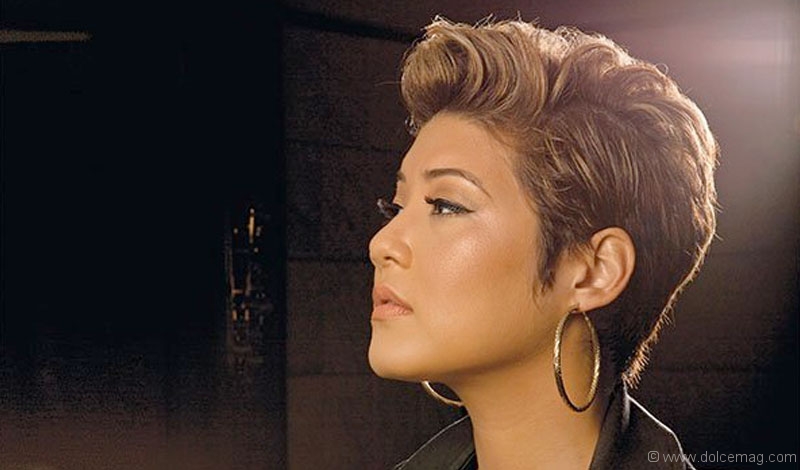 A sure way to make Tessanne Chin laugh is to "sing" one of her favourite karaoke songs: "Black Velvet."
"Yes! You know it!" she exclaims as I butcher the chorus of the Billboard No. 1 hit that netted Canadian Alannah Myles a Grammy back in 1990.
She's chuckling from her seat in a room at the Ritz-Carlton Toronto, where she'll be accepting a Luminary Award as an honouree of the University of the West Indies (UWI) Benefit Gala tonight. I had asked the singer if she liked karaoke as an indirect way of finding out about her taste in music: which songs resonate with her, which artists influenced her sound, and so on. But, as it turns out, karaoke is more than just a pasttime for this rising star. It's how she got her start.

"People don't know this about me," explains Chin, the winner of Season 5 of The Voice, "but offstage I'm kind of shy. I'm kind of reserved." Her father, Richard, former drummer of the (almost) all-girl Jamaican ska band The Carnations, encouraged young Tess to face her fears by grabbing the mike and singing classics such as "Proud Mary" and "Total Eclipse of the Heart." "I'd be so scared to do it," she says. "He got me, through the karaoke, to come out of my shell."
You'd never guess that there was a timid bone in Chin's body by the way she roared in front of the over 14 million people who tuned in each night for the fifth season of The Voice. Like harmonious Jamaican thunder, Chin's powerful pipes, combined with her soulful sound and untameable hair, won over the voting public, crowning her as the first non-American contestant to win NBC's reality singing competition. Since then, her life's been cranked to 11 with TV and radio interviews and performances across North America. Earlier in March she was even invited to sing at the White House. On top of all that, she's been finalizing her first major label album, Count On My Love, and gearing up for a summer tour.
That all seems pretty intense.
"I'd be lying if I said it wasn't overwhelming sometimes — it is," she says. But this is what she's been working her entire life for, and she's not about to walk away from the opportunities her newfound fame affords. Opportunities like working with songwriter Toby Gab, who's written hits for the likes of Beyoncé and John Legend; and Grammy Award-winner Diane Warren, who wrote Celine Dion's "Because You Loved Me" and Aerosmith's "I Don't Want to Miss a Thing." "So I'm loving it," she says. "I could only dream of working with people like that before." And it's a dream, you could say, she was born to fulfil.
In 1985, Richard and Christine Chin gave birth to their second daughter, Tessanne Amanda, in Kingston, Jamaica. Richard and Christine played together in The Carnations and music was very much part of the family culture. It wasn't just Chin's parents, either: "It was my aunties, my uncles, my cousins — they were all involved in this band." The whole family would gather for rehearsals and Chin watched as they jammed. It was during these sessions that she decided she wanted to walk the same path. "I remember it like it was yesterday," she says. She began ad-libbing Ben E. King's "Stand by Me," her aunt Marie backing her up on guitar, and that was it. "I was five. That was probably one of my first memories."
When she was 12, Chin's family moved to England, but she would return to Jamaica and pursue performing full time. She joined the rock-reggae band Mile High before becoming a backup singer for the legendary Jimmy Cliff, who is also receiving a Luminary Award at this year's UWI Gala. "He's my boss," she says. The three years under his tutelage was like her "university."
What was the most important lesson he taught you, then?
"No matter if it's thousands and thousands of people or just hundreds or one or whatever, he's going to go out there and give you the show of a lifetime, no matter what. And I really appreciated that."
Chin eventually broke out on her own, releasing her first single, "Hideaway," in 2006. In Between Words, her debut independent album, came out in 2010 and Chin was performing at festivals across the Caribbean. Despite this progress, Chin's career hit a wall. It was like running on a treadmill: you're doing plenty of work but getting nowhere. "That's the most frustrating feeling," she says.
It was Chin's friend and musical colleague Shaggy who suggested she audition for The Voice in 2013. It was a great medium to showcase her talents on the American stage and potentially jumpstart her career. Which it did. She wowed Christina Aguilera, Cee Lo Green, Blake Shelton and Adam Levine with P!nk's "Try;" Levine even told her that she could "easily win" the competition. Chin sided with Levine. The Maroon 5 frontman taught her that performing is about creating a moment with the audience, one that they won't forget. He also selected her songs, despite her apprehension. Songs like Simon and Garfunkel's "Bridge Over Troubled Water" and Whitney Houston's "I Have Nothing," and each of those renditions reached No. 1 on the iTunes chart. "I'm so glad I listened to him," she laughs.
Chin's new album, Count On My Love, is set to drop July 1st. Performing on The Voice allowed her to see the world through new eyes and she feels like "there's a big well that's opened up." There's definitely that "island swag" to the new record (there has to be, "It's my blood"), but there's also a mixture of influences. She'll always love reggae, but she wants to be seen as a vocalist and not just a reggae singer — there's just so much more to her range. She grew up on the likes of Tina Turner, Aretha Franklin and Celine Dion ("Celine is my girl," she says) and is fond of modern vocalists like Lana Del Ray, Emeli Sandé, Beyoncé and Adele, who all sound anything but standard.
"They're very organic," she says of those artists. "I like people who are undeniably themselves, and I don't think any of those ladies are cut from the same cloth. They are their own women and I appreciate that, because I don't think that I can fit into a cookie cutter, either. I have to find my own path, too. So I appreciate women who are able to carve out for themselves a space that is just authentically theirs."
There's certainly an air of relaxed authenticity resonating off Chin, an effortless playfulness, a Caribbean breeze. She laughs often and doesn't mind having a bit of fun, like busting out the robot during our photo shoot. She acknowledges that many people expect fame to change you, but she disagrees: "I think it reveals who you are."
It shows your true side?
"I think it's something that you're born with. I don't think you choose music, it chooses you."
So, there's no going back?
"Even if I wanted to put up my musical gloves, some way, somehow, they'd come back. You just have to do it. You have to do it." And it may never have happened if it wasn't for that little girl grabbing the mike and singing with all her heart as the words "Black velvet and that little boy's smile" scrolled across the screen.
@Tessanne