A momentous year for The Fairmont Royal York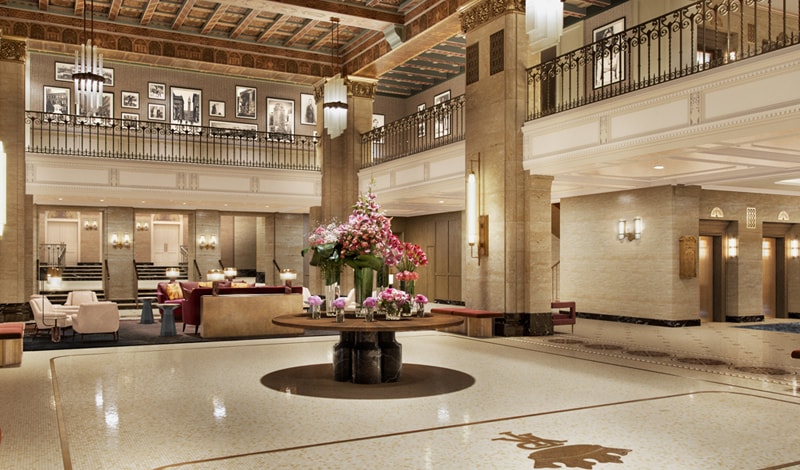 One of Toronto's long-standing establishments, the Fairmont Royal York is preparing to unveil its renovation, undergoing the final phase of this intricate process.
Since 1929, the Fairmont Royal York has been one of the most beloved establishments within Toronto. And with the hotel ringing in its 90th anniversary later this year, it will be the perfect occasion to unveil its momentous transformation. The multi-step process has been underway for years and has finally reached the final step, with the reveal of all the new features expected this summer.
"We are certain that the changes planned for the hotel will capture Toronto's bold new energy and we look forward to debuting our extraordinary transformation over the course of 2019," says Edwin Frizzell, regional vice president and general manager, Fairmont Royal York.
The most striking change is the newly designed lobby, which was created to emulate the transition Toronto has gone through over the years, marking its evolution into the modern city we all know and love. As well as that, due to the hotel's location overlooking Union Station, Rockwell Group — the renowned global design firm that led this process — used this Toronto landmark as inspiration in their designs. Not only did the railway inspire many of the materials and details that were used in the space, but the check-in stations all guests will experience were created to mimic the look of train ticketing counters, providing a truly unique arrival experience.
The hotel has also dedicated itself to a revitalization of the food and beverage experience, with four new signature dining concepts ready to be debuted. "Guests can expect a bold, modern and authentic essence in the new menus, capturing the next level of dining in Toronto while still honouring the hotel's rich food history and renowned service," says JW Foster, executive chef, Fairmont Royal York.
A new program will also be implemented to infuse each menu with local ingredients by working with Ontario farmers, which ties directly with the hotel's commitment to sustainability.
The hotel will also be offering two new features for guests. The first, Fairmont Gold, brings together all the crucial elements needed for upscale living. With premium suites, a private lounge on the 18th floor and concierge experts, guests will be delighted by this exclusive service. Second is the introduction of two Legacy Suites. The hotel's signature suites have been reimagined and transformed into exquisite residential-style rooms that encapsulate metropolitan living. With personalized service, these sophisticated suites will be the desired retreat for discerning travellers.
A final change saw the meeting and event spaces upgraded, specifically the Convention Level's Grand Ballroom that can accommodate 3,000 people. These spaces have been given a new, modern style, which in turn highlights the historical features that make this property one of a kind.
"This evolution in the Fairmont Royal York story allows this honoured landmark to open up to the city, inviting in a new generation of visitors and guests," says Paul Campbell of KingSett Capital, Fairmont Royal York ownership group. "We are proud to soon present a revitalized Fairmont Royal York, transforming the hotel experience and ensuring it is poised for continued success as a leading luxury hotel in the market."