HAUSER: Note Perfect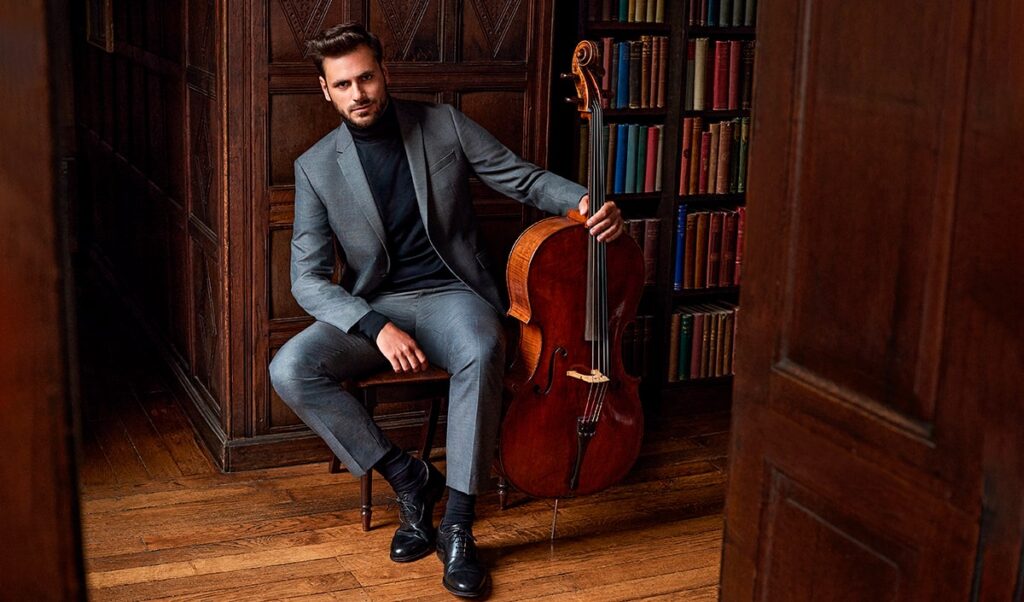 Cello sensation HAUSER has taken the world by storm, introducing millions to the joy and wonder of classical music.
Music has always paid attention to new sounds. From Elvis to the Beatles, from Michael Jackson to the advent of rap and hip hop, new sounds have always cut through. The cello isn't exactly a new sound, as the instrument has been around for centuries, but no one has played it like HAUSER, who has brought the cello from the rear rows of the orchestra to centre stage in some of the world's biggest venues.
Similar to how the performance by the Three Tenors at the 1990 World Cup Final in Italy brought opera into the mainstream, as a founding member of the duo 2Cellos and now as a solo artist, HAUSER has not only exposed the beauty and possibilities of the cello to millions of music fans but has cemented himself as one of the world's most important twenty-first century instrumentalists.
HAUSER was introduced to the cello by his mother as a child growing up in his native Croatia. She even arranged for a cello teacher to come to their small town and HAUSER began lessons at just eight years of age. He still remembers the first time he heard a cello being played on the radio.
"It was a life-changing moment because it was the sound which was so special," says HAUSER in a recent interview with Dolce. "I could feel these special vibrations. It was such a warm sound, the closest to the human voice, so tender, so warm and I was just drawn to it. It wasn't even a question — that was the only instrument I wanted to play."
And play he did. He committed to a career as a cellist at age 14 and went on to study in London, immersing himself in his passion for the cello and for classical music until something happened when he was 25 years old.
"I was completely focused on classical music until I was 25, and then something happened," he recalls. "It was like a switch was turned. I started discovering all sorts of different music as I wanted to expand my creativity. I also became much more social in my personal life. It was a full journey of so many different experiences that shaped me into the person I am today."
That person has toured with Elton John, played before Pope Francis, the-then-Prince Charles and the late Queen Elizabeth and plays to sold-out shows on every continent in such venues as London's Royal Albert Hall, New York's Madison Square Garden and the Sydney Opera House. HAUSER has been recognized with no fewer than 21 first prizes from the world's most prestigious national and international music competitions.
Reviewers have said his greatest talent is his singular ability to communicate contrasting styles and emotional themes through his playing, such as the essences of love, romance and sensuality and even a rock style through his mastering of his instrument. For HAUSER, that ability comes from his sense of visualization when it comes to music.
"I was always multi-dimensional, as I could never just see one part of the picture," he says. "I was always wanting to see a complete, full picture and I have always seen music as a visual whole. That's the beauty of it. Music must stimulate all of your senses — your eyes, your ears, everything."
His performance style has been described as electric. With a repertoire that is a repertoire that stretches from Lady Gaga to Tchaikovsky, a HAUSER show is a dynamic and innovative pairing of cello pyrotechnics with beauty, elegance and a touch of rock muscle thrown in for good measure. He has shown his audiences what is indeed possible and powerful for an instrument many of us previously thought, while musically pleasing, was rather meek and mild.
It is safe to say that HAUSER has reinvented and reimagined the cello while defying the conventions of classical music and the established music business. His iconic rendition of Michael Jackson's "Smooth Criminal" was the vehicle that launched him as an Internet sensation, and in 2020 during the pandemic his highly personal and visually stunning YouTube series, Alone Together, which featured musical portraits of his homeland of Croatia, stunned audiences. The series landed him his very first solo album, HAUSER – CLASSIC, which went to No. 1 on the Billboard chart.
HAUSER has embraced social media through all of its platforms. "In my case, social media is a blessing because I was able to showcase my talents to millions of people," he says. "The music I'm playing now would never be as popular without social media. Not many people use social media for good causes, but I'm happy to be something positive on social media."
He has been called the perfect twenty-first century musician for what he does in person and online. For HAUSER, his career and his presence have a higher calling and purpose than simply the joy of performing and playing.
"I'm actually adapting to the times, which are changing like crazy," he observes. "There are so many new things all the time, especially for the younger generation, yet the classical musical industry hasn't found a way to keep up with these changing times. So I've found a way to make millions of people interested in classical music, all of those beautiful melodies, and it seems to be working. I'm actually happy, as I'm on a mission to keep it alive for younger generations. It's a big responsibility, but I am blessed to take on this role."
hausermusicfoundation.com
@hausercello
Interview by Estelle Zentil