Pusateri's Fine Foods: Love at First Bite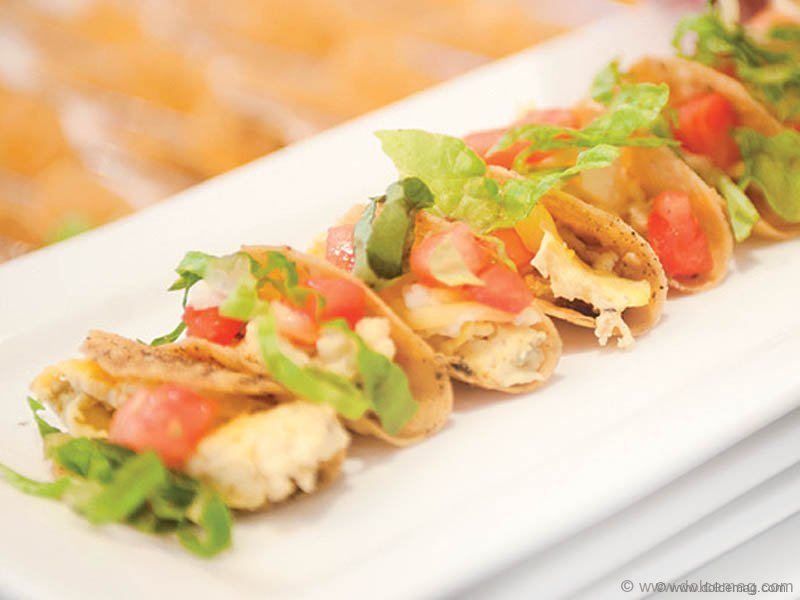 1. Beer-Battered Sole Tacos
Lee Kelly: Pusateri's executive chef Tony Cammalleri's version calls for beer-battered sole with Mexican spices. Guacamole, Monterey Jack, salsa and so on in a mini hard-shell taco. Great for going off the beaten palate.
2. Prosciutto-Wrapped Grissini
Daniel Galletti: Parma prosciutto is the most famous Italian dry cured meat. From pork thigh or hind leg. A staple antipasto, it can be served wrapped around grissini or cantaloupe wedges or simply on its own.
3. Ahi Tuna Tartare
Lee Kelly: Chef Cammalleri's version is infused with a soy ginger aioli and shallots that support the freshness of the tuna rather than mask it. Served in a black sesame pastry basket.
4. Maple-Glazed Scallops
Daniel Galletti: A seafood lover's dream! Chef Cammalleri spins this dish with a maple and wild blueberry syrup which, when pan-seared, gives these scallops a truly unique glaze.
5. Veal Parmigiana Sliders
Lee Kelly: Mini veal Parm. Breaded veal cutlets topped with a spicy pepper relish and tomato sauce. Sandwiched
in between a soft little pain au lait bun.
6. Wild Mushroom Risotto
Daniel Galletti: My favourite! Arborio rice sautéed with house-made chicken stock, wild mushrooms, white wine or Prosecco. Top with Parmigiano-Reggiano shavings and truffle oil for something truly sublime.