Singapore's Grand Destination – ATLAS Lobby & Bar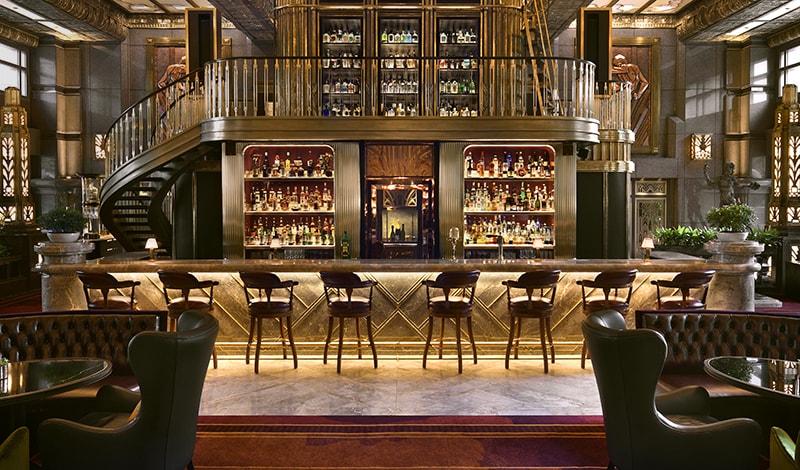 ATLAS lobby and bar offers something for all, including a 1920s-inspired afternoon tea.
Debonair. Refined. Delightful.
These are key words to keep in mind as you're transported back in time at the Singaporean lounge, bar and tea room ATLAS.
The classically designed venue, originally crafted and scoped out by Jim Adams, with inspirations from the late C.S. Hwang, who founded the Chyau Fwu Group, which later incorporated the Parkview Group, was re-engineered by HASSELL architects, taking guests back to ancient Egyptian and Victorian eras. During the carefully crafted updates, ATLAS and the HASSELL firm kept a close eye on service and aerial space in the lobby, as well as accessibility for guests in order to maximize enjoyment of each element of the redesigned floor plan.
The concept behind the interior décor at ATLAS is aimed at providing a classic 1920s European café and bar scene, featuring statues of Cleopatra and King Tut, as well as various animalistic designs with cameos of deer, jaguars, greyhounds and multiple period-depicted regal creatures.
To match the natural and lush designs, Adams kept the colour palettes neutral and earthy, with hunter greens, deep reds and hints of gold to align with the royal atmosphere.
The designers have carefully considered every detail, right down to employee uniforms. Male wait staff sport classic white double-breasted blazers, while female wait staff don sensible yet stylish dark-navy dresses. Bar staff wear signature formal jackets in styles seen throughout European history, as well as accent pieces such as brooches, pins and ATLAS-branded embroidery.
ATLAS has also created an afternoon tea, transporting patrons back to early 19th-century Europe. The delight can be enjoyed Monday through Saturday, from 3 p.m. to 5 p.m. Groups both large and small can sip on an international selection of teas while enjoying a variety of delectable items. And ATLAS also boasts head sommelier Lucas Liu on staff to recommend the best champagne to complement tea time.
Afternoon treat items include a selection of savoury dishes such as mushroom ragout, ham and cheese croque monsieur and Italian prosciutto cotto. On the sweeter side of the small plates, guests can choose from madeleines, canelés, ATLAS-crafted scones, hazelnut crémeux and a light yet flavourful cotton cheesecake with candied lemon, as well as additional tasty sweets for the not-so-sweet tooth.
ATLAS is now taking reservations within 48 hours of a visit, and it's worth the call. You can also stop in to check out the location at Parkview Square, 600 North Bridge Rd., Singapore, 188778.