Mantella Venture Partners: Start Me Up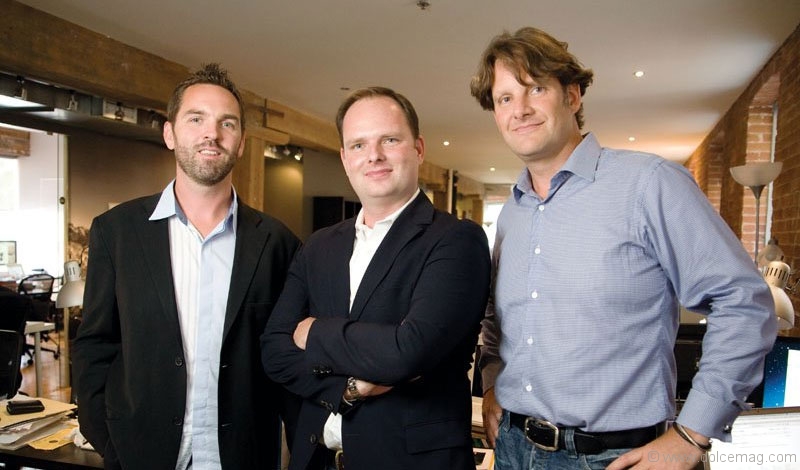 There's a subtle energy circulating through the reaches of Mantella Venture Partners. Above a clandestine lobby, unremarkable to indifferent eyes, behind glass walls of small offices and the juxtaposing rows of computer-filled tables, the busy hands of technology start-up teams fine-tune their digital applications. Some frenetically rap keys. Others point to lines of code, picking out possible errors, directing needed enhancements and the like. Whiteboards decked with flow charts and interface designs sporadically hang from walls, while groups of engineers, designers and their entrepreneur leaders chatter over whatever pressing issue faces their developing company.
Robin Axon, general partner at MVP, a Toronto-based early stage technology fund, anatomizes the scene. "You see a whole bunch of people comingling," he says, directing attention to the hive-like interactions. "What we notice, you probably didn't see, but four or five of the people over there weren't all in the same company."
It's all part of the collaborative environment Axon and fellow general partner Duncan Hill foster at MVP, an arm of the development titan Mantella Corporation. Co-operation is common, encouraged even. Discussions between start-ups leverage the knowledge of more experienced teams, tapping into their insight on specific market domains.
Like traditional venture funds, MVP pushes for innovation in the ever-evolving digital landscape. It's about building market-altering products and new technologies that could redefine how we interact with our devices and each other. But that's where the similarities end.
Unlike traditional venture-funding models, Axon and Hill take a Dragons' Den-like approach, preferring to help develop the start-ups in their fold as opposed to merely fronting capital. "While we see a lot of companies out there, the reality is, quite often, we find great people and we work with them to build companies," says Hill. Their role, then, varies with each situation. With more mature management teams, they're mentors and occasional guides. For others, they're partners, developing the business from the ground up. According to Hill, it's "the more successful model."
It was this attitude that attracted Chris Houston. Having worked with MVP on one of the company's first start-ups, PushLife, which was purchased by Google for more than $25 million in April 2011, Houston was well aware of its advantages. MVP was ideal for his new venture: SurfEasy.
"I started to pay attention to the number of wireless networks I was using during the course of a day, week or month," he says of SurfEasy's genesis. "You start realizing how many different places access your personal data and your personal information."
Houston, as he alludes to, is concerned about Internet privacy. And, like any regular web surfer, he should be. After all, it's no secret that the corporate giants behind any number of popular websites collect, hoard and monetize user information. It's the oil of the digital world, and many want access.
Billions of dollars have been invested into various forms of data reaping, with much of it coming from our own everyday online activities. With each Google search we paint self-portraits, each mouse click adds a line to our autobiographies, shaping tell-all digital dossiers for Big Brother Business.
SurfEasy, as Houston explains, looks to quell these concerns. Stored on a thin USB key, SurfEasy is a portable web browser that allows for secure and private web surfing, even through the most questionable networks. Simply plug the key into your computer, enter your password and a Mozilla web browser launches. Transmitted information, protected first with the same encryption used by major banks, runs through SurfEasy's private network where your IP address is concealed for complete anonymity. Any accessed website merely sees traffic passing through its server from a virtual private network; who and where you are is kept confidential. All usernames, passwords, bookmarks and browsing history is subsequently stored on the key — nothing is left on the computer or network. When you're finished browsing, simply remove the key and walk away. It's like you were never there.
"The nice thing about having the hardware is when you remove it, absolutely everything goes with you," says Houston. "It's not just about encrypting your Internet connection. It's also about not leaving all that information that the browser knows about you — your bookmarks, your passwords, your history — behind on the computers you use."
When Houston pitched the idea to MVP, it was the concern about privacy that sold it, says Axon. He and Hill were taken aback by the amount of exposed information transmitted through basic, everyday Internet use: the remarkable investments made in storing and selling user information; the unsecure Wi-Fi hotspots regularly accessed — at the local coffee shop, for example — where more rapacious minds may sniff out vulnerabilities. They saw potential in the plug-in privacy SurfEasy could offer. Not just for travellers or businessmen, either, but for the average consumer concerned with keeping his or her family's online activity secure from prying eyes.
Retailing for $69.99 USD, SurfEasy also defends against keyloggers (hardware or software that tracks keystrokes) thanks to its onscreen keyboard and password manager. Because of its covert nature, SurfEasy also bypasses geoblocking, granting access to content reserved for users in specific countries, like on Pandora and Hulu. When not in use, the USB key is kept in a handy credit-card-sized holder.
There's an idealistic charm, romanticism, in our species-defining impulse for exploration into an unknown and uncertain wilderness. Innovation requires courage, the willingness to walk away from a sure thing and take that leap. In the halls of MVP, entrepreneurs are given the platform to start that journey.
"It's pretty easy to just say, 'I have a great idea, but I'm getting paid pretty well, I'm going to stay at my current job,'" says Axon. "It's pretty crazy to take no salary for six or nine months and go after something when everyone else is saying you're crazy. I love that we were involved and assisted in taking that leap."
Launched this past March, SurfEasy is already increasing its global presence with customers in over 50 countries. The team also plans to introduce both a software and mobile application in the near future.
"I think it's time that users start to have solutions that allow them to take a lot more control over their privacy," says Houston. "It's not enough to be able to say, 'I accept the terms and conditions or I don't want to use the product at all.' You should have much more binary level control and that should be in the hands of the user."
With SurfEasy's promise for full online privacy, that control appears to be at hand.
www.mantellavp.com
www.surfeasy.com
Photography by Jesse Milns