Norm Kelly
Toronto City Councillor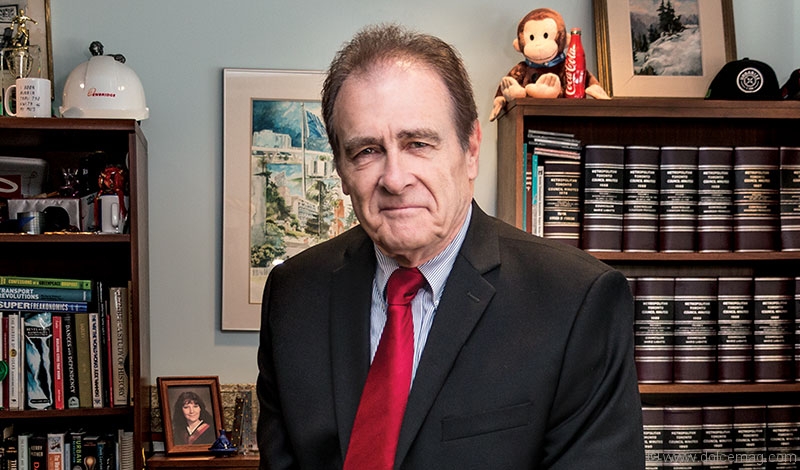 Norm Kelly
Toronto City Councillor
Norm Kelly, Toronto's former stand-in mayor, is a Twitter virtuoso, a chum of rapper Drake, a former parliamentarian, a teacher, a historian, the inspiration behind a clothing line called We the Norm, and a former Realtor. A Renaissance man, of sorts.
The household name recognition, though, came in large part from assuming a role in the wake of another politician's notoriety.
At the zenith of the Rob Ford scandals, City Council in Nov. 2013 voted to shift many of the mayor's powers to Kelly, the deputy mayor, until a new council took office a year hence. As the mayor in Ford's absence, Kelly was thrust into the spotlight.
Among the first order of business in his new role was to reach out using social media, presenting the Twitterverse with an array of informative tips, wit — and even refereeing a hip-hop quarrel.
"When I became de facto mayor of Toronto I made a conscious decision to be more engaged online. Tons of politicians have social media channels but they come with a robotic and cold tone. I wanted to be more 'human' and show people that we have lives and opinions outside of politics."
That "humanization" he sought worked like a charm, and probably better. Just prior to becoming deputy mayor in 2013, he had 1,200 Twitter followers — today, the count exceeds 400,000 (six times the number of city constituents he actually serves).
So impressed were they by his clever social outreach that Twitter Canada last year voted him Canada's Most Valuable Tweeter. It certainly helped Kelly's profile that he rode on the coattails of two celebrities: Toronto rapper Drake and American rapper Meek Mill. The two artists sniped at each other on Twitter in the summer of 2015, with Kelly poking in with his own two cents.
Jumping into the fray helped Kelly became the social media "it" boy (or man), the topic of a myriad of internet memes, while simultaneously (and bizarrely) developing his own cred in hip-hop circles. And while Drake fist-pumped Kelly, Kelly high-fived Drake, who in turn helped Toronto boost its image.
"Tons of politicians have social media channels but they come with a robotic and cold tone. I wanted to be more 'human'"
"Drake has raised Toronto's profile internationally. And people, who visit us as a result, fall in love with us and tell all their friends and family," Kelly notes. Not a bad cost-free publicity initiative.
Legend has it that during his teaching days, Kelly would often arrange desks in rows that emulated parliament seating, ruling government and opposition facing each other, requiring students to stand (like MPs do) when asking a question.
It's no surprise, then, that the political history major launched into politics, in 1974, elected alderman of Scarborough (a one-time suburb of Toronto). Six years later, he moved to federal politics, winning a seat as a Liberal in Scarborough Centre.
While a Member of Parliament during Prime Minister Pierre Trudeau's purview, he was an active member of the Special Committee on Visible Minorities in Canadian Society. It was on that committee he helped draft the report Equality Now, with 80 propositions to enhance life for visible minorities.
After losing his seat in 1984, he spent a decade in real estate, learning the fine art of negotiating, making deals, and bringing people of varying needs together — skills that would invariably be revisited in a different milieu with his renewed political career in the 1994 municipal elections.
Though he championed multiculturalism in the 1980s, in the '90s he took a fiscally conservative view of funding programs to promote it. Reports say that he believed the multicultural experiment did more to divide than unite Canadians.
Still, a uniter at heart, he was an early proponent of the "megacity" — the merging of Toronto with five suburbs. In that spirit, too, disparate parts of the city have benefited from his efforts over the years, from his involvement in rejuvenating Regent Park to initiating the renewal of Billy Bishop Airport in downtown Toronto.
Kelly keeps his plate full — sitting on scores of committees and boards, including the economic development committee and the boards of Toronto Centre for the Arts, the Canadian National Exhibition and the Toronto Symphony Orchestra.
With the benefit of four decades of public service, combined with his common touch of today's generation, Norm Kelly is uniquely qualified to offer young, budding politician-hopefuls some choice advice:
"Don't put your foot in the water, jump in! There are tons of opportunities for anyone to get involved. You can volunteer on a campaign, intern in an office or simply set up a meeting with a politician in your area and voice your desire to get involved."
photo by carlos a. pinto