Peter Gilgan: Not a Drop of Water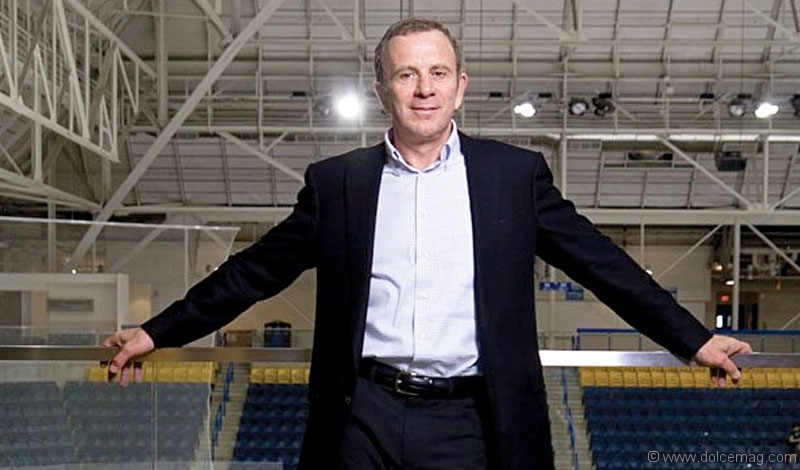 It's been almost a year since Peter Gilgan made the single largest private donation to a children's hospital in Canadian history. "Didn't you hear? I took it back," he playfully jests about the $40 million he donated to the SickKids Centre for Research and Learning. Removing the lid to let his herbal tea cool while sitting in the open-concept café on the second floor of the Mattamy Athletic Centre, the benevolent builder opens up about the faculty of philanthropy.
Wearing a pale gingham dress shirt under a classic black sport coat, the low-profile founder of Canada's largest new homebuilding firm looks more like a Brooks Brother than a construction CEO. Leisurely leaning back in his chair, Gilgan explains the confluence of emotions that comes with being a major benefactor. "There's a sense of accomplishment, a sense of pride, but there's also a sense of humility that you just think about how lucky you are to be able to do this, and in its own way it's a humbling thing because it's some higher power that let this happen, you know?" says the former accountant who spearheaded Mattamy Homes in the late '70s and has since built more than 50,000 residences in Canada and the U.S.
His gentle voice competes with the clangour of Saturday students dropping dumbbells in the background, unaware that the man who helped finance their fitness centre is sitting just a few feet away. Gilgan, who gifted Ryerson University $15 million towards the transformation of the old Maple Leaf Gardens in 2011, doesn't crave the attention but he is aware of its impact. In the few short months it's been open, the number of students actively involved in athletics and recreation has gone up over 400 per cent according to Ryerson's president, Sheldon Levy. "It's had a cultural change. People are talking about sports on campus, the teams are doing well and people feel tremendous pride in the university," says Levy.
Philanthropy's ink has always dripped beyond the dotted line for Gilgan. At the request of his good friend Tim Hockey, president and CEO of TD Canada Trust and chair of the SickKids Centre for Research and Learning's $200-million fundraising campaign, he agreed to join the volunteer cabinet to help raise the rest. "I find it tough to ask people to give money, I find it very awkward," says Gilgan, who does it anyway. "A lot of folks haven't had enough experience at the good that can come from their contributions. I'm blessed to have had the experience with a couple of folks that have said to me over the years, 'The thing I'm most grateful for from you, Peter, is you've taught me how to give and it's opened up a whole new aspect of my life.' To me that's cool."
As someone who knows what it's like to be on the other end of the line, Gilgan has learned that giving must be gauged. "You can't just jump in with your heart, you've got to use your brain or you'll just blow your money out the doors, and that's no fun." Prior to stepping up as SickKids's lead donor, Gilgan familiarized himself with every aspect of the imminent $400-million facility. After attending a tea party with the head of research and meeting several scientists, he was sold by their transformative vision and innovative infrastructure that emphasized community aspects embedded in his own corporate culture.
Instead of isolating independent departments, researchers and scientists from various specializations would be encouraged to interact. "The idea of being able to collaborate is so obviously fundamental. They've taken diseases or problems or abnormalities that are related somehow and they've grouped them so that those floors are adjacent to each other," says Gilgan, who earned the title of Canada's Entrepreneur of the Year in 2007 from Ernst & Young. "I really got excited when I saw how thoughtful people had been in planning this facility."
"He's all about design and functionality," says Ted Garrard, president and CEO of the SickKids Foundation. Scheduled to open in September 2013, the 21-storey tower on Bay and Elm streets will transform SickKids into the No. 1 child health research institute in the world, housing 2,000 of the medical field's leading scientists. "There's no doubt that we had many people respond in terms of being inspired by his commitment and it's always important having people publicly acknowledge their gifts as examples of what we can do philanthropically," Garrard adds. "He's just a very, very thoughtful, decent human being that it's become a real pleasure to know because he inspires everything that's good
about humankind."
"I think people give me too much credit," says the father of eight, who focuses on health and wellness, education and global humanitarian issues through The Peter Gilgan Foundation. In 2005, he founded an annual fundraiser called Tour de Bleu where a group of 40 like-minded fund-racers cycle from Ferndale on Lake Rosseau in Muskoka to the destinations of carefully selected causes they support. The event has raised more than $4 million to date. "It's a great forum to get people together in a spirit of camaraderie, although we all try to kill each other," he says with a laugh. For the second consecutive year, 2013 funds will go towards the Mattamy National Cycling Centre, a new velodrome that will be used for the 2015 Pan Am/Parapan Am Games and beyond.
Some of Gilgan's best ideas have come to him while biking. It's during those times that his stream of consciousness is acutely focused on his surroundings: the rush of water unleashed by melting snow, the peaks and valleys that mimic the motions of life, the empirical elements of nature we often take for granted. "You just go to a place where you have the most amazing conversation with yourself," he says. "An hour later you snap out of the trance and say, 'That's what I'm going to do,' and it's crystal clear." These epiphanies aren't prescribed, but the avid cycler is fortunate to experience them often.
What does the sweet life mean to Peter Gilgan? "Wow," he says, taking a deep breath. "It's your family, your loved ones, your good friends. That's the sweet stuff. It's who you're with, what you're doing, the quality of your conversations." A certain cocktail also helps. "I have a weakness for a Bombay Sapphire Martini, just one," he reveals, leaning in to impart the specifics of his covert concoction. "Stirred, not shaken. No vermouth, absolutely frozen glass, not a drop of water — not a drop of water! You stir it with super cold ice and get it out of there real quick before it starts to melt. That water just pollutes the gin, it makes a big difference," he says, with the hand gestures of a bartender. "I know James Bond said it, and I know it looks good, but just cold ice, out of there before it melts."
It's now two o'clock and Gilgan, who's learned to mix a little leisure into his 18-hour workdays, is off to an exhibit at the Loch Gallery in Yorkville to support one of his favourite Canadian artists, Philip Craig. In many ways, that methodical martini speaks volumes about the concentrated CEO. It's precisely that measured attention to detail that got Gilgan to the top of his trade. Whether it's business, homebuilding or philanthropy, his principles are never thinned or weakened by unnecessary additives. The Gilgan you see is the Gilgan you get, not a drop of water more.
www.mattamyhomes.com/tourdebleu
Photo by Jesse Milns