Q & A With Rebecca Testi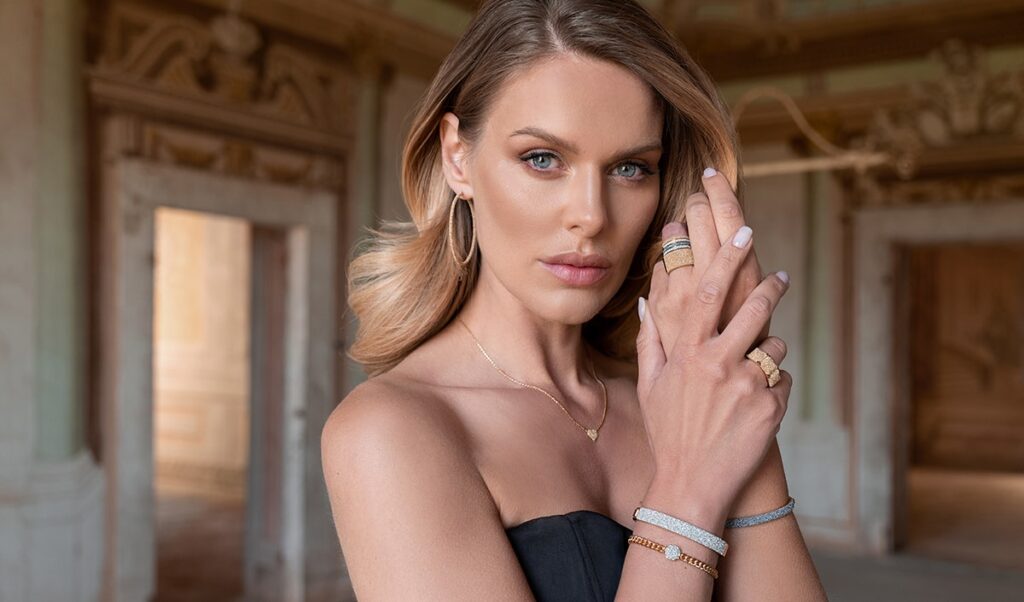 Based in Florence, Italy, in the heart of Tuscany, Rebecca, founded in 2000 by Alessandro Testi during the gold crisis, offered something different from   fine jewelry: a totally new concept of jewelry, made with non-precious or semi-precious materials, with bold shapes and fashion design. Today, his daughter, Rebecca, carries on his legacy in a modern and innovative way.
Q: What separates your brand from any other jewelry brand?
A: What makes us different is innovation: we have no fear, we are trendsetters and we continue on innovating in materials (we are trying to use aluminum for a new collection), in shapes (you can see this in the Ludi collection) and in people (we are a very young team, and we invest in the best students of the best universities). Innovating is risky — sometimes it works, sometimes the market is not ready. The point is to keep on going.
Q: What is the brand philosophy?
A: Looking for beauty everywhere and making any woman feel beautiful and powerful wearing Rebecca jewelry.
Q: What is your definition of luxury?
A: I prefer the idea of "affordable luxury," which also is the philosophy behind our brand: something aspirational, but achievable, something so beautiful and well-made to seem like real luxury, like fine jewelry, but at a reasonable price. I love the luxe of the design and the achievability of the price.
Q: Tell us about how the brand first came to life.
A: It was more than 20 years ago, during the gold crisis, when my father came up with the idea of offering something different from fine jewelry: a totally new concept of jewelry, made with non-precious or semi-precious materials, with bold shapes and fashion design. Jewelry became prêt-à-porter.
Q: What is your favourite city to travel to that allows you to connect with your creative side?
A: I love exploring the world, seeking new trends and inspiration, but I also love my country so much, and Sicily has always been a place of deep inspiration for me. We also named a collection "Palermo," which is the capital city of Sicily.
Q: Name three things you cannot live without.
A: Love, foot massages and, of course, jewelry.
Q: Who was your inspiration and mentor while you were growing up?
A: For sure, my family, my father and my mother. Nobody more than them.
Q: How has your family played an important role in the success of your business?
A: My family started our business. My father founded the company and designed all the collections. My mother took care of the marketing department. They still are super active in the company.
Q: What is one quality you admire in people?
A: The truth, nothing but the truth.
Q: How would your friends best describe you?
A: I'll ask them and make you know. I strongly believe we often see ourselves in a different way, respect who we are. We tend to create a wannabe-version of us, which does not reflect the reality, or sometimes we underestimate ourselves and we can't see our value.
Q: What is your favourite saying or quote?
A: "Pantarhei." It's from Greek, from my classical studies. It means that everything changes, everything flows and nothing ever stays the same. Everything is a constant becoming, and we have to face, in the best way possible, all the changes that life brings to us.