Snow Polo Tremblant International Scores Big at Second Edition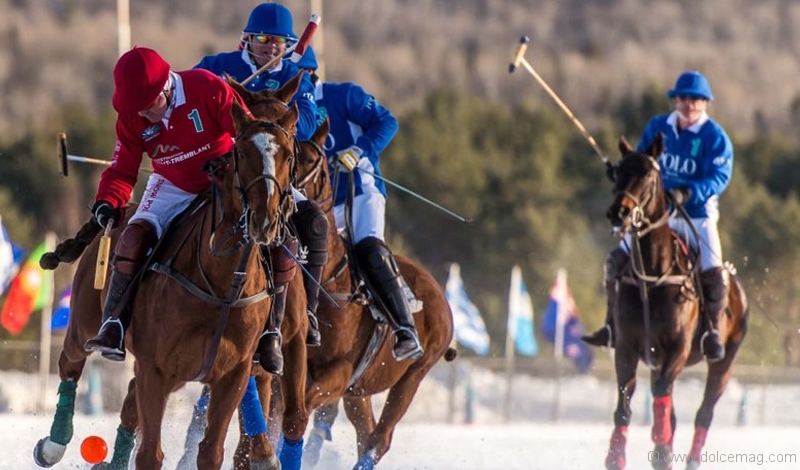 Mother Nature's fickle mood couldn't dampen the spirits of either players or spectators at the second edition of the Snow Polo Tremblant International. More than 3,000 people, including 400 VIPs and sponsors, gathered at the Mont-Tremblant Airport (Gray Rocks) for the tournament's matches over the weekend of February 26, 2016, surpassing expectations of event organizers.
"We are extremely pleased with the outcome," said Marc Monchamp, executive producer of the event. "A lot of hard work over many days bore fruit and allowed us to deliver a quality event for spectators and players alike, despite some major logistical issues. The success of this edition has convinced us of the promising future of the tournament."
Bad weather at Lac Tremblant, where the tournament was originally to be held, resulted in safety concerns for players — something not uncommon to snow polo — and matches were moved to a field built near the Mont-Tremblant Airport to ensure safer playing conditions. But that was the only obstacle organizers needed to overcome at the annual event, which was co-founded by Justin R. Fogarty, chairman and founding partner of Regent Law, Marc Perreault, president and founder of Landco, and Herbert Ratsch, certified real estate broker at Sotheby's International Realty Quebec.
Four teams of world-class polo players from Canada, Argentina, Ghana and South Africa saddled up and battled through the elements to put on an exciting show for attendees, demonstrating the thrilling action of this noble sport. When the plumes of kicked-up snow settled after the finals, Team Holt Renfrew Ogilvy and Team Polo Blue found themselves equally matched, as they drew to a rare 3-3 tie. Christopher Mackenzie of Team Polo Blue was awarded with the Most Valuable Player trophy, presented by Polo Blue by Ralph Lauren, for his remarkable play and sportsmanship throughout the tournament.
Spectators did their part through a live auction and sale of promotional items to raise $35,000 for the Fondation Tremblant and Prince's Charities Canada, the Canadian charitable office of His Royal Highness, The Prince of Wales.
"Some of the players were competing in a snow polo tournament for the first time. The atmosphere was incredible!" says Fogarty, co-founder and captain of Team Holt Renfrew Ogilvy 2016. "Many riders confirmed their interest in coming back next year for the third edition, which will take place March 2 to 4, 2017."