Conrad Black's – The Baron's Estate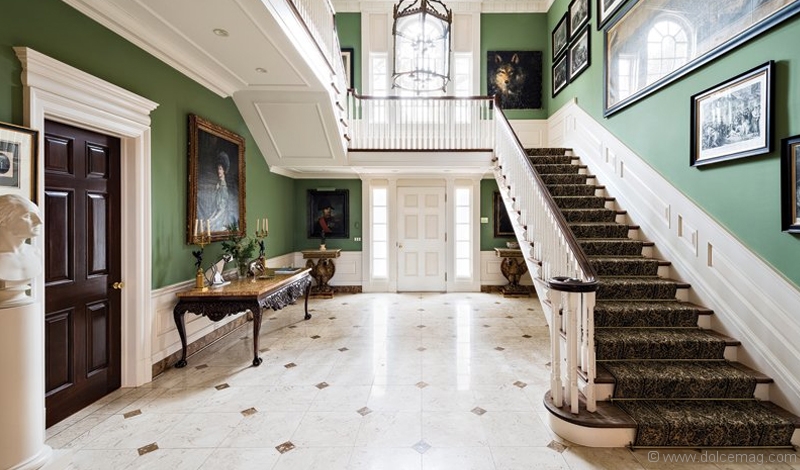 Conrad Black's Bridle Path mansion is finally up for grabs, and the estate is almost as newsworthy as its former owner
Everyone loves a house with a story, and 26 Park Lane Circle comes with a good one: it was formerly occupied by Conrad Black, Baron Black of Crossharbour.
The Bridle Path enclave is the true treasure chest of Torontonian real estate, and this historic address is one of its shiniest jewels. It's been in Lord Black's family lineage for 65 years, and until today — when the famed media mogul and author took the estate to auction — has never been available for sale.
"Twenty-six Park Lane Circle is one of the largest residential parcels of land within the Greater Toronto area," says Barry Cohen of Re/Max Realtron Realty Inc. Brokerage, who worked with Concierge Auctions on this project. "Never offered for sale, this is truly a once-in-a-lifetime opportunity to own a distinguished estate that is nothing short of incomparable."
Exciting history aside, 26 Park Lane Circ. is an architectural marvel. The Georgian-style private residence was crafted and constructed by Thierry W. Despont, a favourite of Bill Gates, Gianni Agnelli and Stavros Niarchos. And at 23,000 square feet, it gave the Blacks plenty of room to entertain the likes of Richard Nixon, Margaret Thatcher, the Duke of Edinburgh and Sir Elton John — alas, a bit too much room for the publishing mogul and his wife, journalist Lady Barbara Amiel.
"It is a big house for two people," says Black. "We will be abroad a good deal, and moving to a more manageable home will be a convenience to us now as our careers have evolved. Auction is the best way to achieve this end, as it sets the timeline on what will be, in physical terms, a large relocation."
Whichever bidder inherits the gem, which is estimated to be worth $21.8 million, gets to savour the ornate estate's more than six-and-a-half acres of land and internationally acclaimed design. And the address is more than just a pretty facade: its interior boasts a collection of conversation-sparkling design elements, from an indoor pool and spa to a consecrated chapel, a two-storey library and a decadent three-storey foyer, complete with a grand staircase.
As the Blacks seek a more manageable space in Toronto, this is an exciting move for the Bridle Path neighbourhood as the coveted and historic estate is passed on to fresh ownership for the first time ever.
www.conciergeauctions.com