Dr. Nicolas Guay: Be Prepared And Safe For Life-changing Plastic Surgery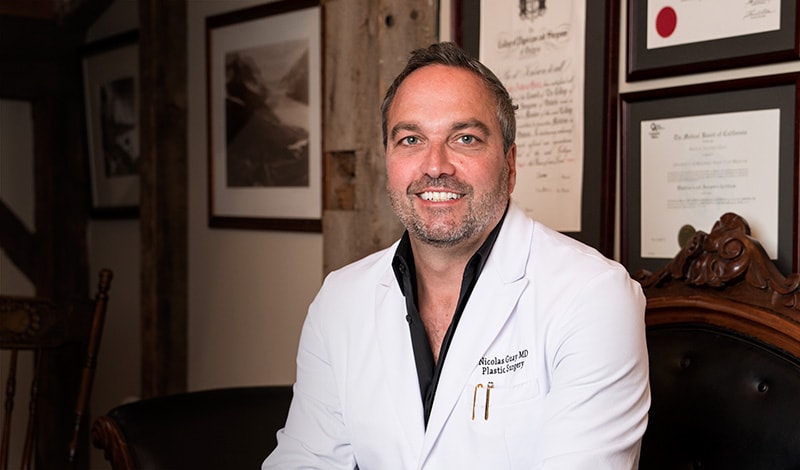 Dr. Nicolas Guay shares his advice after years in the industry to ensure those interested in plastic surgery are properly educated.
We recently met with Dr. Nicolas Guay at the beautiful Kleinburg Clinic for Plastic Surgery in Kleinburg, Ont., and his patient-centred approach to plastic and esthetic surgery resonated with our editor and staff.
It was clear that Dr. Guay understands the power of education in his own life and in the life of patients seeking plastic surgery. After studies at the University of Ottawa, Université de Montréal and the renowned UCLA, Dr. Guay practised in Ottawa from 2000–13 and then moved to the Greater Toronto Area (GTA) to become corporate chief of surgery of three hospitals in the northern belt of Toronto.
To bridge a gap in information on breast reconstruction in Canada, Dr. Guay created and founded a groundbreaking website, breastreconstructioncanada.ca, where cancer survivors are presented all options in care, are able to select an option and find a surgeon in their region who offers that option.
Patients also clarify that communication is where trust is born, and that is how they select their surgeon
With recent tragedies in the news related to plastic surgery performed by non-surgeons in non-surgical facilities, Dr. Guay understands there may be a lack of education related to esthetic/cosmetic surgery. We must also ask ourselves why a patient would take the risk of having plastic surgery in another country, when there are more than 100 board-certified plastic surgeons in the GTA (for example). Patients explain that they understand there are a lot of good surgeons in their region, but that some do not communicate in the way they want. Patients also clarify that communication is where trust is born, and that is how they select their surgeon. To avoid misleading information, Dr. Guay believes that if patients prepare for their plastic surgery consultation, they can remain safe and close to home.
Dr. Guay shares with our readers the three steps to complete before an esthetic/cosmetic procedure in order to improve overall satisfaction and to help move this life-changing decision from emotional to rational:
1) Do your homework: Patients can easily find the best peer-reviewed information available through links on the websites of the Canadian Society of Plastic Surgeons or the Canadian Society for Aesthetic Plastic Surgery. Also, look for some excellent websites from members of these associations. Social media can be helpful, but be careful: 80 per cent of current social media posts in the United States are from non-plastic surgeons.
2) Select your option: Through his experience in the development of breastreconstructioncanada.ca, Dr. Guay learned that when people were given the right information, 95 per cent of them were able to select their option before seeing a surgeon. He believes this also applies to the esthetic/cosmetic procedures. Patients therefore should find a plastic surgeon who is a member of the Canadian Society of Plastic Surgeons and who offers the patient's options in that region and then start the conversation.
3) Select your surgeon: Once you meet your plastic surgeon, clear communication on your option or an alternative should only make you feel more confident about your decision. If you feel more confident about your decision after the visit, then this is your surgeon.
According to Dr. Guay, from a surgeon's perspective, a good candidate for an esthetic surgical procedure will clearly state their goal, that goal needs to be attainable with a surgical procedure and the doctor needs to be the best surgeon to perform that surgery. If the surgeon is not, they will refer the patient to an experienced colleague who can become that patient's trusted surgeon.
This preparation will assure that patients get a safe procedure by a board-certified plastic surgeon close to home. Also, the improved communication with your physician will help you better tackle the unavoidable emotional ups and downs after an elective cosmetic procedure.
Dr.Guay states that these emotional ups and downs stem from guilt. The mommy makeover guilt is precipitated from: social interactions and the reactions of friends and family; feeling bad for spending money on yourself; or related to the time taken away from work/family/spouse.
Dr. Guay asserts that if a trusting relationship was established before the procedure, it will be easier to navigate those unavoidable ups and downs.
The goal of your life-changing plastic surgery is that it will make you say "I am so glad I did it." The improved communication with your surgeon will also assure that you will be given all the options, and be involved in the decision. With this kind of experience, patients are not only left happy, but end the journey with their desired choice, which is the ultimate goal for both patient and surgeon after any esthetic/cosmetic plastic surgery.
To continue this conversation you can reach Dr. Guay at the Kleinburg Clinic for Plastic Surgery for a consultation.
Kleinburg Clinic for Plastic Surgery
8 Kellam St., Kleinburg, Ont., L0J 1C0
breastreconstructioncanada.ca
Dr. N. Guay, B.Sc., MD, FRCS(C)
437-776-8887
Since the release of this article, we regret to inform you of the passing of Dr. Nicolas Guay. Our deepest condolences go to the family. He was considered a trusted client and a friend by many and will always be remembered with great admiration.