NIICO Millwork Group: Fine craftsmanship makes all the difference in the highest-quality bespoke millwork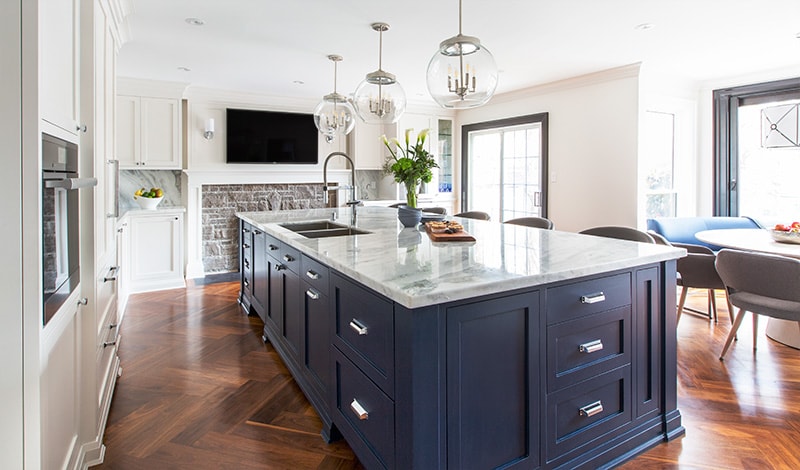 Since 2015, this premier millwork company has made its mark in the interior design world, with its projects appearing in homes and condominiums across the globe.
Companies that fall within the bespoke kitchens and high-end custom cabinetry category are often recognized as decades-old companies that have made a name for themselves over time. This perception of millwork companies is being challenged by NIICO, a young emerging company that has sidestepped this categorization, already reaching the heights of these established brands in a much shorter period of time, crafting quality designs that meet each and every need of its clients.
Founded only three years ago, NIICO is the high-quality brand favoured by homeowners, contractors, architects and interior designers for the finest in bespoke kitchens and millwork in Toronto. Its superior product paired with the high calibre of its craftsmanship have led to its recognition in the interior design community and the custom home-building market, creating and installing stylish kitchens and fine cabinetry across Canada, as well as in the United States and even Africa.
Although the company may still be young, the individual at the helm of this operation, Joseph Primucci, has been immersed in this industry for his entire life. His grandfather founded Mirolin, the Canadian bath industry leader, in 1972, which his father now runs. Working with this company in his youth, Primucci was exposed to state-of-the-art manufacturing and was inspired to replicate the success of this family-run business in a business of his own.
In 2015, he formed NIICO with the desire to build something special. The values and lessons he learned from his elders, mentors and from his time at Mirolin are evident in his approach at his own company. Few companies rival the quality designs, craftsmanship and service that NIICO has provided since its foundation. NIICO brought to the market a new standard in this competitive business, which has been met with immediate success.
"From its inception, NIICO put a stake in the ground and said, 'We are going to focus on high-end [handcrafted] millwork,'" recalls Primucci. "We add transparency, reliability and dependability to the industry, as there are not a lot of companies that do what NIICO does from an in-house manufacturing capability standpoint. Our philosophy is crafting a high-end, high-quality product. We never build anything that we would not want in our own homes."
Its philosophy is to use only premium materials, sourced from across the country and imported from Europe, then combine those materials with state-of-the-art manufacturing technology and superior design concepts and engineering capabilities.
NIICO's products are hand-picked directly from the manufacturer, which it visits once per month to select the wood veneer for its inventory, ensuring it matches the high standards implemented at NIICO. All of the veneer products are custom-pressed to match the specifications and standards that it employs. Though this is an involved process, it is important to NIICO to make that investment in time to ensure the best-quality products are utilized by this emerging luxury global brand.
This precision that goes into picking products carries through into the manner in which projects and pieces are created and built. The individual projects are designed to fit the lifestyle and desires of the homeowner. NIICO's skilled in-house designers and project managers conduct consultations and space evaluations to ensure the project meets the standards of the company and the client, all while embracing and maintaining the stated budget and respecting timelines and deadlines.
"It's important to us to create a consistent experience from client to client, regardless of the value or size of a particular project," says Primucci. "We approach every single client as an entirely new project and never cut corners or sacrifice quality to finish sooner. We work with each client to achieve what we need to achieve, while still building a high-quality product."
The dedication to fulfilling a client's vision has garnered the company attention from some of Toronto's top designers and public figures, resulting in the completion of projects for some of the more prominent members of the city.
Whether you're an interior designer, a builder or a homeowner, customers can visit NIICO's flagship showroom in Vaughan, Ont., which serves the entire Greater Toronto Area. Complete with four kitchens and a handcrafted wardrobe, it offers a sample taste of everything NIICO builds as a showcase of its work, giving customers the opportunity to touch and experience the products. The showroom is attached to NIICO's state-of-the-art manufacturing facility, which provides customers first-hand access to how the products are built. This transparency aligns with the company's values, ensuring that clients understand the way NIICO works and allowing them the chance to follow along with their own projects through each step in the process.
There is also a secondary showroom that NIICO has undertaken in partnership with Atlantis Bath, a high-end bath boutique and Kohler showroom. This showroom is currently being built at Castlefield Avenue and Caledonia Road, a location that will make NIICO permanently accessible to those in the Toronto market and creating a foundation for NIICO in the Toronto community and beyond. This new showroom will feature up to five products on display, showcasing three bespoke kitchens and two bath pieces. With a full-time designer on staff, clients working with NIICO at this destination will receive the same one-on-one experience offered at its flagship showroom.
With NIICO, it all goes back to pride in craftsmanship and getting the job done right the first time, for which it is unparalleled. Even with its vast manufacturing capabilities, its design and engineering expertise and its quality of installation, it's NIICO's attention to customer service, commitment to a bespoke product and project customization that separate it from the rest.
www.niico.com
@niicomillworkgroup
Joseph Primucci has been involved with bespoke millwork his entire life. As a young adult, he worked for Mirolin, a leading bath industry company in Canada, before moving on in the business. He has worked with North America's top manufacturing and distribution businesses, focusing on product development, design and service. This three-pronged focus is evident in his own company, NIICO, which he founded in 2015 and to which he continues to dedicate his time.