Reinventing the Art of Living Beautifully – Julie Charbonneau Design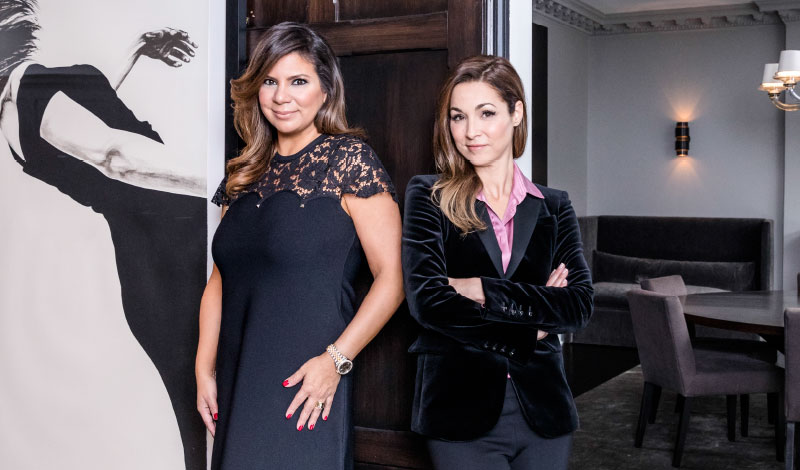 Industry extraordinaires Julie Charbonneau and Janinna Caverly run Julie Charbonneau Design with as much passion and gusto as they infuse into each and every project. With Charbonneau's artistic eye and Caverly's knack for nurturing client relationships, the duo have built a design empire that sits perfectly in the lap of luxury.
From transforming charming 17th-century structures in the heart of Burgundy, France, to breathing life into Toronto's most extravagant mega-mansions, the versatility of Julie Charbonneau Design (JCD) is unmistakable, with owners Charbonneau and Caverly spearheading some of the most luxurious projects in the industry. Its original home base is Old Montreal, but due to booming business in the city, JCD expanded to a second 5,000-square-foot downtown Toronto loft that eclipses its counterpart in size and productivity.
Charbonneau has been enamoured with design for as long as she can remember. The passion to "Make Living an Art," as the company tagline reads, has been the pulse in her veins since the age of five, when the designer can recall "transforming rooms and placing things" just because. After studying design in university, Charbonneau began her career renovating homes. "I was born this way," says Charbonneau. "It's not something you can learn; you either have it or you don't." She definitely has "it," as 17 years in the industry and countless raving referrals have proven time and time again.
Caverly, who has also been in the business for nearly two decades, admits that the partnership, formed just a few short years ago, was the perfect match. "Julie's the artist in our business; she designs everything, creates it and puts it all together. I look after running the business and taking great care of our clients," says Caverly.
The approach is simple: the duo provides clients with fabulous turnkey properties — no expense spared, no detail overlooked, from collaborating with architects on the initial design to touring the world for the perfect pieces to decorating the space — JCD will even organize the final move. Can you name a more efficient duo?
Charbonneau's roots are in classic French design, and that's where her heart lies, but her inspiration spans across all eras — traditional European, modern and transitional. "Even throughout these different styles, there's one common thread," says Charbonneau. "I really believe in authenticity. Whether it's in the material or how we design or draw a room, or what we purchase, for us it has to be authentic." For JCD this means purchasing real marble and original pieces, and pouring quality craftsmanship into every piece Charbonneau designs. She furnishes homes with pieces designed and built by the brand itself — that's what helps maintain their vision of authenticity.
I really believe in authenticity. Whether it's in the material or how we design or draw a room or what we purchase, for us it has to be authentic — Julie Charbonneau
Working on high-calibre projects, Charbonneau and Caverly first and foremost believe in always bringing the best to the table. "I will always delicately push my thoughts and try to explain my vision," says Charbonneau. "I push them until I know I can no longer convince them. Most of the time it's very successful," she laughs.
Caverly admits that the trick to this success is walking clients through each and every phase of the project, giving them time to absorb the entire process. This begins with getting to know clients and working hard to get them to the point of comfort and trust.
"Interior design is such a personal business that it's important to spend the time learning about our clients," says Caverly. "You end up developing such good relationships that you want to know what's going on in their lives, with their children, and that never stops, even once a project is complete." It's undoubtedly the reason so many clients keep Charbonneau and Caverly on speed-dial. "We have clients who have us work on their international properties as well," says Caverly. "Many of our clients will even send us photos on Instagram of things that inspire them or pieces they want our opinion on."
Charbonneau says the team never drops the ball — ever. If there's an issue, they'll fix it. Simple as that. Nowadays it's fair to say that this level of care comes few and far between in such a competitive industry. It's the authenticity of their design and the duo's character that keeps clients loyal to JCD.
"Right now we're working on one of Toronto's largest homes — it's over 30,000 sq. ft.," says Caverly. "It is going to be very special, very luxurious. This client has allowed us to purchase very beautiful pieces of furniture and art." Music to Charbonneau's ears.
The Montreal native is a dreamer who is inspired by everything and anything, the type of artist you could leave alone with nothing but a blank canvas and she'd paint a Picasso. "That would be amazing," says Charbonneau. "There's nothing I love more than white paper and a pen."
Because JCD isn't in the business of chasing trends, and because the team focuses on producing timeless work, Charbonneau has seen her projects a decade later and found they're still beautiful and she wouldn't change a thing. "We're classic, we keep getting inspired by the places we travel. We love to go to different parts of the world to see different hotels, restaurants, cultures," says Caverly. "That's what keeps you up to date. I don't see any challenge there, because inspiration is an endless source," adds Charbonneau. The two work so well together, they actually complete each other's sentences. It's this kind of chemistry and effortlessness that clients adore about the design duo.
One thing no JCD project is complete without? "Art," says Charbonneau. An avid collector herself, the designer loves the opportunity to educate clients on both classic and contemporary art. Whether they prefer one or the other it's all the same to Charbonneau; it's all about the careful selection and placement of the pieces. "Sometimes if I show a client a piece on its own, they don't see the vision like I do," says the designer. "Only once everything is in its place do all the pieces work as a team to create the desired look — [clients] love it."
To work with JCD is to crave beauty within the walls that surround you and to rediscover the beauty in everyday life. Charbonneau and Caverly don't just sell flawless interiors; they recalibrate one's life through functional design, inspiring décor and an unwavering commitment to make living an art.