Miraval Berkshires: A Seasonal Approach To Paradise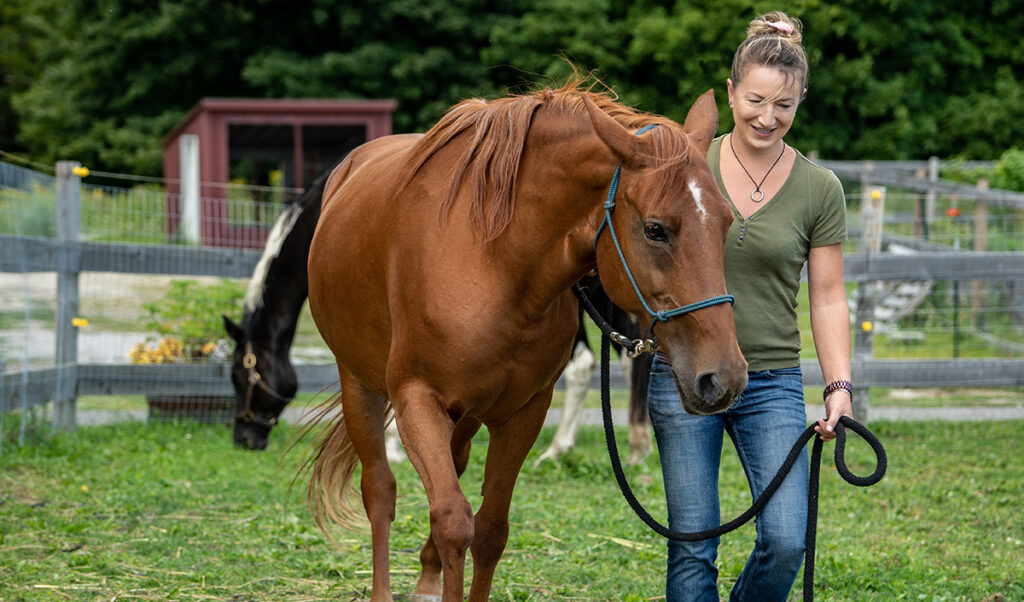 Three decades ago, Miraval Resorts opened in Tucson, Arizona, with one philosophy: to help people. Now, it's continued that vision with Miraval Berkshires, a slice of paradise that draws on the magic of mind, body and soul.
When asked how he would describe the experience at Miraval Resorts, Gilbert Santana, general manager at Miraval Berkshires, says it's a "true holistic well- being experience." As a place that's peaceful yet invigorating, with a wide array of activities to get lost in, it aims to ensure every guest leaves feeling satisfied, physically and mentally.
At its Miraval Berkshires location in Lenox, Massachusetts, that's particularly true. Intrinsically linked to the four seasons, it's a resort that's deeply connected to the natural world and thrives on having a live-in-the-moment ethos. With the stately 1894 Wyndhurst Mansion as its centrepiece, surrounded by lush landscapes that span 380 acres, it's brimming with character, culture and respect.
"Some days, the place is blanketed with snow and people are seeking the warmth of the fire or the adventure of snowshoeing," Santana says. "Others, it's surrounded by foliage that blazes as the sun sets, providing a backdrop that supports our outdoor adventure programming and spiritual well-being."
Thanks to its location both in Massachusetts and the heart of the Berkshires, it's surrounded by culture and natural beauty. Hiking trails wind through the area, and other mansions, cultural venues and museums all make their mark in the surrounding region.
Before guests arrive at Miraval Berkshires, they're encouraged to set their intention. By taking a moment to think about what they want to do at the resort — whether that's relax, connect, explore, exercise or something else — they'll get the most out of their stay.
"Sometimes our guests arrive with a fully laid-out intention for themselves and a roster of activities and spa services scheduled based on those intentions," Santana continues. "Others aren't sure. They know they want to be here, and their intention-setting for their journey happens shortly after they check in. Our specialists and colleagues help guide that journey. There's just enough challenge and uniqueness in our offerings and landscape that pave the way for new experiences, which will organically foster growth."
For those staying at the resort, there are a number of ways to spend your time. The Life in Balance Spa, which draws inspiration from its woodsy, elemental New England surroundings, offers an outdoor seating area with a firepit, an indoor-outdoor lap pool, lounge, steam room and saunas.
It also draws on tradition, ancient practices and a "luxury-without-being-lavish" approach to offer exclusive treatments like the Vasudhara, Obsidian and Sage Detoxifying Ritual, or Essence of Miraval Facial, and it collaborates with local businesses to harness regionally grown botanicals.
"Our offerings are designed to celebrate the present moment and to facilitate an awareness of the body and how its connection to both mind and spirit can balance emotions and stress," Santana explains.
This idea of wellness continues past the spa to integrate itself into the rooms. Envisioned by Clodagh Design, they seek to inspire wellness through minimal but gracious, thoughtfully curated design accents. By balancing country- house glamour with New England comfort, they manage to capture the spirit of the location through both colour and texture.
Even those who work there live with Miraval's ethos in mind. "You don't necessarily wake up and decide you want to apply to work at a place that offers a ropes course and has donkeys," Santana says. "That means something to the team. Miraval attracts mindful colleagues who truly connect with our guests in the biggest and smallest ways. We know how powerful this experience is to them, and we know we are inherently part of that journey."
The activities on offer continue that journey, and the resort encourages guests to enroll for multiple so they can experience them side by side and enjoy the full benefits. Where one day could see you taking part in an equine experience, another could see you taking a class on making bone broth and understanding nourishment.
This season alone, the space offers art-studio tours and meet-and-greets with resident artists, sabre sword-technique classes, archery and mounted yoga. As Santana notes, "The alignment and, I dare say in some cases, the awakening of the elements of mind, body and soul, represent the full Miraval experience."
Meadowview Acres Farm is also worth exploring. As a patch of fertile land beneath the Miraval Berkshires property, it's where much of the food you'll eat on-site starts. By visiting the farm you'll see the hens who lay the eggs, bees and beekeepers making the honey, and other animals, like horses and raptors.
"Miraval Berkshires evokes a nostalgia of the familiar," Santana says. "One that conjures up real or imagined memories of idyllic fireside comfort, the smell of brisk pine-scented mountain air during a fall hike or the tactile touch of a cashmere sweater, while adding unpredictable experiences and art to fire the imagination and calm the spirit."
While the resort is ideal for solo travellers and couples, Miraval Berkshires is also perfect for groups, and has hosted weddings, corporate leadership retreats, friends' reunions and family getaways. "We have such a unique property in that even the most functional spaces — say, for break-out sessions — are absolutely stunning, and when you step outside, the scenery is stunning, too," Santana says. "This is an event-space dream, and you can add the programming, spa, and it's honestly surreal. This place is magical in its own right."
Since the opening of its first location in Tucson, Arizona, Miraval Resorts has stayed true to its purpose in promoting calm and well- being and has become a leader in luxury wellness experiences as a result. Its Berkshires location is no different.
"Our innovative only-at-Miraval activities and spa treatments empower guests to consciously explore the connection between body, mind and spirit," Santana says. "We meet guests where they are, encouraging them to embrace the moment they're in — and to make wellness a way of life, day in and day out."